There are countless things to love about owning a boat, but the best might be your ability to get away from it all. Boats aren't mere machine, they're more like portals into another world—the watery world—where stress disappears and smiles can't be stifled. And since we humans are social creatures, it's only natural that we want to share this wonderful experience with our family and friends. That means you, Mr. or Ms. Boat Owner, are likely to do some serious entertaining aboard. In fact, for many people it's one of the main reasons they get a boat in the first place. Which begs the question: while it can be fun to entertain on any boat, which are the very best boats for entertaining?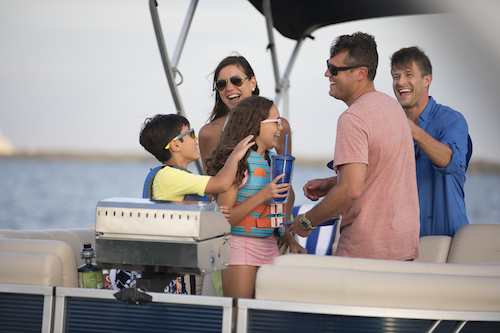 Here are our top 10 boat options ideal for entertaining and family fun:
Bowriders
Bowriders get the nod for small-scale celebrations with groups up to a half-dozen or so people. This type of boat doesn't have many amenities, nor do they offer cooking facilities so you'll have to come well-prepared, but since they're relatively inexpensive, easy to trailer, and easy to clean up at the end of the night, plenty of people enjoy entertaining aboard a bowrider.
Cabin Cruisers
The things that make cabin cruisers great for spending extended time aboard, like full galleys, private bathrooms (called "head compartments" in nautical lingo), lots of seating, and protection from inclement weather, also makes them great for entertaining. How many people you'll invite aboard can range widely depending on just how large a cabin cruiser you have, but in most cases, there will be plenty of room for a half-dozen to 10, 12, or even more people.
Center Consoles
While it's true that many people choose a center console because they want to go saltwater fishing, many others like center consoles for their wide-open spaces and plentiful seating—which turns out to be ideal for entertaining. In fact, many center console builders offer models outfitted more for festivities than for fishing, with accouterments like outdoor grills, ice makers, and wet-bars. In this case, again, the boat's size will be the limiting factor when it comes to how large a party you'll want to throw. That said, many center consoles have so many seats and sunpads that they can accommodate more people than similarly sized boats with cabins.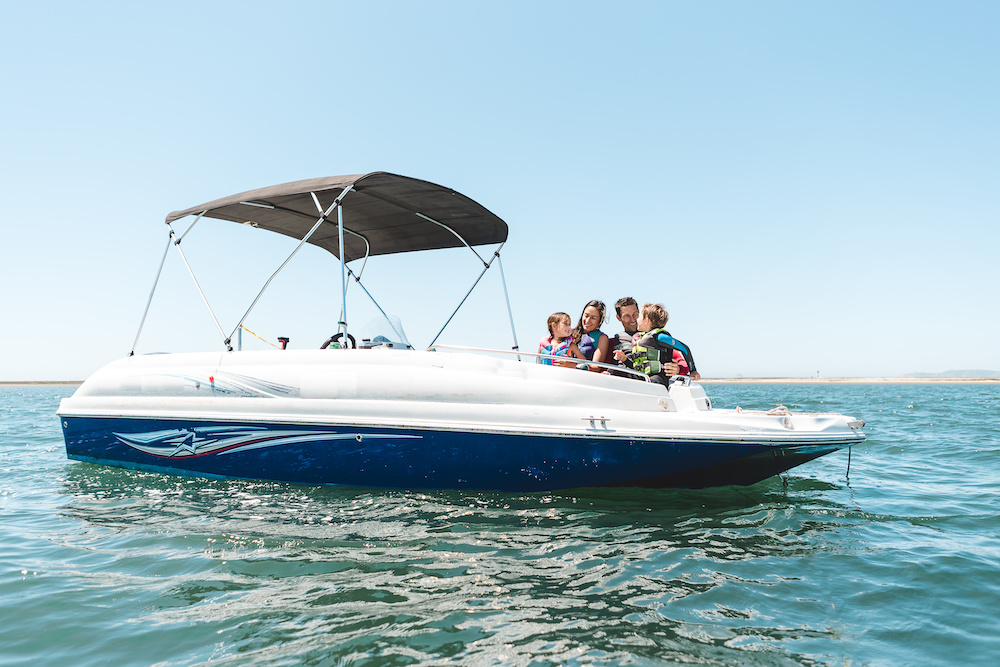 Deck Boats
Think of deck boats exactly as you'd think of bowriders. They do, however, gain a small edge since they're usually a bit roomier in the bow than a comparable bowrider is and will commonly be able to seat an extra passenger or two.
Motor Yachts/Power Cruisers
If you like entertaining big crowds in luxurious surroundings, a motor yacht or big power cruiser is impossible to top. Multiple cabins, indoor and outdoor social areas, full cooking facilities, and all the conveniences of home—what more could a host hope for? And depending on the boat's size your list of invitees could run for several pages.
Explore Motor Yachts/Power Cruisers
Personal Watercraft (PWC)
Personal watercrafts hold just one to three people and don't have any extra space for things like blenders or cocktail tables, so why did we include them in this list? Because they're an incredibly popular entertainment devices for people of all ages. You won't hold a party on a PWC alone, but wherever boaters raft up with friends for larger celebrations, someone almost always brings a PWC or two. If you want to make sure all your guests have fun in the sun, consider adding one or more to your personal fleet.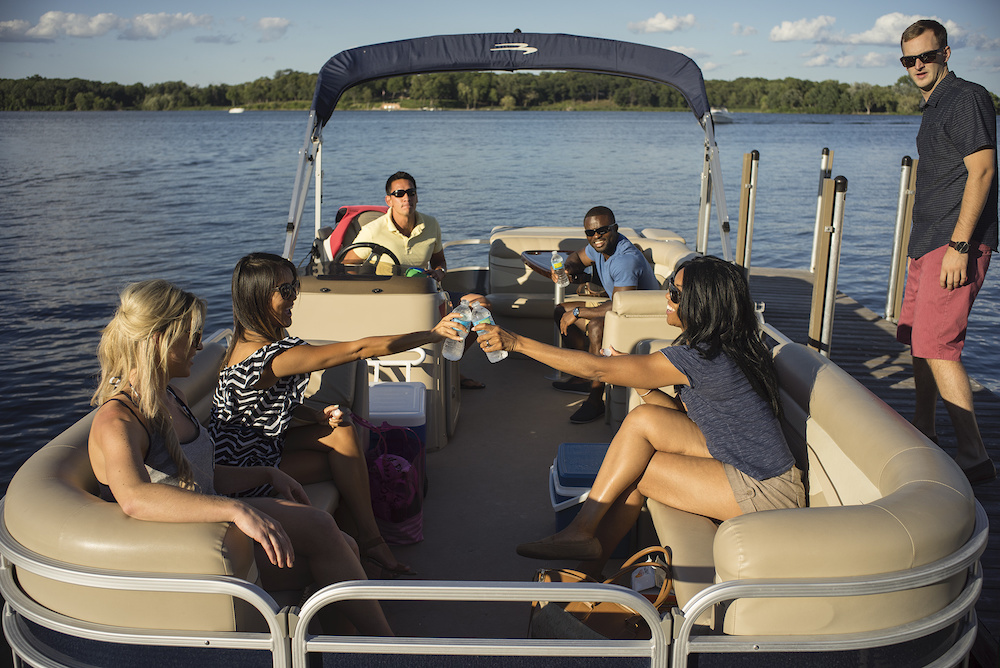 Pontoon Boats
You can't talk about the best boats for entertaining without pontoon boats being in the mix—they're the original "party barge," and modern pontoon boats can be found with everything from changing rooms to grills to blenders built right in. Plus, they have tons of seating and even the smaller models usually have enough room for eight or 10 people. There are also large pontoon boats topping 30 feet in length, which have the capacity to hold dozens of socialites.
Sailboats
Due to their relatively small cockpits sailboats aren't commonly thought of as high-capacity party machines, but ask any sailboat owner if they entertain aboard and you can bet the answer will be yes. So if you enjoy the peace and quiet being out on the water has to offer and your idea of a fun gathering is bringing a couple or another family along for a sail, we say that makes a sailboat perfect for your entertaining needs.
Ski Boats/Wake Boats
Entertaining on a boat isn't just limited to parties and celebrations—it also includes treating your friends to the thrill of a lifetime. And if you have a ski or wakeboard boat, you can make that happen. As is true for many of the smaller types of boats on this list you probably won't have many integrated entertaining features (though the stereo systems on many watersports boats are potent enough to shake the entire lake), but if you have a cooler you can load with drinks and a car full of thrillseekers, your ski boat or wakeboard boat will be the destination everyone wants to head for.
Trawlers
Trawlers tend to have more room on the inside than the outside. So while they may not be ideal for large groups who are interested in fun in the sun, they're great for year-round entertaining. Plus, larger models often have big flybridges where your guests can kick back and enjoy endless views.
Once you've picked out the best boat for entertaining in the manner you enjoy, be sure to check out Boat Songs: The Ultimate Boating Playlist for an upbeat selection of tunes that can help get the party started.
Read Next: Best Starter Boats for Families
---
You Might Also Like: