Boating with Children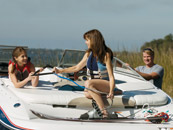 Boating is a favorite pastime for millions of people all over the world. Here in the United States, we are lucky to have thousands of miles of beautiful coastline, as well as rivers, lakes, and bays, ideal for boating. There is no better feeling than spending a day out on the water with friends and family. Naturally, if you have children you will want to include them in your on-the-water fun. Of course, teaching your children the ways of the water can be rewarding in and of itself.

Boating with children is really not difficult; however for safety's sake proper planning is a must. Pre-planning helps ensure that time spent on the water is fun and educational—and will encourage your children's love of boating to grow into a hobby the whole family can enjoy for years to come.

The following are tips to help you achieve success while boating with children of all ages.
Safety First
Keeping children safe onboard is a full-time job. Before leaving the dock, take the time to make sure youngsters understand that safety always comes first.

Life Jackets Are Mandatory: Life jackets should never be thought of as "optional equipment". Before anyone boards the boat, insist they wear a life jacket. Your child's life jacket should fit snuggly and have a collar that will turn the child face up if he/she enters the water. Choose a jacket or vest that has a handle on it and is brightly colored for high visibility. It is always a good idea to attach a plastic whistle to the life jacket as well, and teach your child to blow it in case of an emergency. Do not allow your child to remove his or her life jacket, even if he or she begins to complain about wearing it. You never know when a dangerous situation may pop up, so life jackets must stay on at all times.

Teach Proper Swimming Skills: In addition to wearing a life jacket, children should be taught how to swim. Basic skills to teach include: how to float, how to tread water, and how to swim at least one hundred yards in different directions. Until your child has mastered these skills, you should refrain from boating in very deep water.

Set Some Basic Boat Rules: Undoubtedly you have rules in your home and for riding in the car; your boat should be no exception. Children need to understand and follow basic boat rules. First, children should be taught how to properly balance the boat, and the importance of keeping equal weight on both sides. Second, children should be told to keep their hands and feet inside the boat at all times. It is very easy for small hands and feet to get injured when youngsters attempt to stick them into the water. Third, never allow children to run around on a boat. The boat can be slippery and children can fall on deck or overboard. Running can also destabilize smaller vessels, causing them to capsize.
Make Boating Fun
Now that we have the all-important safety issues covered, it's time to talk about fun! To help make boating enjoyable for both you and your children, consider these tips:

Pack A Cooler: Be sure to take plenty of beverages such as water and juice, as well as cool treats such as ice pops, yogurt cups, and fresh fruit aboard. These treats not only help to keep everyone hydrated, they are also quite refreshing in hot weather.

Bring A Change of Clothes: Pack a bag that contains an extra change of clothes for your kids. This will allow them to be active on the boat. A swimsuit should always be worn or packed so kids can have some fun splashing around in the water. Afterward, they will have the option of changing into dry clothes for the rest of the ride.

Plan Activities: Take time to plan activities that will engage your children while out on the water. Simple items such as a snorkel and diving mask can provide hours of fun. Fishing also keeps children occupied and can add excitement to your excursion, so consider bringing fishing poles and bait. You may want to consider "boat games" such as a contest of who can spot the most fish, the neatest bird, or who can name the most marine items.

The most important thing to keep in mind when boating with children is to have a fun approach and maintain positive attitude. Boating can be a very valuable experience that provides plenty of learning opportunities. Exposing your children to fresh air, sunshine, marine life, and the environment will offer plenty of quality bonding time for everyone involved.

About the Author
Jane Warren enjoys swimming, scuba diving, boating, tubing, and just about anything else related to outdoor water sports. She and her husband enjoy boating activities with family and friends, which usually includes lots of kids! Safety is always key for any time spent on their boat.

Because of her love of water sports, Jane manages a website that provides information and reviews on quality towable tubes and other water sports items, including marine radios and waterproof cameras.