Safe boating with kids, compared to safety during other recreational activities ashore, really comes down to one thing: location. For starters, help on dry land is typically minutes away, while assistance afloat can easily take an hour or more. It's also possible to walk away—literally—from most shoreside danger. This isn't so afloat. Whether you're 500 feet or 5 miles from shore, swimming away from a problem is never a good solution. Fortunately, many resources are available to assist boaters, ranging from a simple tow to a large, coordinated rescue.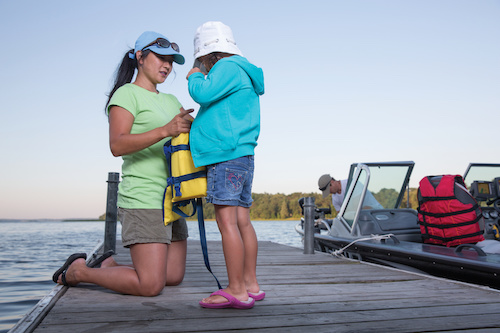 With just a little planning and practice, kids and adults should land ashore safely.
5 Tips for Safe Boating with Kids
Expect the unexpected—pack more, even for just for day boating.
Always be prepared for call for help—use your cell phone or a VHF radio.
Spend time teaching your kids to improve their swimming skills.
Ensure your child always wears a life jacket, for swimming (if needed), watersports and cruising.
Establish rules upfront and always practice safe boating habits onboard and in the water.
Expect the Unexpected
Kids don't have the body mass, patience or maturity to just "tough it out." Warm, dry, hydrated and well-fed kids are more easygoing when circumstances become difficult. Comfortable adults make better decisions too. For a day boating, pack as you might for an overnight ashore, including important medications and extra prescription eyewear.
Alcohol is the leading contributing factor in Coast Guard accident statistics. A non-imbibing skipper manages situations with a clear mind, but you should also designate someone else to be alcohol-free to manage children.
Calling for Help Afloat
Your cellular phone is just one way to call for help. Store contacts for both Sea Tow and TowboatUS dispatchers; 911 is a good telephone resource for anything beyond needing a tow.
The VHF radio is your primary safety lifeline afloat. Register for an MMSI number and learn how to use the radio's distress function to quickly call for help from every nearby vessel, including the Coast Guard and marine police.
For the cost of a cheap smartphone, a Personal Locator Beacon alerts the Coast Guard via satellite, provides your position and sends the cavalry. For the cost of an average smart phone, an EPIRB does the same thing with less required of the operator. Just be sure to register PLBs and EPIRBs with NOAA.
Learn More: How to Use a VHF Radio
Preparation & Practice
Placing kids on a basketball court, mid-game, without any coaching or practice is a recipe for injury. The same is true afloat, so involve kids while boating. Everyone aboard, once mature enough, should know how to drive the boat (kindergarteners probably shouldn't know how to start engines, but fourth-graders can do everything, even dock). When kids learn the dangers of docking, or an anchor line paying out or of sharp or pointy objects while fishing, they're automatically cautious about them.
The lone exception is at the boat ramp, where small kids are safest well aside during boat launching and retrieval.
Kids, even older ones, get scared when things don't go well—mostly because they don't know what to expect. Scared kids become distractions, so turn that around by training them to do specific "jobs." Keep it fun, but conduct man-overboard drills (try offering an award to see who can see a barely floating milk carton the longest). Practice fitting life jackets and fetching fire extinguishers, as well as sitting in a safe spot during adverse weather, in a grounding or when docking is difficult.
Bonus Safety Tip:Everyone aboard—especially kids—should know how to call for help on the VHF, including giving a latitude and longitude position, and how to deploy a PLB and/or EPIRB.
Life Jacket Safety
Boating safety always comes back to location—atop an unforgiving liquid that's often hostile to humans. Statistics show overwhelmingly that wearing a life jacket is the single most important thing anyone—adult or child—can do to be safer on the water.
State and federal requirements for kids and life jackets vary, but safety dictates that everyone aboard small, open boats, including adults, always wear them. On midsize and larger boats, life-jacket rules relax when kids are belowdecks or within an enclosed cabin. Ensure preschoolers and nonswimmers wear life jackets before they even step from shore to dock too. Parents set the example by wearing inflatable life jackets according to those same rules.
Learn More: Life Jackets, Vests & PFDs: How to Choose the Right Fit
Swim Skills
Kids improve swimming skills by shedding their life jackets—and they can under federal law, although not in all states—to swim behind a securely anchored boat. Water safety experts, however, say kids aren't "swimmers" unless they're competing on swim teams or certified as lifeguards. This is doubly true while boating, where currents strengthen or change direction suddenly, boats sway at anchor and boat wakes come out of nowhere.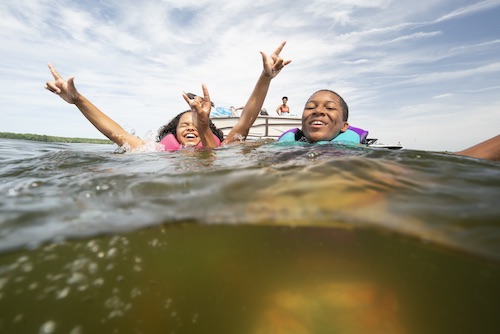 Outside of ideal swimming conditions, let kids have fun in properly fitting USCG-approved Type III life jackets. In an accident, kids and adults benefit hugely from being comfortable in the water in full-time life jackets.
Never swim in a marina or near docks with electrical power, either. A short on the dock can—in fact often does—energize the water for several feet around it, which can be lethal. Turn off 110-volt generators and inverters while swimming too.
For towed watersports, including tubing, employ an adult spotter beside the driver, keep riders in Type III life jackets—note that competition vests may offer reduced floatation—and avoid high-traffic areas. Kids lack the judgement of adults to, say, tuck behind the boat's wake to pass oncoming traffic.
Beyond planning and practice, establish clear safety rules and follow them. Sure, that's easier said than done with kids who, by nature, test limits. But here's the advantage to boating: "Don't make me turn around and go home," carries far more weight afloat than it does ashore.
Read Next: Complete Boating Safety Guide
---
You Might Also Like:
Editor's Note: This article was originally published in October 2010 and updated in December 2019.