For many of us, discovering a love of boating and being out on the water started when we were youngsters being pulled on a tube behind the family boat. If that was how you came to love boating, you can probably still remember your first time on a tube. It was glorious, wasn't it? Boat tubes started out pretty humbly, with someone lashing one end of a rope to a truck inner tube and the other end to a boat. That's how water tubing was born.
Water tubes have come a long way since those humble beginnings and we'll get to what's new in due time. Tubing water sports is a great entry point to other watersports like kneeboarding and water skiing, but it's also its own unique niche. Here's a good leaping off point to set yourself up for a lifetime of fun behind a boat.
How to Pull a Tube Behind a Boat
Ensure you have the proper equipment: life jackets, tow rope, towable tube and a boat.
Designate a driver and a spotter.
Attach the tow rope to the tube.
Tie off the rope to the stern (back) of the boat.
Review safety hand signals for communication between spotter and those riding on the tube.
Have fun!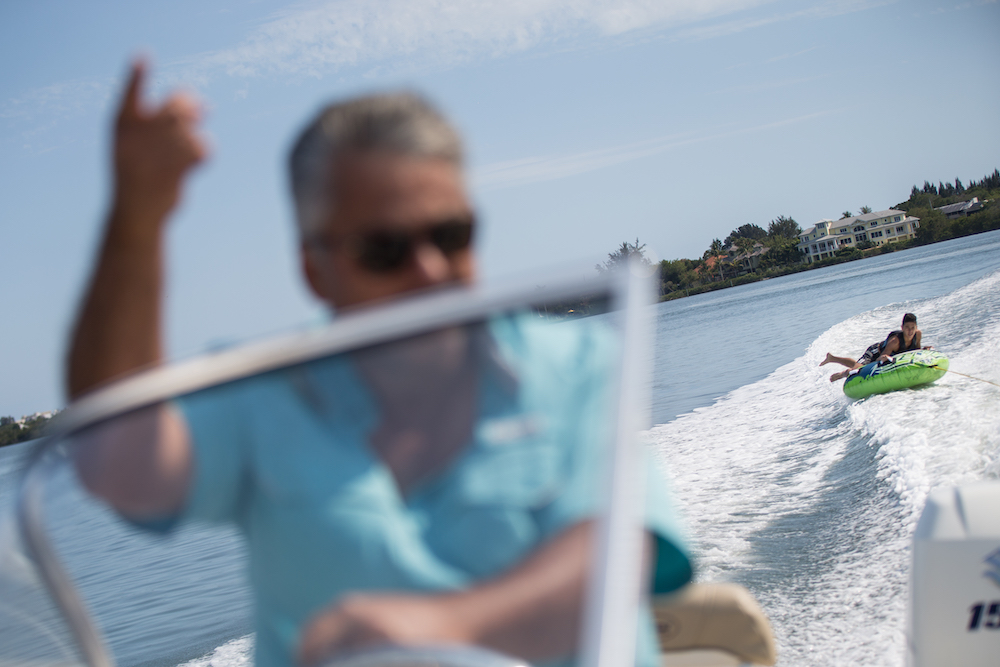 Tubing Equipment
The best water tubes are those that best meet the needs of your riders. If you're pulling 4-year-olds, you don't need a flying tube. You need something safe that your kids will ride and have fun in.
Safety begins with a personal flotation device that fits properly. Kids can fall off tubes, so it's best that they be wearing a life jacket that stays put. There are literally hundreds of options, but we also recommend bright colors for kids because it makes them easier to see in the water.
Life Jackets, Vests & PFDs: How to Choose the Right Fit
Safety also is a big responsibility for the driver, who needs to demonstrate 360-degree awareness and cautious driving. It's also important to realize that a towable tube swings out wide opposite of the direction you're turning, so it's especially important to be aware of shorelines, docks, trees and other boats. The fewer boats that are around when towing kids on a tube, the better.
Of course, there is no tubing without the tube, right? The good news is that there are hundreds of options when choosing a kid's water tube. Large specialty retailers like Bass Pro Shops, Overton's, Bart's, West Marine, and others offer huge selections that let you get the right tube for the riders you plan to pull.
To pull a tube, you'll need a tow rope, and they're sold based on the number of people you're planning to tow, so choose appropriately. Like ski ropes, ropes for tubing have a little "give" to them. In fact, some tow ropes for tubes have a "bungee" function to them, which makes the ride a little more fun if you have riders who can handle it.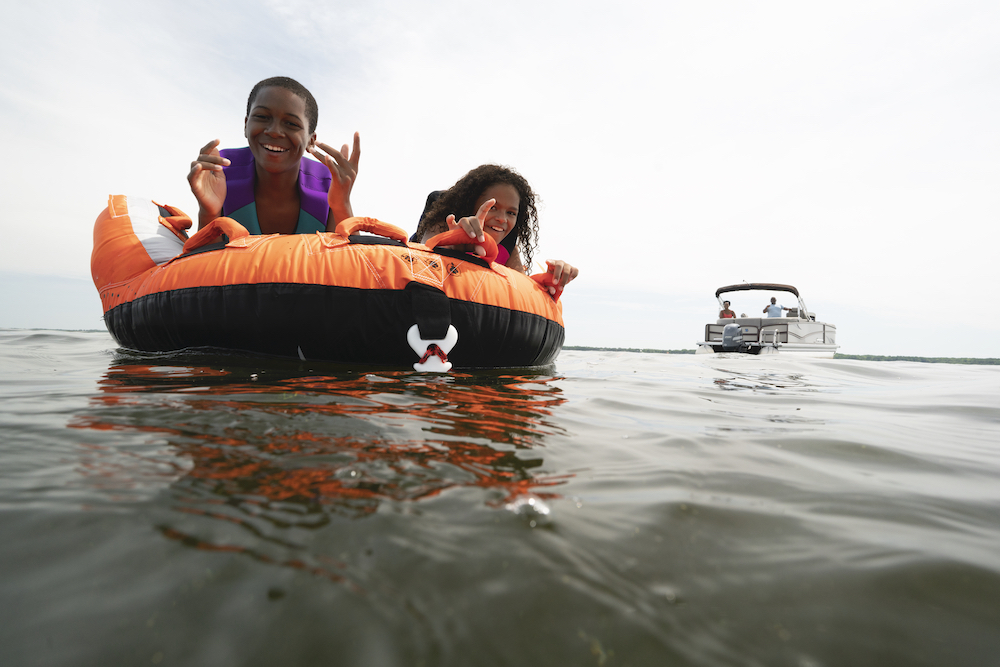 Types of Boats Used for Tubing
What makes tubing so great is that you can do it with virtually any kind of boat. From bowriders to deck boats, ski boats and cruisers, anything works. Even pontoon boats with little engines are suitable for towing your little tykes on a tube. 
Types of Towable Tubes
Today's towable water tubes are more comfortable and usable than ever. They're also a lot more fun. Some are designed to hold single riders, and some are made for two. You can even buy tubes for three and four riders at a time. Opt for "banana" style tubes and you can pull up to six people at a time.
For more experienced riders, you can even find tubes on the market designed not only to catch some air, but also glide a bit before coming back down.
Towing tubes is a great way to get the whole family together on the water, and to inspire a love of the water that can last a lifetime.
FAQs
What is tubing in water?
Tubing is an entry level water sport that nearly anyone can take part in, from kids to senior citizens. You can tow a tube with nearly any kind of boat, from pontoons, to bowriders and deck boats.
How to keep rope out of water when tubing?
Oftentimes, the rope gets submerged in the boat's wake and results in the rider getting jerked around and maybe bounced off the tube when the slack is removed.
This is a tricky question because there is no way to keep the rope out of the water all the time, but the driver can help minimize the effects by being smooth on and off the throttle and by not carving too tight a turn and churning up a big wake.
How to patch a water tube?
Most of the major water sports retailers sell patch kits for water tubes. It's a lot like patching a regular inner tube. Scratch the surface of the rubber around the hole, apply the glue and the patch and let dry. Then, hope it holds.
What to wear water tubing?
First and foremost, you need a life jacket, also called a personal flotation device. Board shorts also are a must and because you might be lying on a tube and hanging on, you also should wear a rash guard, which is a type of shirt that guards your skin against irritation.
Where can I buy water tubes?
Your local Target or Walmart might have them during the summer months, but major online watersports retailers such as Bass Pro Shops, Overton's, Bart's and West Marine have large selections of tubes, ropes and life jackets, everything you need—all year long.
Read Next: Choosing the Best Towable Tube for Your Boat 
---
Looking for more watersports action? Read...