8 passengers max
16 - 28 ft long
Trailerable
Ski boats and wake boats have come along way over the years. Whereas water skiing requires the smallest, flattest wakes possible, wakeboarders are looking to crank those wakes up so they can get big air for the jaw-dropping moves that make the sport so extreme.
For water skiing, the fewer people on board, the better. In wakeboarding, the more, the merrier, but the inboard-powered ski boat was still the right tool for the job. 
Within the last few years, the industry has seen even more change with the increase in the popularity of wake surfing. Wakeboarding boats have spawned wake surfing boats, with a proliferation of wake- and wave-enhancing devices to draw in customers. The wake boat industry is more competitive and innovative than ever.
A new technology was even created for the sport, which was similar to a stern drive with the propellers in the front. While that may sound kind of weird, and it is, it also allows for a sterndrive boat to perform well for wakeboarding and wake surfing—which opened the market to more manufacturers, which is better for customers. 
In today's market, there are dedicated models for skiing, for wakeboarding, for wake surfing, and "crossover" models that are geared to be able to do all three.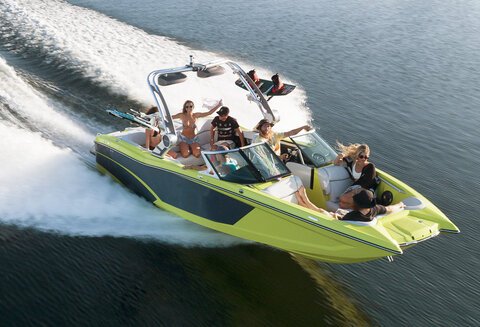 Explore Boat Brands
Ski Boats/Wake Boats
Use our Boat Loan Calculator to get a better idea of your own budget.
Looking for a different boat?
Activities with Ski Boat/Wake Boat
GREAT FOR Watersports • Day Cruising
You can use a tow boat in much the same way you would use any bowrider, but what they do best is watersports. Fill the ballast tanks and crank up monster wakes and learn some new moves. The great thing about wakeboarding and wake surfing boats is that manufacturers have been hard at working providing as much seating as possible. Big families with lots of friends should find a lot to like on the inside of a modern tow boat because they hold a lot of people. That makes them great for socializing, sunset cruises, swimming off the back and just lounging around on a summer weekend. What could be better? 
Favorite Activities for Ski Boats/Wake Boats
Water Skiing
Wakeboarding
Wake Surfing
Kneeboarding
Tubing
Ownership Costs of Ski Boats/Wake Boats
Tow boats, especially wakeboarding and wake surfing boats, are expensive. Price tags around $150,000 are common, and some high-end models can cost upward of $200,000. That's what makes the sterndrive models so appealing because they're typically less expensive than inboards.
Some sterndrive wake surfing boats are available for as low as $52,000. That opens up the sport to a lot more people, which is fantastic because wake surfing is a lot of fun. It's also less likely to cause injuries than skiing and wakeboarding, so it's a sport that's open to people in their 40s, 50s and 60s, even. 
Be sure to use our Boat Loan Calculator to determine if a ski boat or wake boat fits into your budget.
Maintenance Costs

Boat and propulsion system manufacturers have greatly reduced the amount of maintenance a boat requires. That reduces costs, but you still have to take care of them. 

You will need to change the oil every 50 to 100 hours depending on manufacturer recommendations and whether you use synthetic or mineral oil. A tow boat also has complex ballast systems that need to be completely empty before cold weather sets in. 

Fitting a boat out for spring and winterizing it also cost money, and if you're paying someone else to perform the service, it costs more. Figure about $1,000 to $2,500 a year in maintenance costs, worst case scenario. 
Operation Costs

Tow boats have many of the same ownership costs as any other boat. Costs such as insurance and registration are about the same, as are maintenance and storage costs. One key difference in costs is the price of the boat, which means monthly payments are higher. Fuel costs also can be higher because of power required to push a boat weighed down with thousands of pounds of water ballast on board. 

Ski Boat/Wake Boat Technology/Materials/Features

Most of the technology in modern tow boats comes in digital form. Modern tow boats use large screen interface systems to display and control a boat's functions. Engine parameters like fuel level, temperature, oil pressure and the like are displayed on the screen. Users control, store and manipulate boat systems such as ballast, wake-tuning settings and speeds via the touch screen. 

Most of the rest of the technology in modern tow boats comes in the form of annual incremental improvements to the breed. Charging stations for phones, brackets and connections for GoPro cameras, satellite radio, massive stereos, power-operated tower systems and new ways to get more people into the cockpit to enjoy the action behind the boat. It's a hugely innovative segment in the marine industry.