14 passengers max
18 - 28 ft long
Trailerable
Deck boats are ideal when the size of your family and boating aspirations is bigger than a bowrider. A deck boat is exactly what the name implies, a boat with a lot of deck space, and it derives the name and the space from hull designs that are flared at the top to create—guess what?—more deck space. And with more deck space comes more room for family and friends, seating, amenities and stowage. 
Regardless of what you're looking for, be it an aluminum deck boat or fiberglass or whether you need it for fishing or for family fun, you can find it. The market is wide open. The best deck boat for you is out there you can choose from myriad of deck boat brands. There are lots of choices, so enjoy you journey to discovering the deck boat of your dreams.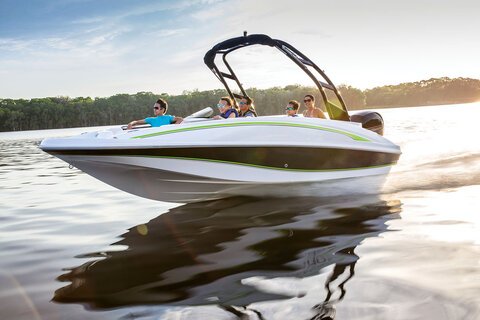 Explore Boat Brands
Deck Boats
Use our Boat Loan Calculator to get a better idea of your own budget.
Looking for a different boat?
Activities with Deck Boats
GREAT FOR Day Cruising • Watersports
Probably the best thing about boating is that you can share your passion by bringing friends along. With a deck boat, you have the room to bring even more than you could with, say, a small bowrider. 
What's more, deck boats can be outfitted with such great features as kitchenettes and head compartments. That means you can stay out all day and lack for nothing. Deck boats are among the most versatile boats on the market. They do so many things well, it's no wonder they're so popular. 
Favorite Deck Boat Activities
Towing your favorite water toy
Fishing
Inviting additional passengers thanks to space and stability
Picnicking on the water
Swimming off the extended swim platform
Enjoying the sandbar
Depending on what you want, you can find deck boats geared specifically for fishing, and we mean really geared toward fishing, with pedestal seats, livewells, rod storage and coolers for your catch. For watersports enthusiasts, many deck boats come with towing towers for wakeboarding, tow eyes for pulling your kids on tubes or kneeboards. And because it's a deck boat, there is a lot of room on either platform. 
Invariably, you want to know what the best deck boats are. Relax. It's hard to go wrong as long as the boat meets your needs. Manufacturers who have been around a long time are a safer bet, because the quality is higher, as is value retention.
Ownership Costs of Deck Boats
The cost to buy a deck boat varies—widely. You could spend less than $16,000 for a smaller 16-footer, or more than $100,000 for a fully-featured larger model. Or, anywhere in between those two figures. You know your budget best, but there is no doubt something available on the market that you can comfortably afford. To figure out how much boat you can afford, use our Boat Loan Calculator.
Maintenance Costs

Boat and engine manufacturers have made great strides to minimize the expense and amount of maintenance a boat requires. That leaves you more time to go boating, and it reduces maintenance costs! Bear in mind, the newer the boat, the less it costs to maintain. As propulsion technology advances, the more durable and convenient it becomes. 

Count on oil changes every 50 to 100 hours depending on manufacturer recommendations and whether you use synthetic or mineral oil, and that applies to sterndrive and outboard models. Also, gearcase fluid gets changed at 100-hour intervals, at which point you also inspect things like the anodes, fuel filter, thermostat, spark plugs and accessory drive belts. By the time you get to 300 hours of use, it's time to replace the spark plugs, drive belts and the rubber water-pump impeller. 

Most boaters average between 50 and 75 hours per season, more if you live in places like Florida where boating is a year-round activity.

For northern climates, fitting a boat out for spring and winterizing it also cost money, and if you're paying someone else to perform the service, it's about 60 percent more expensive than doing it yourself. Figure about $1,000 to $2,000 a year in maintenance costs, worst case scenario. When you approach that 300-hour mark, figure about another thousand.
Operation Costs

When you own a boat, you need to account for other costs like safety gear, life jackets, tow ropes, tubes, kneeboards and wakeboards, and more—especially with a deck boat. There are also hard costs to consider: 

Deck Boats Technology/Materials/Features

Innovative continues to progress every day for boat manufacturers, and that includes the deck boat market. Recently, there hasn't been a manufacturer that has broken new ground in terms of technology and materials in the deck boat market—that's the domain of motor yachts, sailboats and high performance boats.; however, any new developments that come along will eventually find their way into deck boats.

Common features that you can prominently find in deck boats include wider bows, which increase space forward of the windshield, and a hull design that affords more deck space.