Motor Yacht/Power Cruiser
20 passengers max
26 - 100 ft long
Not Trailerable
Motor yachts, as indicative in the name, are sizeable recreational vessels with one, or more likely two engines for primary propulsion. There's no definitive line between what is a boat and a yacht but generally, yachts run 40 to 90 feet, are more expensive and offer an element of luxury as well as the ability to cruise farther for longer periods of time. 
Yachts to 60 feet are usually operated by the owner, while yachts 60-90 feet may have a professional captain. Yachts over 90 feet fall into the realm of superyachts where both crew needs and the maintenance dollars rise sharply.
Yachts typically have several staterooms or cabins and at least one "head" or bathroom. A "galley" or kitchen is included and some larger yachts with a "flybridge" or an open upper deck, may have an optional outside galley with a grill and a sink. A salon or living room is usually the main social space and some larger yachts include a walk-in utility space and engine room. On deck, a yacht may have amenities like outdoor dining areas, an outside steering station or "helm" and sunpads or settees on the bow or aft deck for lounging. 
Many motor yachts today are highly stylized and offer an impressive level of privacy and luxury for the owners. Designer accommodations, high-end appliances and plenty of space to entertain multiple small groups are mostly standard.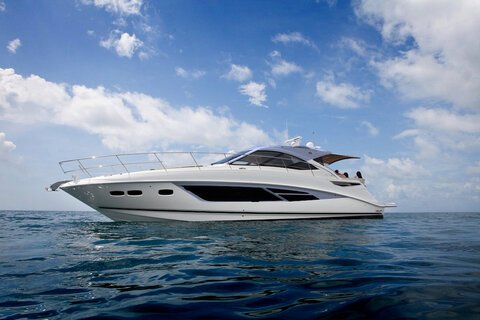 Explore Boat Brands
Motor Yachts/Power Cruisers
Use our Boat Loan Calculator to get a better idea of your own budget.
Looking for a different boat?
Activities with Motor Yachts/Power Cruisers
GREAT FOR Overnight Cruising • Day Cruising
Depending on the brand and design of the motor yacht, you can do pretty much anything with one including island hopping, dock-to-dock coastal cruising or ocean crossing. You can cruise a day, a week, a month or even several years on a motor yacht and venture anywhere from the Great Lakes to the Caribbean and beyond. You can entertain a crowd for an afternoon happy hour cruise, venture farther on family weekends with the kids or explore remote waterways during retirement.
Ownership Costs of Motor Yachts/Power Cruisers
The purchase price of a motor yacht or power cruiser varies with size, age, brand and onboard amenities and gear like the number of engines, etc. Most new yachts will be at least $100,000 and some will run into the millions of dollars. In addition to the initial price, you'll need to estimate the cost of additional gear like electronics that are often priced separately as well as the cost of a "berth" or dock space, insurance and state registration or U.S. Coast Guard documentation.
To see if a motor yacht or power cruiser fits within your budget, be sure to utilize our Boat Loan Calculator.
Maintenance Costs

Even new motor yachts need maintenance including interior and exterior cleaning, bottom scraping, hull polishing and waxing, engine tune-ups, and so on. The more engines, generators, and gear like refrigerators, electronic displays and battery banks, the more maintenance you will need and the higher the expense.
Operation Costs

At the very least, your operation costs will include fuel (gas or diesel) and dockage. When professional crew like a captain and/or a chef is involved, costs can soar.

Motor Yacht/ Power Cruiser Boat Technology/Materials/Features

Because these vessels are designed to cruise long distances, they typically have fairly sophisticated electronic navigation and communication systems. They will also have significant ground tackle (anchor, chain and a windlass) and they'll have sizable engines, generators to charge batteries and other equipment. Some may have stabilization systems like gyroscopes or protruding underwater fins to help the vessel stay upright and avoid rolling and that helps minimize seasickness.