10 passengers max
20 - 40 ft long
Trailerable
Cabin cruiser boats are just like mobile mini vacation homes that you can use to take the entire family on waterborne adventures. Even with small cabin cruisers you have the flexibility to visit to new ports, spend long weekends enjoying the boating lifestyle, or just kick back for a day of swimming and relaxing on the water.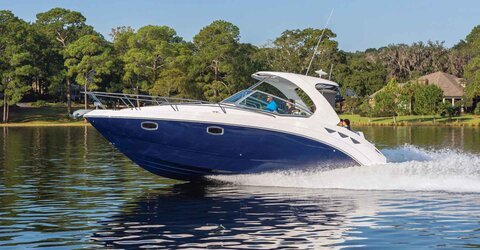 Explore Boat Brands
Cabin Cruisers
Use our Boat Loan Calculator to get a better idea of your own budget.
Looking for a different boat?
Activities with Cabin Cruisers
GREAT FOR Day Cruising • Overnight Cruising
The best cabin cruiser boats generally come fully-equipped for spending extended periods of time aboard, including sleeping, cooking, and bathroom accommodations—though on a boat, you always call the bathroom the "head." A large cabin cruiser will have enough space for private bedrooms (we call these "staterooms" in nautical parlance), and often can sleep up to a dozen people.
What if you down-size a bit? Let's say you've found what you consider to be the best cabin cruiser under 40 feet. Models of this size are likely to have at least one private stateroom plus additional beds and berths for a guest couple or a boatload of kids. Go even smaller, maybe to a cabin cruiser under 30 feet, and there may be less elbow room. But even small cabin cruisers will likely have sleeping room for four to six people.
Having the ability to sleep aboard and cook in the galley (our nautical name for the kitchen) means that you have even more extensive travelling abilities than if you drove a car and stayed in a hotel room. Virtually all ports you might want to visit have slips for rent by the night or weekend, waterfront restaurants you can tie up at, and numerous attractions within easy walking- or ride-sharing distance.
One of the great things about a cabin cruiser is that along with that cabin, you get all the other perks and pleasures of owning any sort of boat. All of the best cabin cruiser boats have large swim platforms and ladders that make going for a dip and then re-boarding a piece of cake, large loungers and sunpads for relaxing, and decks where the kids can cast a fishing line. Day cruising can be just as much fun as staying on the boat overnight, and truth be told, there's little limitation on the activities you have to choose from with a cabin cruiser underfoot.
Ownership Costs of Cabin Cruisers
The initial cost of a cabin cruiser can vary wildly, depending mostly on the size you choose. Sure, there are million-dollar cabin cruiser boats out there, but there are also plenty of small cabin cruisers that cost a lot less than you might think. In fact, many cost less than some motorhomes or RVs with comparable accommodations. To see what fits within your budget, be sure to utilize our Boat Loan Calculator.
Maintenance Costs

Maintenance costs are certainly a factor every potential boat owner needs to consider in advance. Be sure to check out the Maintenance pages in our Owning a Boat section, which will give you an idea of what's involved. Also remember that boats with multiple engines will have multiple maintenance costs.
Operation Costs

Operation costs for a cabin cruiser can vary dramatically, since they depend to a great degree on just how you use the boat. Fortunately, there's not much in the way of variables to worry about other than fuel. When considering your budget, however, you should also include the cost of mooring the boat. And in many areas of the nation storing your cabin cruiser in the off-season needs to be taken into account as well.

Cabin Cruiser Technology/Materials/Features

Like most aspects of life, modern technology has had a big impact on cabin cruiser boats. One of the biggest changes in recent years has been the adoption of outboard engines. Historically most cabin cruisers have had inboards or stern drives. But outboard engines have become much more reliable and fuel efficient, and today when you identify the best cabin cruiser under 30 feet for you and your family, you're likely to discover that it's an outboard boat. The larger the cabin cruisers you look at, the more likely it becomes that you'll see inboards and also pod drives. See the Boat Motors section of our Buying a Boat guide, to learn more about these different power systems.

Another big leap forward that's taken place regarding cabin cruiser technology in recent years is the digitization of a boat's control systems. This has made interfacing with your boat much simpler and easier than it used to be, since many aspects of running your boat are more or less like using an app. When you want to turn on the anchor lights, for example, instead of looking around to find the right switch and toggling it, you can swipe to the lighting icon on the touch-screen at the helm—or sometimes right on your phone.