How to Charter a Boat: Five Things to Know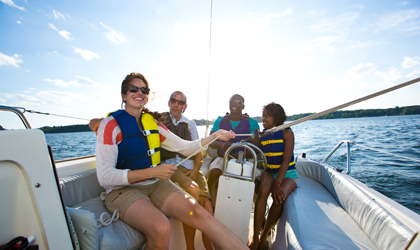 Chartering offers an unbeatable chance to explore a new kind of boating and to try out a particular boat on the way to owning your own. Whether you charter with a professional crew or bareboat under your own command, chartering lets you hone your boating skills like nothing else. Here are five things you need to know to book your perfect boat charter.
Try a boat before you charter one. No matter what kind of boating you're into — motorboating, sailing, fishing — chartering is a great way to spend some deep quality time getting to know one or more boats. Want to sail a multihull? A third of all charter boats today feature two or three hulls. Browse the online directories in the next section to find the boat you'd like to try. Last year there were more than 2,800 boats in charter in destinations all over the world — and more than 21,000 charter weeks booked. That means you're sure to find the right boat for you in the right place.
Research your perfect charter. Want to book a fishing charter? The website FishingCharters.com offers a map with hundreds of charters or guides. Cruising World's Charter Directory lists companies that book either sail or power charters.
Work with your budget. The average price of a charter in 2013 was $3,950. The first key to chartering on a budget is to pick your timing. The Caribbean has three chartering seasons: High, or most expensive, from December–January; Shoulder, or less expensive, from February–May; and Low, or least expensive from June–November. Exact dates will vary with the region and the company. From there, budgeting is a question of how much of the chartering work (boathandling, navigation, provisioning) you'd like to do for yourself, and what size and age of boat you'd like to spend your time on. Popular charter bases offer every range.
What to bring. One of the great pleasures of boating is the simple breezy lifestyle. The only musts are rubber-soled shoes, bathing suits, and sun protection. After that, slacks or a sundress for evenings and loose-fitting cotton and perhaps a wind-breaker for mornings is all you'll need in most chartering spots. Of course, each place will have its variations — the Mediterranean is different from the San Juans — but simplicity, above all, is the name of the game.
Boat ownership in a charter program. Depending on the kind of boating you do, purchasing a boat and putting it in a managed charter program can be a good bet. Rob Engleke has owned four different mid-40s-length catamarans in The Moorings program.
"None of the boats cost me anything," he says. "They were purchased with 100 percent financing, and the fees The Moorings pays cover all the costs of the loans (interest and principle), plus maintenance and dockage."
Some owners extol the opportunities to trade time on their own boats for other boats in other locations around the world. Perhaps best of all, the boats are professionally maintained and ready to go when you step aboard.