10 passengers max
26 - 50 ft long
Not Trailerable
Trawlers are a very distinct type of powerboat, designed for long-distance cruising and in many cases, living aboard for significant stretches of time. The origin of trawlers can be traced back to commercial fishing trawler boats.
In this day and age, most trawlers have all the comforts of home—and there are plenty of trawler yachts that place you squarely in the lap of luxury.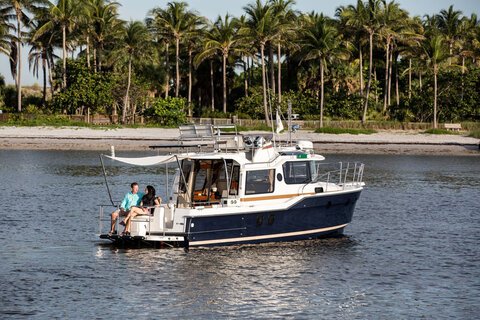 Explore Boat Brands
Trawlers
Use our Boat Loan Calculator to get a better idea of your own budget.
Looking for a different boat?
Activities with Trawlers
GREAT FOR Overnight Cruising • Day Cruising
Trawlers are intended for cruising, and many people spend extended vacations taking a trawler boat from port to port. There are also a lot of people who search high and low for the best trawler to live on, and then move aboard. 
Long-distance cruising at a leisurely pace
Because trawlers are designed with private staterooms, full kitchens (though we call them the "galley," aboard a boat), and spacious living rooms (the nautical name for them is "saloon"), trawlers are ideal for people who believe that when it comes to long-distance cruising, half the fun is getting there. Most are designed to cruise in a slow and economical way, so you can enjoy the ride from start to finish.
Cruising the intercoastal waterway
The trawler design is very popular among "snow-birds" who take their boats south down the intercoastal waterway in the winter, then cruise back up it for the summer months. Many people (often retirees) make this trip season after season.
Consuming less fuel—providing exception range
Since the best trawlers for slow and steady voyages need to be fuel-efficient, many builders design them with relatively small powerplants and displacement hulls (boat bottoms which merely slice through the water, rather than using lots of power to break free of the water and skim across the surface at high speed). This gives them exceptional range and if you want a real super trawler, it's even possible to find some with ocean-crossing abilities. However, if you want the ability to get where you're going in short order there's also more than one fast trawler manufacturer out there. Though there's always a trade-off between speed and efficiency, even a fast trawler often has better fuel economy than many other types of powerboats.
Spacious interior layouts for a great weekend escape
Since trawlers are designed for spending lots of time aboard, even a small trawler usually has the maximum amount of cabin space possible for its size. Some have "aft cabins" built under the rear of the boat, and larger models often have multiple deck levels.
Ownership Costs of Trawlers
The size of the trawler you buy will be the biggest determining factor, when it comes to ownership cost. Remember that the larger the boat is, the more it will cost to rent or lease a slip, too. Finding the best trawler for the money really depends on your personal budget, and how much room you feel you need to live comfortably. Visit our Boat Loan Calculator to learn more about the costs of ownership fitting with into your budget.
Maintenance Costs

Since trawlers tend to get used extensively and sometimes continually, they may have slightly higher maintenance costs than some other types of boats. They also have many of the same systems a house would (like plumbing, electrical, and HVAC). However, these systems are smaller and more contained than those of a house. So, in the long run, maintenance costs likely to be far less than they would with an abode you live in on dry land.
Operation Costs

Thanks to their efficiency, unlike many types of powerboats fuel costs associated with a trawler are usually minimal. Instead, the main operation cost is general living expenses – things like food and drink supplies – since so many people spend extended periods of time aboard. In addition, you should also plan in insurance costs (see Insuring Your Boat for more info).

Trawler Boat Technology/Materials/Features

You might guess that their traditional design and heritage means that trawlers haven't changed much over the years, but that would be a mistake. New hull designs developed an entire genre of trawler dubbed the "slow-fast," which has the ability to cruise at slow speeds with relatively good fuel efficiency, but can also jump on plane (when most of the boat rises out of the water and skims on the surface), when and if necessary. In other cases, advancements in construction materials has allowed trawler manufacturers to reduce a boat's weight, without giving up one bit of strength. Modern lighter weight construction techniques have also made it possible to build trailerable trawlers that may be relatively small, but still have all the comforts of home and can be towed by many pick-up trucks and SUVs.