14 passengers max
7 - 70 ft long
Trailerable
Sailboats elicit romantic notions of afternoons spent on a breezy bay, hardcore racing, historical re-enactment on tall ships or distance cruising to exotic shores—and all these visions are correct because sailboats today can do vastly different things. 
Although sailing has fascinated us for centuries, time has brought specialization and segmentation of the sport with designs varying by function. Small sailing dinghies may be used on lakes or to teach the concepts of sailing while bluewater (or ocean crossing) boats can take you on a world circumnavigation. Sailboats in between can be raced in harbors or across oceans or alternately they can be cruised with friends or single-handed (sailed alone).
Monohull (single hull) sailboats come in sizes from 10 to 100+ feet. Multi-hulls (catamarans with two hulls and trimarans with three) also vary in size from fun day boats to 80+ foot platforms. Multihulls are gaining popularity due to their stability and in the larger cases, their ample living space. 
Advanced construction technologies have made sailboats stronger but lighter so they can move in little wind but can also withstand the pounding of head seas (oncoming waves). Onboard equipment has also advanced so that it doesn't take as much muscle to sail a large boat as it used to, and plus there are creature comforts abound.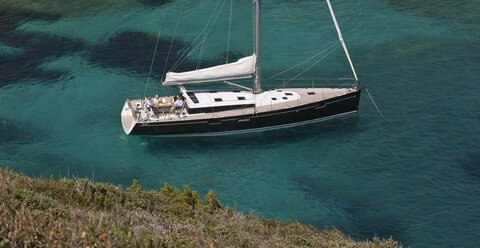 Explore Boat Brands
Sailboats
Use our Boat Loan Calculator to get a better idea of your own budget.
Looking for a different boat?
Activities with Sailboats
GREAT FOR Sailing • Overnight Cruising
What you do with a sailboat will be dictated by what kind you purchase. You can go day sailing on a small dinghy or crew with a group on a larger racer. On boats with staterooms (cabins), galleys (kitchens), and heads (bathrooms) you can also cruise for a weekend or a lifetime. Some people enjoy the slower pace of cruising to a favorite cove, dropping anchor and then entertaining friends and family. Others spend days perfecting sail trim and getting the boat moving at top speed in all kinds of wind.
Ownership Costs of Sailboats
The purchase price of a sailboat can vary wildly with size, age, brand and offshore capabilities. For example, a 40-foot sailboat that is designed and built for coastal cruising may cost less than half the cost of a bluewater model, all other aspects being equal. 
The initial price is just the beginning of the investment, however. Plan to add the cost of sails (especially if made of upgraded materials) electronics, and of course dockage, which can be expensive. Then add in insurance and state registration or U.S. Coast Guard documentation. Our Boat Loan Calculator can help you determine if a sailboat will fit within your budget.
Maintenance Costs

Sailboats tend to have a longer life than motorboats and it's not unusual to find people cruising on models that are 30 years old or more. However, maintenance costs rise with age as equipment wears out or repairs are needed to the hull, deck, engine, spars or sails. Additionally, sailboats need regular maintenance including interior and exterior cleaning, hull waxing, woodwork varnishing, sail repair and so forth. Boats that are kept at a dock, and therefore in the water for the season or year-round, may need to have monthly bottom cleaning to scrape off barnacles and new bottom paint applied on a bi-annual basis. 
Operation Costs

Operation costs may be low for a sailboat less than 20 feet that has no engine. However, larger boats that are used often will need fuel such as gasoline or diesel. Sailboats are very fuel-efficient because their engines are usually smaller than comparably sized powerboats and there is only one engine to feed.

Sailboat Technology/Materials/Features

Some of the smallest sailboats may be built of rotomolded plastic (very low maintenance needs) but most will be of fiberglass, which needs periodic care. Hulls can be solid fiberglass or cored with materials such as foam or balsa wood that makes them lighter, stronger and generally more insulated. 

Masts on larger boats are made of aluminum although race boats may have carbon fiber spars (masts and booms). Features on larger boats include advanced electronics and long-distance radio communications equipment, oversized ground tackle (anchoring equipment) and laminate sails (versus traditional Dacron material) for better performance. Cruising sailboats may have refrigeration, air conditioning/heating, audio and video entertainment equipment and more.