Fish & Ski Boat Buying Guide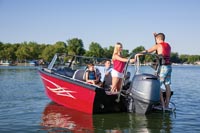 Which came first, the angler who liked to ski, or the skier who liked to fish? Whatever the answer, ever since that combination came about, there have been boat builders who have been trying to find the perfect balance of features to satisfy both desires. The result the popular hybrid boat style, appropriately called a Fish & Ski. Available in either fiberglass or aluminum, the key in finding the right boat for you is to decide which will be your primary activity.
Features
If you're an avid angler, you want to look for wide casting platforms with comfortable pedestal seats that can be stowed away when not in use. At least one good-sized livewell or baitwell, are must-haves, and you'll get plenty of use out of lockable rod storage. Outboard-powered Fish & Ski models definitely need an elevated ski tow eye to keep the ski rope up off the motor. Also, look for an oversided in-floor locker to store kneeboards, life jackets and other watersports gear.
Layout
Most Fish & Ski boats will feature a full, wrap-around windshield so make sure your line of sight is below the windshield header. Flip-up seat bolsters and adjustable seats, along with a tilt steering wheel will also come in handy. Since this is a multi-purpose boat by its very nature, you should be able to do a little entertaining and cruising as well, so look for boats that offer good seating options as well as cupholders and perhaps a built-in cooler.
Styling & Storage
This is a pretty subjective category, but as far as styling goes, you should lean toward the main purpose of the boat – anglers will probably want high-gloss paint and themed graphics, while skiers will be looking for a mono-colored hull with accent colors. Storage should feature easy-to-open hardware on hatches, access doors wide enough for your biggest gear, and dedicated-purpose, built-in areas for tackle or watertight boxes for electronics gear.
Performance
If you plan on doing a lot of skiing, think about upgrading the outboard motor to 150-horsepower and up. No one has ever been out on the water with a boat full of kids and gear and thought: "I've got too much power." Look for a well-balanced boat that doesn't give you too much bowrise when you're trying to get a skier out of the water. Top speed on these boats will be about 40-50 mph. Although Fish & Ski models may sometimes look like a bass boat, their DNA more closely resembles a bowrider with a deadrise of 18-21 degrees. Look for boats that turn smoothly and track well for the best watersports performance. Although you'll probably want a boat with a trolling motor on the bow, you want to balance that with extra freeboard toward the front to help you operate safely in rough water.
* photo provided by Polar Kraft boat