A fish-and-ski boat can keep a family on the water all day, from angling at dawn to towing tubers mid-day to a sunset cruise for dinner. The idea behind a fish-and-ski is to combine key attributes of a family bowrider with those of a fishing boat. The right fish-and-ski boat model for you will strike the best balance between activities based on your personal interests.
How to Buy a Fish-and-Ski Boat
Determine your budget and calculate your monthly payment.
Consider where you'll be boating—ocean, lake, freshwater, saltwater?
Think about your lifestyle and how you want to use the boat.
Explore different fish-and-ski options.
Narrow down your options, and close the deal.
To learn more about where to shop for a boat, how to work with a local boat dealer, and exactly how to close the deal, be sure to follow the steps outlined by our Ultimate Boat Buyer's Guide. 
Your Budget
Start with a personal boat buying budget that includes the purchase price and the cost of financing. Also take into account the cost of annual maintenance, fuel, the accessories you'll need to purchase to get on the water, and off-season storage if that's required. Keeping within that budget will allow you to get the most out of your new boat.
Your Water
Will you be using your boat on a small lake or larger water? A shorter fish-and-ski model might be perfect for the protected waters on a smaller lake, but a bigger boat will offer more comfort on a bigger lake that can get choppy when it windy, and be better suited to covering longer distances.
Your Lifestyle
Think about your priorities when you will be on the water. Will you use the boat primarily for angling, and want to add some amenities for family boating, or are you looking for a runabout that can support casual fishing? Answer this question to get a starting point.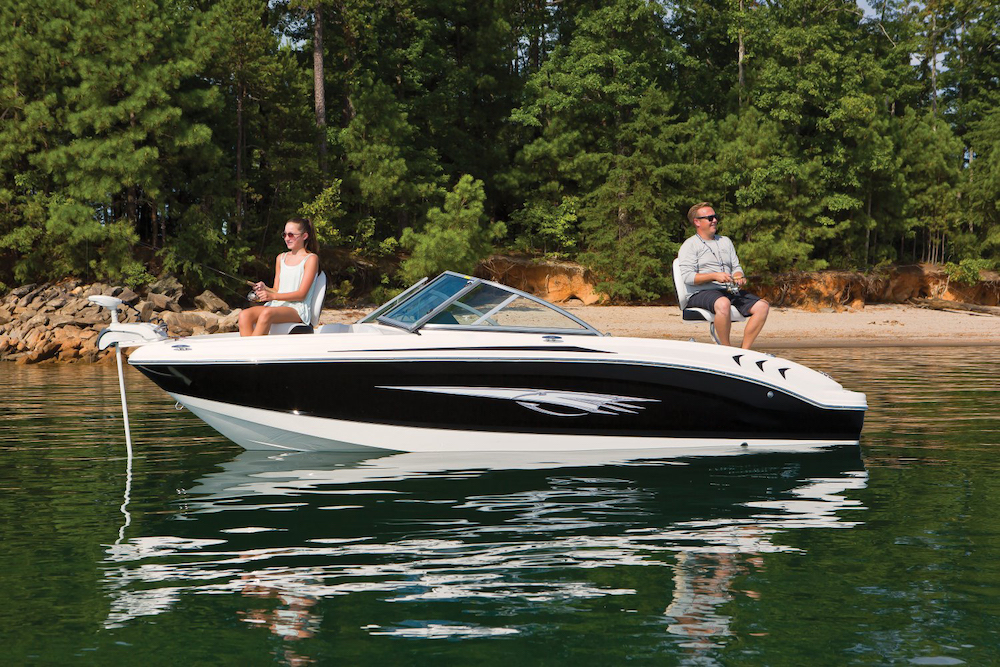 Fish-and-Ski Options
Runabout
Many bowriders and deck boats are offered with a fish-and-ski option package, or with a group of features that create a fish-and-ski model. Those features usually include:
A bow-mount electric trolling motor;
A live well;
Some storage for fishing rods and tackle;
Convertible forward and aft decks with sockets for fishing seats.
To create the fishing decks the rear sunpad may snap off, and in the bow there will be a filler panel to place in the seating area. A fish-and-ski model will also usually have an electronic fish locator/GPS on the helm. When it's time to fish, simply convert the decks and install the fishing seats, leaving the cushions behind at the dock. To go back to runabout duty, the conversion goes in reverse. A fish-and-ski package may be offered with either outboard or sterndrive power, on boats from about 17 feet to 25 feet in length.
When shopping for a fish-and-ski model based on a runabout or deck boat, try the conversion from fishing to runabout and back again to see how challenging it is to install the fore and aft deck pieces. You won't want to have to fight with these cushions all the time. Check out access to the trolling motor battery; it should be easy to reach for service and secured in a battery box or bracket. A built-in battery charger or a socket for plugging in a charger will be more convenient than reaching below deck to hook up a charger after every trip.
A bowrider or deck boat equipped with angling features will be fine for casual angling, such as taking out the kids to bobber fish, but it's not going to satisfy an owner with more fishing ambition. There's likely not enough room on boat for lots of fishing gear, and the consoles and windshield will be in the way.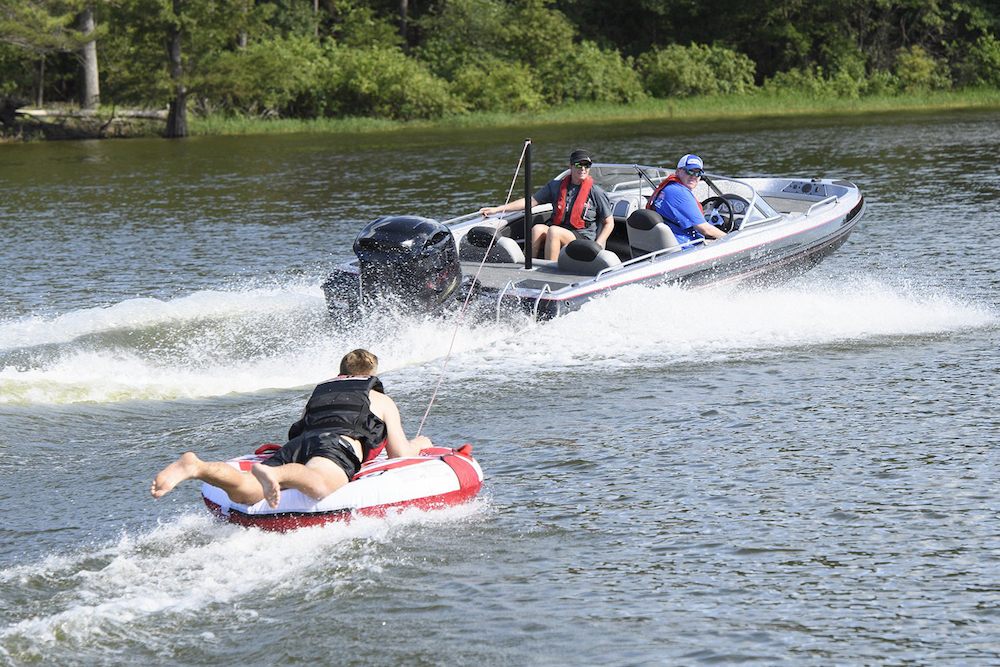 Fishing Boat
Fish-and-ski boat models offered by a boat manufacturer that primarily builds fishing boats will skew towards the fishing side of the fish-and-ski equation, and are an answer for the family that's focused on angling but also wants to use the same boat for cruising and watersports. These models may be based on a bass boat or a multi-species boat, with either aluminum or fiberglass construction, and will almost certainly be outboard powered. The choice between a bass or multi-species platform will depend on the type of fishing you like to do and the water you fish on. A bass boat is fast and offers a wide-open fishing platform. The multi-species boat will have a deeper hull and deck better suited to rough water and colder weather conditions.
These boats will retain most of their angling amenities:
The "ski" features will include a removable pylon for attaching a tow line for skiers and tubers;
The added wind protection of a full windshield and consoles;
A boarding platform to make it easier for skiers to get in and out of the water;
Padded vinyl covers to convert the bow casting platform into a sun lounge or seating;
Additional lounge-style seating in the main area of the boat;
A deluxe audio system and a cooler for snacks and beverages.
Again, try making the conversion from fishing to skiing mode to see how well the cushions fit. The rear seating and windshield may reduce the boat's fishability a bit, but add a lot of comfort. Do look carefully at the storage available to make sure it will accommodate your fishing gear.
Read Next: How to Buy a Fishing Boat
---
You Might Also Like:
Editor's Note: This article was originally published in February 2018 and updated in January 2020.