8 passengers max
8 - 24 ft long
Trailerable
Rugged and versatile, an aluminum fishing boat is ideal for anglers who want to work the shallows, navigate through rock- and stump-strewn waters, or launch from a primitive or remote landing.
Small aluminum fishing boats can be transported in the bed of a pick-up truck or even on the roof rack of an automobile, while the largest models are designed to head out on big water and are equipped with a long list of angling features.
Aluminum fishing boats come in three basic styles: jon boats, Mod-V (or Modified-Vee), and Deep-V. Jon Boats have a very flat bottom and a squared-off or blunt bow and are especially popular for use on rivers and smaller lakes because they can operate in shallow water and get on plane quickly. Mod-V style boats also have low sides like a jon boat but have a sharper hull shape at the bow to better cut through choppy water, and the hull bottom may not be absolutely flat. A Deep-V aluminum fishing boat has a very traditional profile, with a bow that comes to a point, more vee shape to the bottom, and higher sides, all of which make these boats better suited to use on choppy water because the ride will be smoother and drier.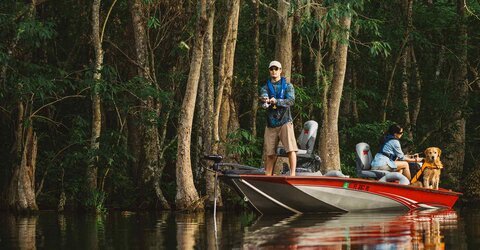 Explore Boat Brands
Aluminum Fishing Boats
Use our Boat Loan Calculator to get a better idea of your own budget.
Looking for a different boat?
Activities with Aluminum Fishing Boats
GREAT FOR Freshwater Fishing • Saltwater Fishing
Aluminum fishing boats come in sizes and styles suited to almost any angling situation, but their rugged construction makes them especially suited to fishing close to shore, in shallow waters, and in reservoirs, impoundments and rivers where there's a chance of impact with stumps, rocks or the bottom. An encounter that might really damage a fiberglass boat may only leave a dent or scratch in an aluminum fishing boat. For this same reason a compact aluminum boat can be a great choice for young boaters as there will be less worry about damage to the boat in the hands of an inexperienced captain.
A model as small as a 12-foot aluminum fishing boat may weigh less than 200 pounds and can be transported without a trailer, on a roof rack or in a truck bed, and powered by a very small portable gasoline or electric outboard motor or rowed with oars. An aluminum fishing boat of this size can be carried by two people and launched from shore onto very small or remote lakes or rivers, for fishing or hunting and trapping activities.
Jon Boats
The best aluminum fishing boat for navigating very shallow water is a flat-bottom jon boat, which will skim over the surface at speed and, depending on boat size, will draw just a few inches of water at rest.
Mod-V and Deep-V Boats
Mod-V and Deep-V boats also fall into the aluminum fishing boats category. There are a few aluminum saltwater fishing boats, and they are usually based on a Mod-V style boat but may have a center console and a white painted finish. These boats are offered as bay boats or light-weight flats boats. The smallest boats may be very basic, with just bench seats inside a bare hull, while the biggest Deep-V models are set up as multi-species or walleye fishing boats with full fishing decks and seat, a livewell and lots of storage for fishing rods and gear, a full windshield for weather protection, and a powerful outboard with a smaller auxiliary motor for trolling. Some Deep-V aluminum boats can be set up as a fish-and-ski boat that's great for all-around family boating.  
Ownership costs of Aluminum Fishing Boats
The smallest aluminum "car topper" boats can cost less than $1,000. That price will not include a gas or electric motor or a trailer, but for use on a small pond you may be happy to simply row the boat with oars. The cost of a new aluminum fishing boat is directly related to its size, the power of the outboard motor, and the level of fishing amenities included with the boat. The largest aluminum fishing boats are designed for dedicated and tournament anglers heading out on bigger water, even on the Great Lakes.
When considering boat price, be sure to take a look at our Boat Loan Calculator to see what you can afford, and don't forget the basic items you'll need to get out on the water, including: dock and anchor lines, an anchor, life jackets and seat cushions, and other safety gear required in your state.
Maintenance Costs

Maintenance costs are certainly a factor every potential boat owner needs to consider in advance. Be sure to check out the Maintenance pages in our Owning a Boat section, which will give you an idea of what's involved. Most aluminum fishing boats will be powered by an outboard motor.
Operation Costs

The key operation cost for any aluminum fishing boat is going to be fuel, and that cost will be influenced by how often you use the boat and the boat's size. A larger boat will require an engine with more horsepower, which will naturally use more fuel. The smallest aluminum boats may be powered by an electric motor, powered by a battery placed in the boat. Other operational costs include annual registration and insurance, trailer registration if required in your state, and off-season storage if you can't or don't care to store the boat at home. Speaking of trailers, before making a purchase make sure your vehicle has a tow rating that can handle the weight of the boat and trailer you are considering.

Aluminum Boat Technology/Materials/Features

The hull and inner support structure of an aluminum fishing boat may be constructed using rivets, welds or a combination of rivets and welding. Both construction methods have their proponents but either method will produce a strong, durable boat. The best aluminum fishing boats may be welded or riveted, and both construction methods may be repaired if the hull is damaged.

The transom (the flat back surface of the boat) of an aluminum boat should be reinforced. Smaller boats will have bracing between the transom and the inside of the hull, and a plywood panel on the outside of the transom where an outboard motor may be mounted. On larger aluminum fishing boats, the inner and outer aluminum skin of the transom will be cored with either wood or a composite material. The advantage of the composite coring is that it will not rot and may be lighter than wood.

The keel runs the length of the boat on the center of the hull, and usually covers a seam where two pieces of aluminum are joined to form the hull. This keel is often made from a very rugged extruded aluminum material that protects the bottom and makes it possible to beach an aluminum boat on a rocky shoreline.