5 passengers max
15 - 22 ft long
Trailerable
Fish-and-ski boats combine features to support both angling and watersports in one do-it-all family fun platform—fish in the morning; tow skiers, boarders and tubers in the afternoon; end the day with a relaxing sunset cruise.
Most fish-and-ski boats are designed for fresh-water use, and come in two general categories: those based on a family bowrider or deck boat with added fishing features, and those based on fishing boats like a bass boat or an all-purpose fishing boat with features that make them better-suited for watersports and comfortable family cruising. A great fish-and-ski boat is a hybrid designed to expand the function of the base boat, and expand the fun time on the water.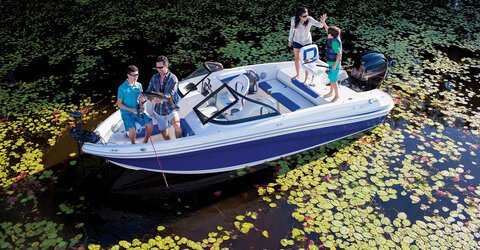 Explore Boat Brands
Fish-and-Ski
Use our Boat Loan Calculator to get a better idea of your own budget.
Looking for a different boat?
Activities with Fish-and-Ski Boats
GREAT FOR Freshwater Fishing • Water Sports
With the best rated fish-and-ski boats you'll be able to enjoy fishing and tow sports, of course, but also day cruising to scenic spots or sand bars for swimming and sunning, a run to a new waterfront hang-out, or a leisurely sunset cruise.
Because most models are trailerable, one of the best fish-and-ski boat activates is towing the boat to explore a new lake or river. Even the best fish-and-ski boats are not a substitute for a dedicating angling or watersports/ski boat because they present too many compromises to be the a great boat for the owner solely focused on one aspect of boating.
Ownership Costs of Fish-and-Ski Boats
There is a wide price range for fish-and-ski boats depending on boat size and amenities. Some are based on very basic runabout models while others are based on premium boats with more features and deluxe appointments. Some fish-and-ski boat manufacturers offer separate models in the fish-and-ski category, while others offer a fishing or watersports package that can be added as an option to a standard runabout, deck boat or fishing boat.
As with any boat purchase, when buying a fish-and-ski, you'll want to find the right boat that fits your budget. Check out our Boat Loan Calculator to help you get started.
Maintenance Costs

Maintenance costs are certainly a factor every potential boat owner needs to consider in advance. Be sure to check out the maintenance pages in our Owning a Boat section, which will give you an idea of what's involved. Fish-and-ski boats may be powered by sterndrive (inboard/outboard) or outboard engine.
Operation Costs

The key operation cost for any fish and ski boat is going to be fuel, and that cost will be influenced by how often you use the boat and the boat's size. A larger boat will require an engine with more horsepower, which will naturally use more fuel. Other operational costs include annual registration and insurance, trailer registration if required in your state, and off-season storage if you can't or don't care to store the boat at home. Speaking of trailers, before making a purchase make sure your vehicle has a tow rating that can handle the weight of the fish-and-ski boat and trailer you are considering.

Fish-and-Ski Boat Technology/Materials/Features

Fish-and-ski boat models offered by a boat manufacturer that primarily builds fishing boats may be either constructed of aluminum or fiberglass, but will almost certainly be powered by an outboard motor. These boats will retain most of their angling amenities. The "ski" features will include a removable pylon for attaching a tow line for skiers and tubers, the added wind protection of a full windshield and consoles, a boarding platform to make it easier for skiers to get in and out of the water, padded vinyl covers to convert the bow casting platform into a sun lounge or seating, additional lounge-style seating in the main area of the boat, a deluxe audio system and a cooler for snacks and beverages. These boats will remain skewed towards the fishing side of the fish-and-ski equation.

Fish-and-ski models based on a runabout or deck boat—often called ski-and-fish boats—will add some key features to support casual angling to a fiberglass boat designed primarily for family boating, with either outboard or sterndrive (inboard/outboard) power. Some manufacturers will present these boats as distinct models, while others will group the fishing features together in an option package that can be ordered with the boat. The typical fishing package may include a basic fishfinder with GPS features, a mounting location and wiring for an electric trolling motor (often purchased separately) and its batteries and charging system, removable fishing seats and a way to convert the bow seating area into a casting platform, fishing rod and tackle storage and in some cases a livewell. These boats will retain their sporty styling and cruising comfort features. 

Outboard power is growing in popularity over sterndrive power in the fish-and-ski category. Because the outboard motor is attached to the rear of the boat, rather than located inside the boat as with a sterndrive, there can be more room in the boat for seating and leg room. An outboard is also typically quieter than a sterndrive engine and transmits less vibration to the boat, and can be easier and less-costly to maintain and to prepare for off-season storage.