5 passengers max
15 - 20 ft long
Trailerable
All-purpose fishing boats not only let you enjoy fishing in many different ways for many different species of fish, but they're also so versatile that they can be used for many other aquatic activities.
Plus, since there are aluminum fishing boats and fiberglass models of all different shapes and sizes, you have a huge range to choose from—many of which will cost you less than your cell phone family plan.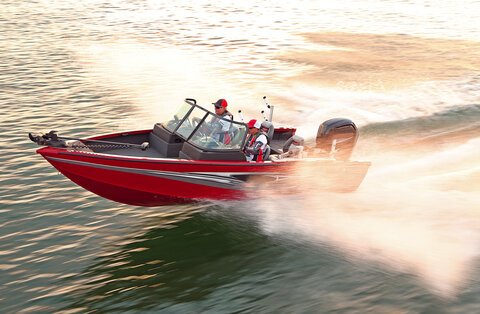 Explore Boat Brands
All-Purpose Fishing Boats
Use our Boat Loan Calculator to get a better idea of your own budget.
Looking for a different boat?
Activities with All-Purpose Fishing Boats
GREAT FOR Freshwater Fishing • Saltwater Fishing
While all-purpose fishing boats are naturally intended for fishing, their inherently adaptable nature means they can be used for just about any type of boating adventures. In fact, find the best all-purpose fishing boat for your family and you'll probably discover you have so many different options, it's hard to choose which activity to enjoy when the weekend arrives.
Perfect Fishing Platform
These fishing boats can be used in all different types of waters ranging from rivers to lakes to bays. Fishing rod holders that allow you to rest your rod between casts or try trolling multiple lines, aerated baitwells which keep your minnow alive and frisky, and integrated tackleboxes that help you keep your fishing gear organized are a just a few examples of the items you may find built into all-purpose fishing boats.
Used for Skiing and Tubing
When the fish stop biting or the kids get fidgety, one of the things we love about all-purpose fishing boats is that they are also perfectly suited for activities like water skiing or pulling tubes. Virtually all modern models, including small fishing boats, have stern eyes you can clip a tow-line on, re-boarding ladders for climbing on and off the boat, and sufficient power to give the kids a thrilling ride. Many also have swim platforms, removable towing attachments, and other accessories that are ideal for times when fishing isn't the main mission.
Cruise a Variety of Waters
All-purpose fishing boats can also be used to simply day cruise around different waterways. This can be an eye-opening experience which is a lot more interesting than it may sound. Sure, everyone likes a boat ride—but envision meandering through an isolated creek for a wildlife cruise and spotting eagles, herons, and egrets that are doing a little fishing of their own. Picture crossing the lake to visit a dockside restaurant for lunch. Or maybe taking the boat through an urban waterway to see the sights of the city from a unique aquatic point of view.
Ownership Costs of All-Purpose Fishing Boats
Here's another reason to love all-purpose fishing boats: they're affordable for just about any average American family. Small fishing boats in particular can be shockingly inexpensive. In fact, visit our Boat Finder, identify some options you might like, and then utilize our Boat Loan Calculator.
You'll quickly discover that there are plenty of all-purpose fishing boats on the market which can accommodate a family of four or five people, yet require a monthly payment that's half as much as you'd be paying for a new car. Added bonus: owning a new boat is a heck of a lot more fun than owning a new car!
Maintenance Costs

Maintenance costs are yet another factor that leaves us star-struck when it comes to all-purpose fishing boats. You'll want to buy some boat-soap and a scrub brush, but beyond that the only maintenance expenses you really need to plan for are engine upkeep. Today's modern outboard engines (which are the most common form of powerplants on all-purpose fishing boats) are incredibly reliable and have excellent warranty coverage, so going by the manufacturer's recommended regular maintenance schedule will give you a very accurate idea of how much you'll need to plan on spending.
Operation Costs

Naturally you do have to feed that engine fuel, but aside from gas, there isn't much to worry about in terms of operation costs. You may also want to plan in insurance costs (see Insuring Your Boat for more info). Setting fuel and insurance aside, your next biggest expense is likely to be bait!

All-Purpose Fishing Boats Technology/Materials/Features

The materials and features found in most all-purpose fishing boats haven't changed much in recent years due to their inherent simplicity. You'll find plenty of aluminum fishing boats which are built with the latest welding techniques and marine-grade "5052" aluminum (which has a small amount of magnesium and chromium added to the metal, increasing its strength and resistance to corrosion). You'll also come across many fiberglass models, which are usually hand-laid but may include some of the more advanced vacuum-molding techniques.

In both cases, one-way technology has crept into fishing boats, even small fishing boats, is the presence of accessories to keep you connected even when you're out on the water. UBS charging ports are quite common these days, and many fishfinder/chartplotter units can "talk" to your cell phone using Bluetooth or WiFi, allowing you to interact with your boat via an app.