5 passengers max
16 - 25 ft long
Trailerable
When it comes to finely-honed fishing boats, the bass boat may be the most effective fishing machine ever designed for a specific species.
Whether you're talking about small bass boats, aluminum bass boats, big bass boats, or the all-around best bass boat on the face of the planet, virtually all aspects of this genre of boat are carefully considered by the makers of different bass boat brands to help you become a better bass angler.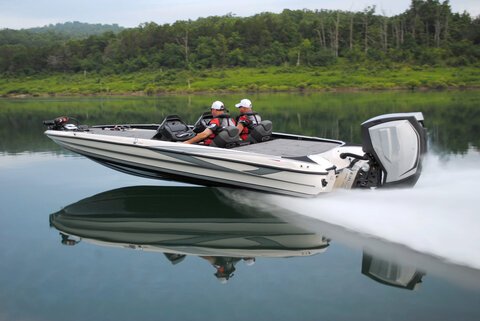 Explore Boat Brands
Bass Boats
Use our Boat Loan Calculator to get a better idea of your own budget.
Looking for a different boat?
Activities with Bass Boats
GREAT FOR Freshwater Fishing • Day Cruising
When considering bass fishing boats, one must remember that these are not all-purpose fishing boats. Design traits that make them so effective for bass angling, like the low profile, maximized casting decks, and minimized seating, mean that they won't be the most useful boats for other activities. That said, like any boat you can do other things with them. Many people enjoy using them to pursue other species of fish, and some limited watersports and cruising abilities do come with owning a bass boat.
Extensive Fishing
Bass boats are often crafted with an eye towards competitive fishing, with traits like large livewells (where you keep the catch alive during a tournament for release after the weigh-ins), multiple high-end fishfinders, fishing positions for two anglers (in tournaments the competitors commonly fish in pairs), and high-speed performance so you can beat the competition to the hotspots. However, these traits also make them effective fishing machines for many of the other species found in the lakes and rivers where bass commonly prowl.
Strong horsepower to get to your favorite fishing grounds
Whether you're looking at the best, most expensive, fastest bass boat on the planet or you're considering an economy model with a smaller engine, most bass boats have a high horsepower-to-weight ratio. In other words, for their weight comparatively speaking they tend to have more horsepower than other sorts of boats. When driving them hitting speeds you'd drive a car on a highway is very common, and some high-end bass boats designed specifically for bass fishing competition will even leave dedicated speed boats in their wake.
Spacious room to fish as the bass boats are usually only two-person occupancy
One of the more unusual traits of a bass boat has to do with the deck layout. Since serious bassers tend to fish in pairs, the entire foredeck and the aft deck are each laid out for a single angler. While this limits the number of people you can take fishing (though a third person will fit on most models, if you're willing to squeeze in while running), it means that as you fish you have tons of elbow room and plenty of space to cast.
Ownership Costs of Bass Boats
Bass boats do tend to be more expensive than many other types of boats the same size, especially when looking at top-tier models that may be in the running for the best bass boat on the lake. The main cost will be the initial purchase price, though. Once you take ownership of a bass boat, the related costs are minimal. You can learn more about overall cost expectations by using our Boat Loan Calculator.
Maintenance Costs

The biggest maintenance cost associated with a bass boat is the engine's regular maintenance. Beyond that all you'll need to buy at the start are some cleaning supplies. Bass boats also tend to have a lot of pumps and accessories to accomplish their mission. The livewells tend to be more complex than those on other boats and may have timers and aeration systems, for example. These systems do require some additional maintenance over time but will almost always be covered under warranty for several years, so maintenance of these systems should be considered down-the-road costs.
Operation Costs

Since they do tend to have big engines, bass boats consume more fuel than some other varieties of boats and this will be your number-one operational cost; however, excepting those who fish on a professional competitive basis bass boats aren't often used for long cruises to distant places. So, for most anglers this is a minimal cost. In addition to fuel, you should also plan for insurance costs (see Insuring Your Boat for more information).

Bass Boat Technology/Materials/Features

Bass boats are some of the highest-tech fishing boats on the water, and bass boat technologies tend to advance rapidly. Many incorporate space-age materials and components in their construction which minimize weight while maximizing strength and have been designed with advanced CAD/CAM software. Many bass boats are also rigged with the latest and greatest electronics.