For many boaters, boating is a family tradition—a way of life that includes shared experiences like the first time you take the steering wheel, catch a fish or trim a sail. Not only are moments like these fun for the whole family, but they also bring parents and kids closer together as the family becomes a "crew" through teamwork and shared responsibilities.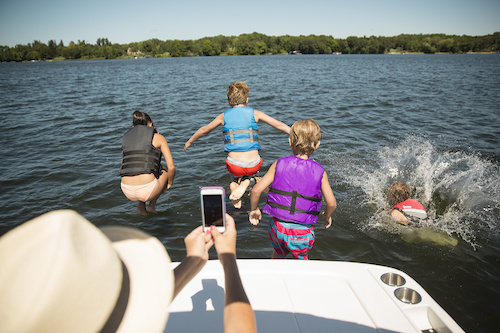 For every family member to join in and participate, however, you'll naturally want to choose a type of boat that everyone can enjoy to the fullest potential.
Which is ideal for you and your family will depend on several factors: what type of boating does your family enjoy? How large does it need to be, and what accessories should it have? As you ask yourself these questions, remember that for most families, one of these seven boat types is likely ideal.
 
Best Starter Boats for Families
Bowriders
Cabin Cruisers
Fish-and-Ski Boats
Jet Boats
Pontoon Boats
Sailboats
Walkarounds
1. Bowriders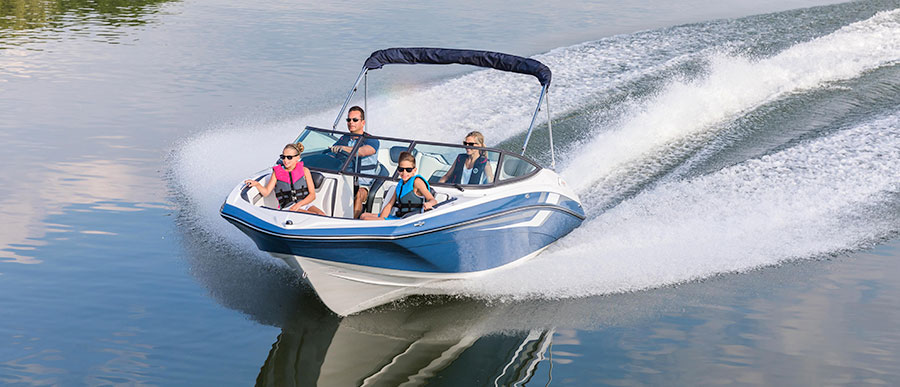 If joyrides across the lake or bay, towing water toys, swimming at the beach, and generally kicking back on the water sounds like good times to you and your kids, a bowrider may be your perfect choice. 
Bowriders are one of the most popular family boats, thanks to their high versatility, copious seating, and easy access to the water.
Bowriders are available in a vast range of sizes that match just about every budget, from small 16-foot runabouts to 30-plus-footers with every comfort feature imaginable ranging from enclosed head compartments (full bathrooms) to complete outdoor kitchens (though we call them galleys, on a boat). And while they may not be the ideal platform for activities like fishing or overnighting, bowriders can be used for just about any waterborne activity you can dream up.
 
2. Cabin Cruisers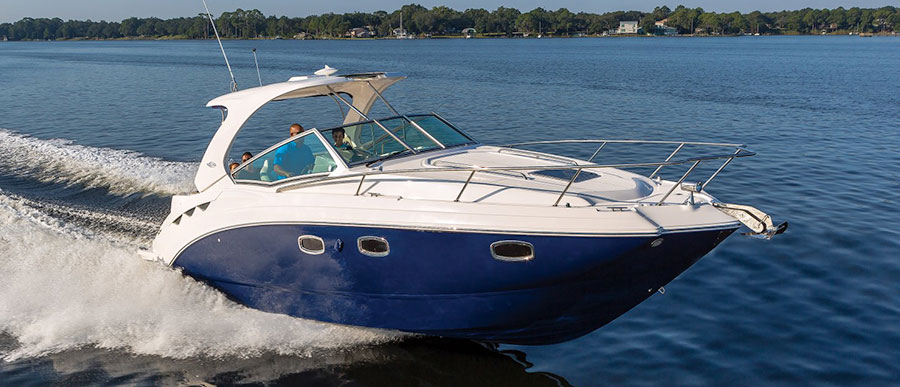 Cabin cruisers are larger than many other boats and can cost quite a bit more. Still, they also expand your abilities to include adventures like visiting distant ports, weekending aboard, or even taking a family vacation on the water. They're more or less like having a mobile home that floats, and most come with everything you need for adventures that last days at a time.
Explore All Cabin Cruiser Boats
3. Fish-and-Ski Boats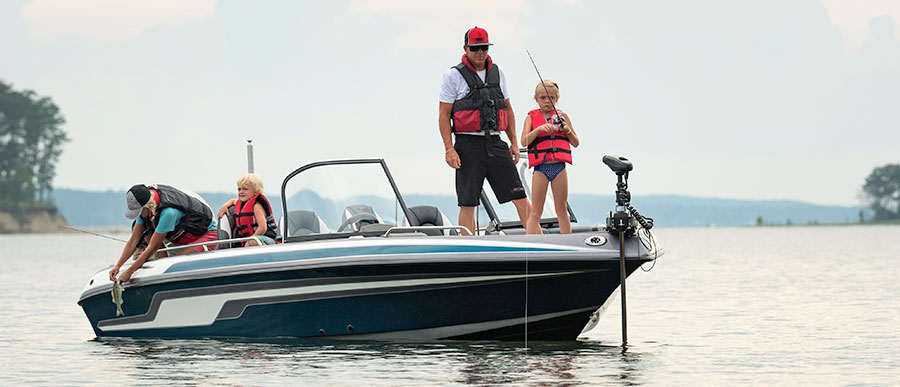 Fish-and-Ski boats are designed to be just what their name infers. They have all the essential accouterments you need to chase those finned critters in the morning, then enjoy water skiing, wakeboarding, and similar watersports in the afternoon.
Most have a layout similar to that of a bowrider, but with the addition of fishy features like livewells, rod holders, and an electric trolling motor, plus tow-sports goodies like a ski-tow pylon and ski lockers. 
Although some trade-offs must be made for a boat to be designed for multipurpose use (that livewell could be a drink cooler on a dedicated watersports boat, and that bow seating might be a casting deck on a boat meant purely for fishing). But on the whole, the fish-and-ski is perfect for families that want to participate in both activities.
 
Explore All Fish-and-Ski Boats
4. Jet Boats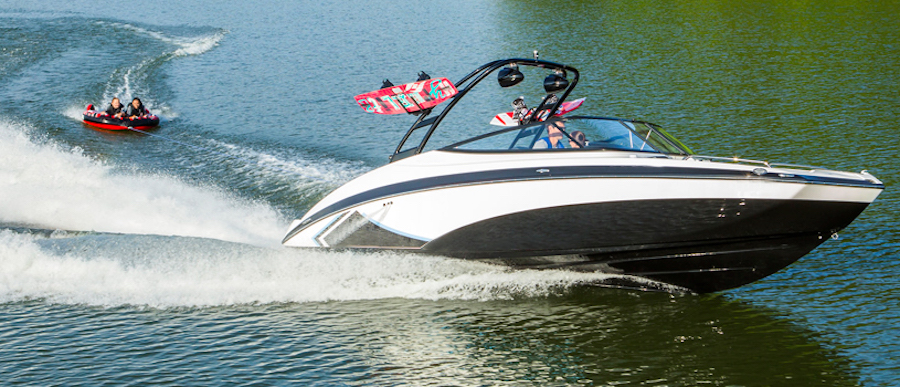 Though the range of available choices is a bit less expansive when it comes to jet boats, and jet propulsion tends to be slightly less efficient than more traditional choices, they have one perk that many family boaters love: there's no propeller. 
Propeller injuries are exceedingly uncommon in any case, but the mere thought of doing away with the prop and instead propelling the boat with a powerful jet of water gives many parents invaluable peace of mind. Plus, jet boats have excellent handling, minimal draft, and all the other features and accessories found on runabouts.
 
5. Pontoon Boats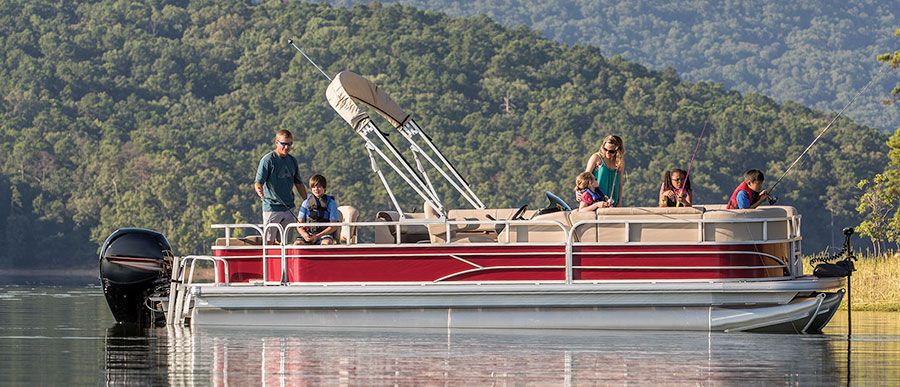 Pontoon boats are incredibly popular, and it's no wonder why: the stable, comfortable platform they provide is ideal for kicking back and lounging on the water. But don't think for a moment that today's pontoons can't be downright thrilling, too. 
Many come with potent engines that provide exciting performance and the ability to enjoy watersports. And while they may not be as apt at handling large waves as monohull boats, many of the larger pontoons and "tritoons" (boats with three pontoons instead of just two) are surprisingly capable in choppy waters.
 
6. Sailboats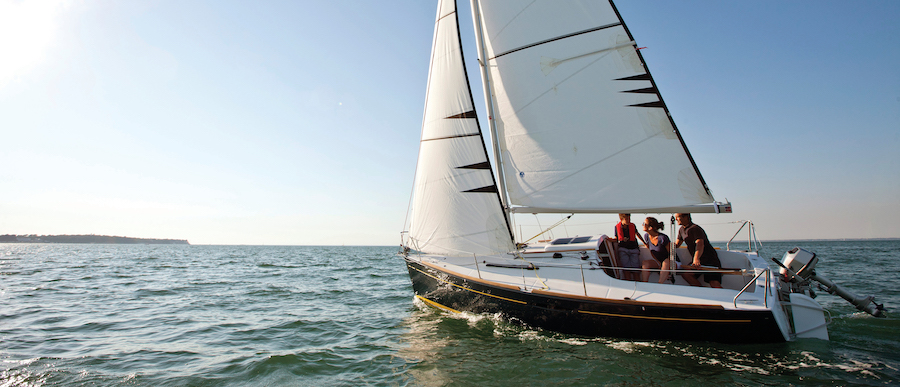 Sailing is, of course, a very different experience than powerboating. Speeds are significantly reduced, and operating a sailboat is far more complex than pressing down a throttle and turning a steering wheel. Yet these "drawbacks" are, in some ways, what makes sailing so appealing—it takes skill and teamwork to sail a boat from your dock to your destination, and every family member has a role to play. 
Plus, modern sailboats are available in all different sizes and comfort levels. Added bonus: since sailboats don't require huge, powerful engines, compared to powerboats on a foot-to-foot basis, they generally cost significantly less.
7. Walkarounds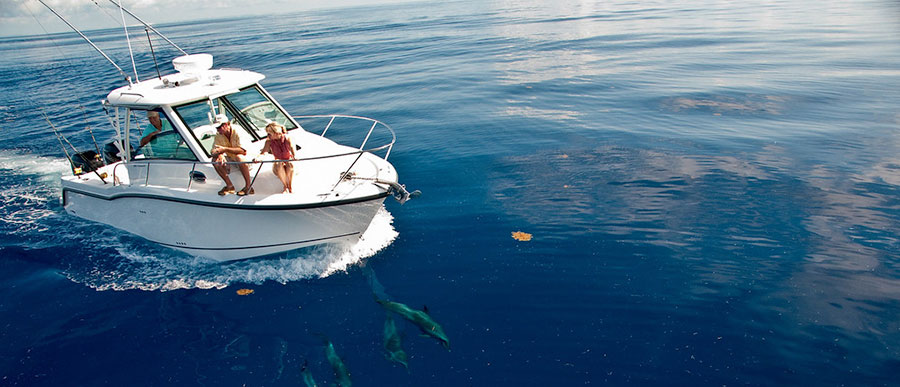 Walkaround boats can be ideal for families that enjoy fishing and day cruising yet also want overnighting abilities. They usually have large, open aft cockpits where you can swing a rod or set a trolling spread, but the bow is enclosed and provides both sleeping accommodations and weather protection. 
And while it's true that many types of fishing center consoles may be the most effective design, many angling families with young children—especially those who may go fishing in chilly or rainy conditions—choose walkarounds mainly because of that added protection.
 
Conclusion: Consider One of These Family Boat Options 
In most cases, one of these seven boats will prove ideal for you and your water-loving family. Of course, there are other, more highly-specialized boats that you may find tempting. 
If bass fishing is your true love, bass boats will be impossible to beat. Speed demons will naturally gravitate toward high-performance boats. And if wakesurfing is your sport of choice, then getting a dedicated ski boat/wake boat may be in the future.
But in every case, remember one thing: find a boat that makes you and your loved ones happy, and spending time on the water will draw your family closer together—and that's one thing we can guarantee.
Read Next: Choosing the Right Boat: Buying Guide for Recreational Boating
---
You Might Also Like:
Editor's Note: This article was updated in January 2023.