8 passengers max
16 - 24 ft long
Trailerable
High performance boats are the best way to go for boaters who enjoy a bit of speed on the water and wind in their hair. Performance-oriented powerboats range in size from 20 to more than 50 feet and ride on V-bottom and catamaran hulls.
They range small outboard-engine-powered sport catamarans to giant performance center consoles to closed-deck V-bottoms with full canopies over the cockpit and inboard power. Likewise, amenities vary widely from vessel to vessel. A luxurious 50-foot V-bottom high performance boat might have a complete cabin ideal for a weekend getaway, whereas a 34-foot sport catamaran hot rode might have just six seats in the cockpit and nothing below its deck.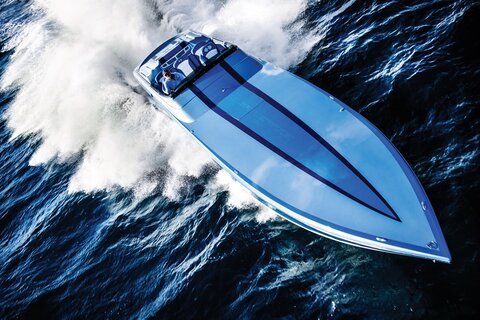 Explore Boat Brands
High Performance Boats
Use our Boat Loan Calculator to get a better idea of your own budget.
Looking for a different boat?
Activities with High Performance Boats
GREAT FOR Day Cruising • Saltwater Fishing
While high performance boats are designed to deliver thrills at speed, there's a lot more you can do with one than simply run fast. In fact, there is a whole host of organized activities for performance-boat owners around the country every season. The most popular of these activities are poker runs, which involve a fleet of performance-boats running from point to point to collect five cards. Participants play those cards at the end of the day to earn prizes and share good times with new and familiar friends. There also are brand-specific events year known as owner rendezvous organized by specific boat builders, as well as simple lunch runs and fun runs organized by various clubs around the country.
As Social Platforms
As enjoyable as organized events can be as social experiences, they're not your only option with a high performance boat—at least if you chose a performance-oriented center console. Predominantly powered by outboard engines, the new generation of go-fast center consoles have abandoned their traditional angling setups for bountiful seating and open spaces in the cockpit. Models in this category range from 34 to 60 feet, which means they offer the most passenger seating and space of anything in the go-fast boat world. On the water or at the docks, a high-performance center can be the ultimate social platform for spending time with family and friends. 
Ultimate Canvas for Customization
From paint to power, no powerboat category offers greater opportunities for customization than the high-performance realm. Elaborate, high-dollar paintjobs are more the rule than the exception in the upper end of the go-fast boating world, and most builders will even color-match a boat's interior colors to those of its exterior. On the power side, buyers have an array stern-drive and outboard options depending on the model in question. Your options are, for the most part, only limited by your budget.
Ownership Costs of High Performance Boats
For the most part, high performance boat ownership tends to be significantly higher than those for other types of powerboats. New model prices start in the low six-figure range and can reach well past the $1 million mark. Because of their potentially high speeds—the fastest go-fast catamarans can top 180 mph—and powerful engines, high performance boats also tend to be substantially more expensive to insure than their conventional powerboat counterparts such as a bowrider or pontoon boat. 
Our Boat Loan Calculator can help you determine if a high performance boat works for your unique budget and needs.
Maintenance Costs

In the high performance boat world, the general rule of thumb is that the more-powerful the engines involved the more expensive the boat is to maintain. Service and rebuilds for big-power stern-drive engines of 1,000 horsepower and beyond are costly. Go-fast boats equipped with today's reliable outboard engines are far less expensive to maintain and can be purchased with substantial factory protection, as long as eight years in some cases.
Operation Costs

As a high performance-boat owner, your No. 1 operational cost will be fuel. The more powerful the engines involved, the more fuel they will burn and the higher-octane gasoline they will require for performance and reliability. Higher-octane fuel is more expensive than lower-octane fuel. Also, worth noting is that high-octane fuel tends to be less readily available on the water. 

High Performance Boat Technology/Materials/Features

When it comes to construction materials used to build them, high performance boats run the gamut from vinylester resin and fiberglass to carbon fiber and epoxy. While the latter tends to be lighter, stiffer and equally strong, it also is more expensive than "conventional" fiberglass and resin materials still used by most builders.

Expect to find the latest electronics in today's high-performance boats and you won't be disappointed. Where once a speedometer and tachometer was everything an operator needed, current go-fast boats are loaded with the latest GPS monitors, accessory switching systems, live front-and-rear video cameras that display on screens in real time, massive stereo systems and in-cockpit and underwater LED lighting systems.