10 passengers max
14 - 25 ft long
Trailerable
Jet boats, in today's boating world, are no longer considered the oversized personal watercraft (PWC) or an undersized bowrider. They're full-size family runabouts with the same bounty of features and amenities found in today's sterndrives. While there aren't as many options for jet boats as there once was, what is available today is first rate.
Jet drives have advantages over sterndrive boats, and they're certainly worth considering when pondering a new boat purchase. For example, jet drives are built into the hull, so a jet boat can run in shallower waters. There's nothing extending beneath the running surface of the hull to catch seaweed or be damaged by rocks or other underwater obstructions. 
Also, because the impeller is contained within the jet cavity, there's no propeller to pose a danger when swimming around the transom of the boat. Pull up to the sandbar and enjoy splashing around with your kids, with nothing to be concerned about other than a sunburn and whether you brought enough sandwiches.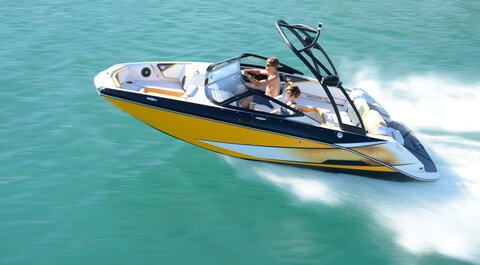 Explore Boat Brands
Jet Boats
Use our Boat Loan Calculator to get a better idea of your own budget.
Looking for a different boat?
Activities with Jet Boats
GREAT FOR Water Sports • Day Cruising
Thanks to the advances in hull designs, propulsion systems wake-enhancing technology, there are really no limitations to what you can do with a jet boat. Slow speed maneuverability, such as when docking, has been greatly improved over the years as has fuel consumption.
On the water at speed, nothing handles like a jet boat. They corner crisply and respond well to on-throttle turns and maneuvers. They are genuinely fun to drive.
Favorite Jet Boat Activities
Towing your favorite water toys
Swimming off the swim platform
Enjoying a sandbar
Ownership Costs Jet Boats
Jet boats fall within the usual range of recreational boats. They're no more or less affordable than a bowrider runabout in the same size range, about 15- to 28-feet long. At the time this information went live, the price range for jet boats ranges from about $21,000 to about $66,000.
Our Boat Loan Calculator can be a useful tool to see if a jet boat fits within your budget.
Maintenance Costs

Count on oil changes every 50 to 100 hours depending on manufacturer recommendations and whether you use synthetic or mineral oil, and that applies to sterndrive and outboard models. Also, you will need to pay someone to inspect things like the anodes, fuel filter, thermostat, spark plugs and accessory drive belts. 

To help define hours of use, most boaters average between 50 and 75 hours per season, more if you live in places where boating is a year-round activity.
Operation Costs

A jet boat is really no more expensive to own and operate than a sterndrive or an inboard. However, there are recurring monthly costs to consider: 

Jet Boat Technology/Materials/Features

The technology and materials in jet boats typically trickle down from the realm of motor yachts, sailboats and high performance boats. However, new developments have arisen in propulsion and handling.

For example, engines are now cleaner-burning, fuel-injected four strokes. Gone are the days of smoky two strokes that spoil the environment boaters are out there to enjoy. What's more, the use of electronic technology has ushered in greater slow-speed maneuverability, which wasn't as easy as a sterndrive in earlier-model jet boats.