Pontoon boats are offered in a wide variety of sizes and a styles, with options that make it possible to create a basic lake cruiser, a luxury entertainment platform, a fishing machine or a performance pontoon ready for tow sports and speedy runs across the lake. One of the first decisions you'll need to make when considering a new pontoon boat is the choice between a two-tube, or three-tube design—otherwise known as a "tritoon."
Explore Pontoon & Tritoon Options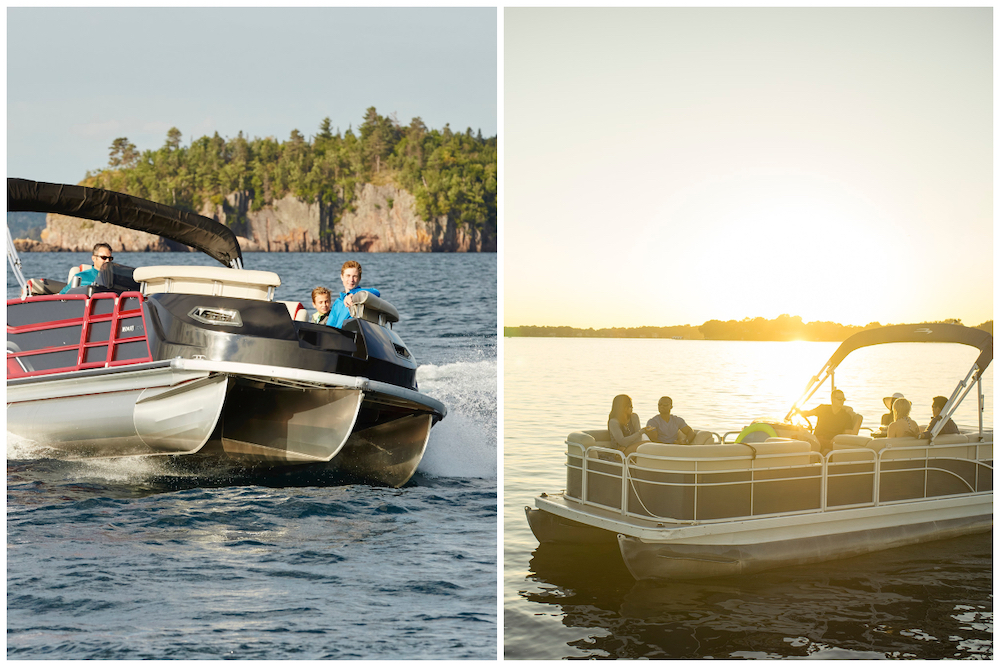 Pontoon Boats (Two-Tubes)
The original pontoon boat that gained popularity in the 1960s floated on a pair of tubes (first made of steel and later aluminum) that supported a wide, flat deck. These boats were modestly powered and intended for low-speed cruising on flat water. In the 1980s, builders began experimenting with designs that added a center tube—and soon, one manufacturer trademarked the term "TriToon," in an effort to improve boat performance and handling. Today many pontoons are offered with a choice of twin- or triple-pontoon designs.
There's nothing wrong with a twin-tube pontoon, but the design has some limitations. In turns the twin-tube pontoon will lean to the outside, or away from, the turn. This is not an issue at lower speeds, but as speed increases this can be uncomfortable for passengers and cause the boat to slide, rather than carve, through the turn. For this reason the rated horsepower of twin-tube pontoons is limited.
Tritoons (Three-Tubes)
When a center tube is added to the design, it's usually mounted just a little lower than the outboard tubes or is a slightly larger diameter.
At speed the boat glides on the center tube with the outboard tubes providing stability, and when the boat enters a turn it may stay flat or lean into the turn. The center tube improves comfort and handling. A pontoon with triple tubes will have a higher horsepower rating than a model with two tubes, and thus is capable of higher speed and is better suited for use as a watersport tow boat.
Some larger pontoons with triple tubes can be rigged with two or three outboard motors. The center tube also increases the boat's capacity so it can be physically larger, can carry more amenities and more passengers, and also more fuel. The third pontoon also makes the boat more comfortable and capable in rougher water. Of course adding that center tube will increase the cost of the boat, as does the higher-horsepower engine.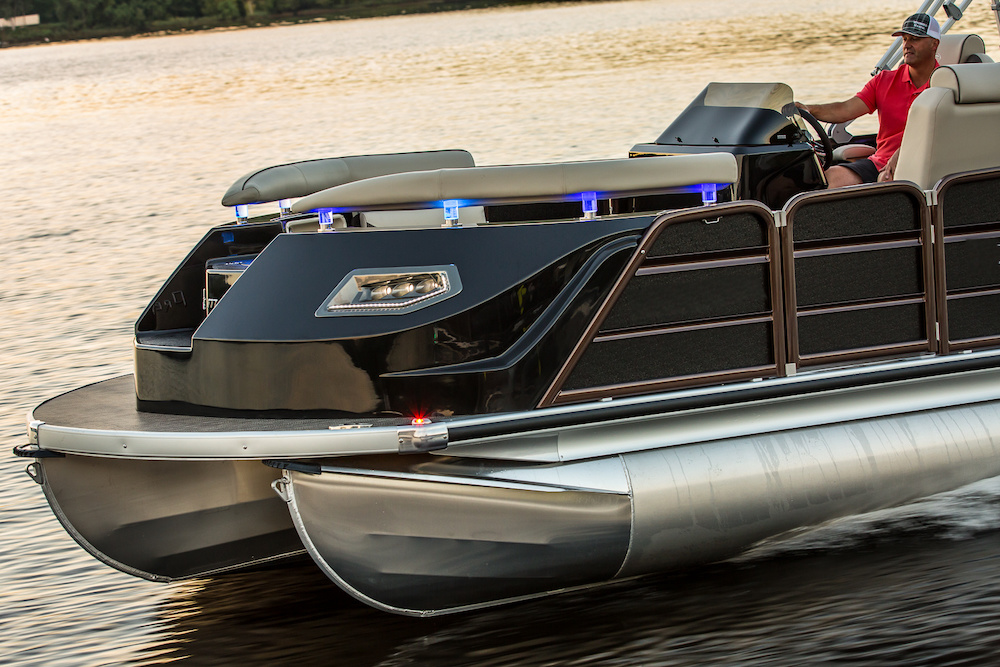 Tube Size
Pontoon boats may also be offered with a choice of tube diameter. Today many mid-size (20 foot long) and larger pontoons are offered with 25-inch diameter tubes, with an extra-cost option of 27-inch diameter tubes. The larger tubes increase the boat's capacity and also improve its performance and comfort in rougher water.
Some builders also offer optional pontoon shapes—some are elliptical rather than round, others have a flat bottom surface—which are intended to improve performance. Finally, most pontoon builders offer performance packages that add lifting strakes along the sides of the pontoons designed to reduce drag and increase speed and, in some cases, improve handling.
Take one 24-foot pontoon model as an example: 
| | | | |
| --- | --- | --- | --- |
| Tubes | Passenger/Weight Capacity | Max Power | Fuel Capacity |
| 2x25-inch | 13/2315 lbs | 150 HP | 28 gal. |
| 2x27-inch | 15/2564 lbs. | 150 HP | 28 gal. |
| 3x25-inch | 15/2697 lbs. | 225 HP | 63 gal. |
| 3x26-inch | 16/2953 lbs. | 225 HP | 63 gal. |
Choosing Between a Tritoon vs. a Pontoon
When deciding between twin- or triple-pontoon design, the choice comes down to two key factors:
The size of the boat: As the boat gets longer and wider the benefits of the triple-pontoon design become more important because the boat simply weighs more and you'll want a larger engine to get satisfying performance.
Your intended use: If your vision of pontooning is a slow evening cruise on a calm lake there's nothing wrong at all with a twin-tube model. If you'd like to see a top speed over 40 MPH, or you'd like to have enough power to tow skiers and boarders, a triple-pontoon design is probably a better choice. If you boat on bigger water or want to be able to head out when the wind kicks up choppy conditions, the triple-tube model will also be an advantage.
Read Next: Pontoon Boat vs. Deck Boat
---
You Might Also Like: