8 passengers max
16 - 30 ft long
Trailerable
Multi-hull powerboats are generally referred to as "power catamarans" because most of these designs ride on two hulls. You may find a power trimaran with three hulls, but they're rare. Technically, pontoon boats, which are open deck boats built on twin metal flotation tubes are also multi-hull powerboats and pontoon boats with three tubes are called "tri-toons". 
Power cats have become extremely popular in recent years for multiple reasons: they offer more deck and cabin space than a monohull powerboat of the same length, they tend to be more fuel efficient since they don't drag heavy ballast through the water, they're very maneuverable since their engines are set wide apart eliminating the need for a bow thruster (a propeller that provides side thrust and therefore maneuvering control), they're very stable at rest so you can get a good night's sleep in a rolly anchorage, and often people feel less seasick on multi-hulls because they have a different motion on rough water.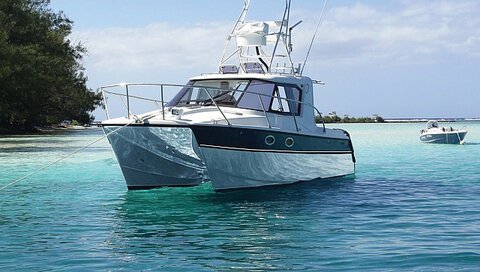 Explore Boat Brands
Multi-Hull Power Boats
Use our Boat Loan Calculator to get a better idea of your own budget.
Looking for a different boat?
Activities with Multi-Hull Powerboats
GREAT FOR Saltwater Fishing • Day Cruising
What you do with a power cat will depend on the brand, size and design of the vessel. Smaller center console cats with an open deck and a steering station in the middle may be perfect for fishing or diving and since they don't roll, they induce less fatigue throughout the day. 
Larger power cats may be designed to coastal cruise or cross oceans so they'll have a galley (kitchen), multiple heads (bathrooms) and usually three to four sleeping cabins typically found in the deep hulls. Because power cats are large, stable platforms, they're an excellent choice for families with small children or older, less mobile passengers. 
Pontoon boats have gained market share recently due to their increasingly better construction and an added tube that makes them more buoyant. They can carry larger engines that make them faster and able to engage in towing sports like wakeboarding and water skiing. Pontoon boats are usually used for family lake boating and entertaining. Their small metal hulls or tubes cannot be accessed like those on cruising power cats.
Ownership Costs of Multi-Hull Powerboats
The size, age, brand, overall design and onboard equipment will dictate the purchase price of a multi-hull powerboat. In addition to the initial price, you'll need to estimate the cost of outfitting like electronics that are often priced separately. Our Boat Loan Calculator can help you see if the costs of ownership fall within your budget.
Where multi-hulls can get expensive is dockage since many larger models won't fit into a standard width slip and will require an end tie (usually found at the end of a dock or bulkhead). These spaces are limited in supply and therefore more costly. Smaller fishing cats and pontoon boats may add the cost of a trailer (but that in turn, may save on dockage fees). Ship's registration with your state authority or documentation from the U.S. Coast Guard will also add a small fee.
Maintenance Costs

Normal maintenance for all boats includes interior and exterior cleaning, bottom scraping, hull polishing and waxing, and so on. Keep in mind that you'll be paying these services for basically two boats since there are two hulls. Most larger power cats have redundant systems (bilge pumps, fresh water pumps, battery banks, engines, etc.) and that provides a backup system if one fails. However, with more equipment comes more general maintenance time as well as repair cost.
Operation Costs

Power cats need fuel although their engines are often smaller and therefore cheaper to feed. If the boat is large enough to require paid crew, that will add to the cost of operation as well.

Multi-Hull Power Boat Technology/Materials/Features

Due to advances in construction techniques, today's multi-hull powerboats are lighter but stronger so they can carry more and go faster and they'll age better than their predecessors. Large cruising cats will have generators to charge batteries, sophisticated navigation and communications electronics, full galleys, watermakers (desalination equipment) electric toilets and many other comforts of home, which make them ideal for extended cruising.