Who says boaters on the coasts get to have all the fun? America is a big place, and it's filled with some mighty big and beautiful lakes for cruising, fishing, watersports and sightseeing.
Here's a look at 10 of the best lakes in the United States for boaters.
Explore Boat Types for Your Lifestyle
10 Best Lakes in the US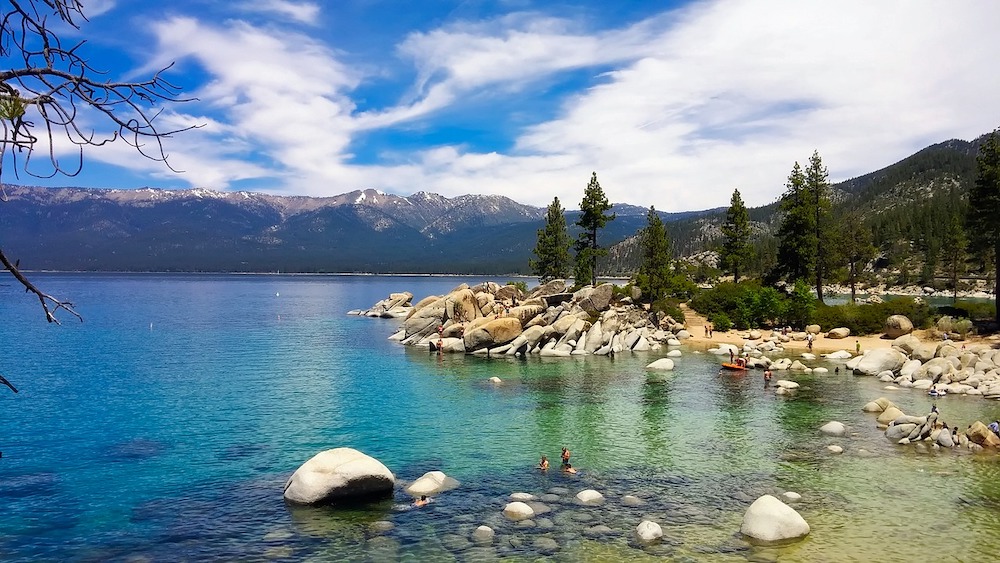 Lake Tahoe
This freshwater lake, which crosses the border of California and Nevada, is the largest alpine lake on the North American continent. That means it's thousands of feet above sea level, which means the water is typically colder, which means it's also generally clearer water because the temperature makes it harder for moss and algae to grow. Being an alpine lake also means staggeringly gorgeous views of mountains on all sides, not to mention the pine and fir trees filling in the landscape. Lakefront restaurants dot the shoreline with tie-ups for boaters, and summertime events range from sailboat races to the Lake Tahoe Concours d'Elegance of classic wooden boats each August. So many boats participate that there are more than a dozen classes of judging; boat lovers can spot everything from triple-cockpit runabouts to prewar designs.
Lake of the Ozarks
Lake of the Ozarks is actually a reservoir in central Missouri, with Osage Beach serving as the heart of its boat-buying and service area (wherever there's a MarineMax outpost, you know there are plenty of people who love boats). There are some pretty big boats cruising this lake, too, with slips as large as 55 to 60 feet allowed in the residential and commercial developments. Boat rentals are also available, with companies offering everything from ski boats and personal watercraft to pontoon boats. And there are plenty of places to take those boats, with dining, shopping and golf all along the waterfront. Want to soak in the views for a few weeks or longer? There are houseboat rentals here, in addition to campgrounds, hotels and vacation home rentals.
Learn more about renting a boat in a Boat Rentals Guide.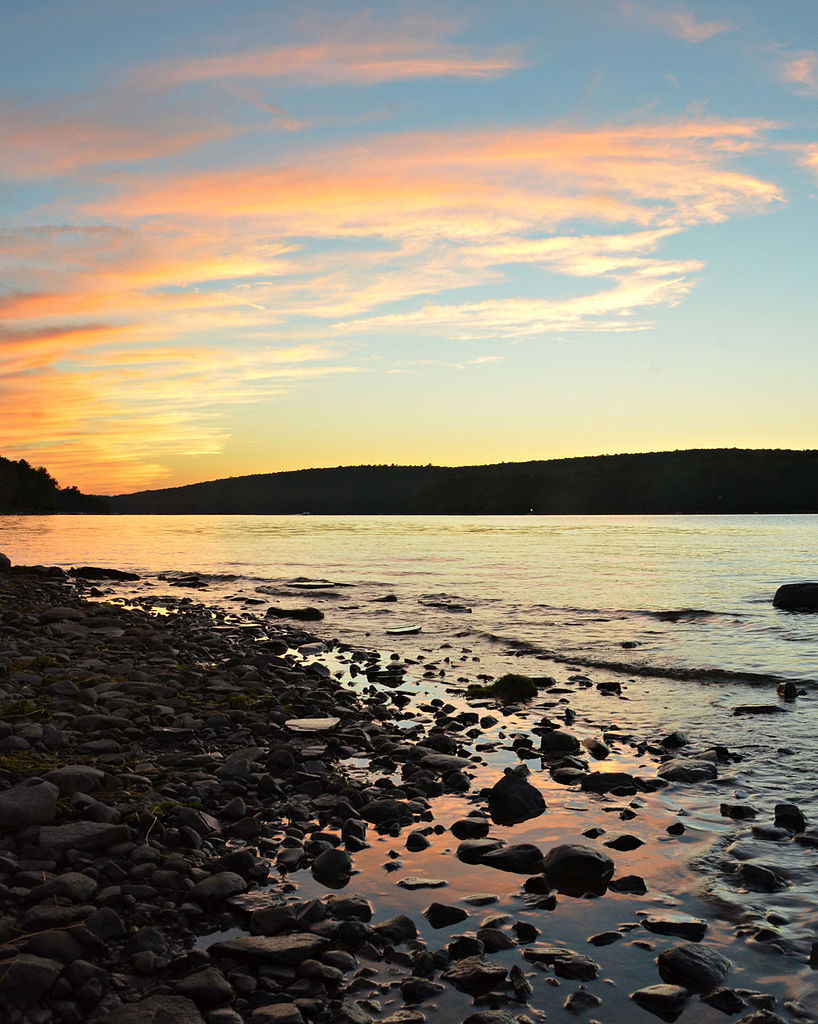 Lake Wallenpaupack
Located in Pennsylvania's Pocono Mountains, Lake Wallenpaupack takes its name from the Lenape natives who once called the region home (if you recognize the lake's name, it's probably because you remember it from the "Booze Cruise" episode of "The Office" on television back in 2006). This lake is about 13 miles long, which is more than big enough for skiing, fishing and cruising. And on this lake, the law says you can have as much horsepower hanging off your boat's transom as you'd like—as long as you keep your speed below 45 MPH during daylight hours, and below 25 mph after sunset. Fishermen, take note: The Pennsylvania Fish and Boat Commission stocks Lake Wallenpaupack with striped bass, walleye and trout; you'll also sometimes catch large- and smallmouth bass, catfish and panfish here.
Lake Okeechobee
When a lake's nickname is "The Inland Sea," you know it's worth seeing—and that nickname is being used in no less than the state of Florida, which is arguably the boating capital of the United States. That's where Lake Okeechobee is located, spanning about 30 miles in every direction and offering fishing, boating and sightseeing. And the lake connects, by way of the Okeechobee Waterway, to the Intracoastal Waterway on both the Atlantic and the Gulf sides of Florida. That connection means boaters can enjoy the lake as part of a "mini-loop" cruise that includes all kinds of fun coastal places, from Stuart and Fort Lauderdale on Florida's East Coast to St. Petersburg and Fort Myers on the West Coast.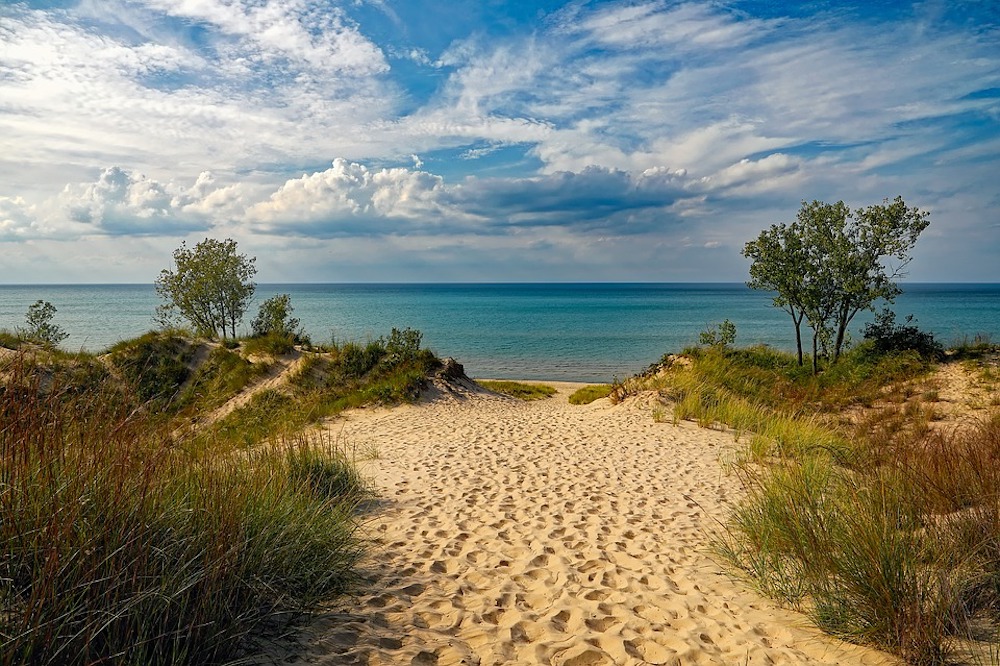 Lake Michigan
If you have to choose just one of America's Great Lakes for a day, week or month of boating, then choose Lake Michigan. It is home to the metropolitan hubs of Chicago and Milwaukee, and to the natural beauty of Door County, Wisconsin, where about 2 million people go to play every summer. There are no fewer than five state parks in Door County along with state wildlife and fishery areas, beaches, boat launches and a record-setting salmon population. Make no mistake, though: This is a big waterway that can get rough, which is why it has nearly a dozen lighthouses to keep boaters safe (check those weather reports before heading out). The Door County Maritime Museum is worth a visit to learn about the lake's shipwrecks, and to see some truly cool boat models under glass.
Learn more in our Sailing on Lake Michigan: Travel Guide.
Lake Mead
The National Park Service calls Lake Mead America's largest national recreational area, formed by Hoover Dam to the southeast of Las Vegas. The lake spans the border of Nevada and Arizona, with four marinas on the lake in the two states combined. The marinas at Boulder Basin offer rentals of everything from fishing boats to ski boats, patio boats and houseboats (the houseboats are so popular that operators recommend booking them at least six months in advance). Boaters also can put in at any number of launch ramps; the government posts current ramp conditions here. And for an unusual view during a day out on the water, there are paddlewheel cruises that offer views of Hoover Dam.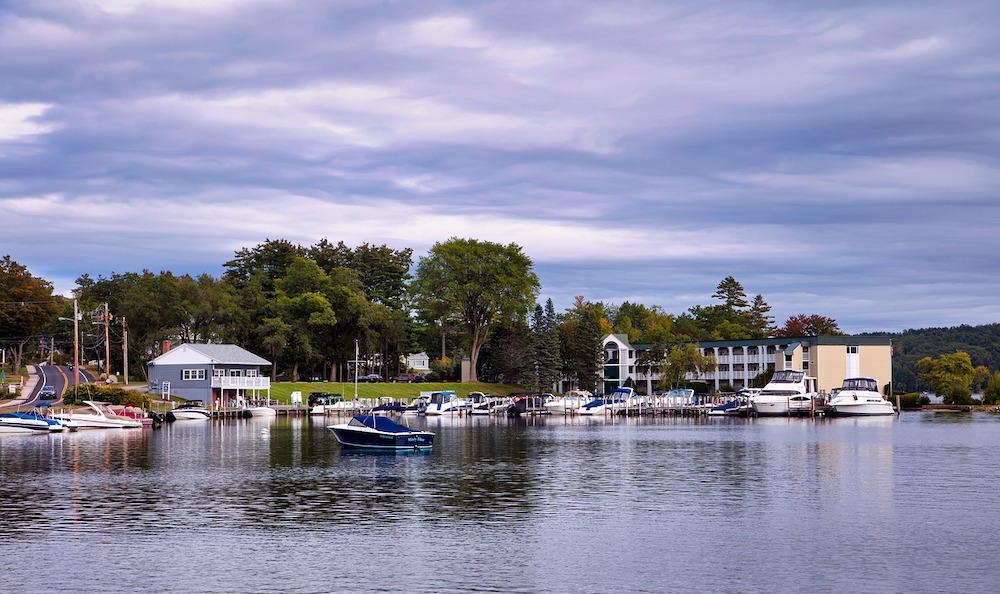 Lake Winnipesaukee
New Hampshire's Lake Winnipesaukee has figured in modern American culture for decades, from being featured in 1981's "On Golden Pond" with Katharine Hepburn and Henry Fonda to 1991's "What About Bob?" with Bill Murray and Richard Dreyfuss. In real life, this lake has been a vacation destination for more than a century, drawing tourists every summer from Boston and Manhattan. They crowd into what is otherwise a sleepy, natural gem of a region; Lake Winnipesaukee's busiest city is Laconia, with a population of less than 17,000. What also makes this lake noteworthy compared to others is the number of islands—there are a couple hundred of them dotting the landscape, giving the place a vibe similar to that of a coastal town.
Lake Powell
This Colorado River body of water is on the border of Arizona and Utah, and is smaller than only Lake Mead when it comes to America's manmade reservoirs. It's hard to beat the scenery: The Rainbow Bridge National Monument is here (it's a 33-foot-wide natural arch made from sandstone), as is the Kaiparowits Plateau (it's part of the Grand Staircase-Escalante National Monument). About 2 million people visit Lake Powell every summer, and there are nearly a dozen marinas to serve them. The marinas have campgrounds, and houseboat rentals are available for overnight stays. Fishermen bait their lures here for small- and largemouth bass, walleye, brown trout and northern pike, among other species.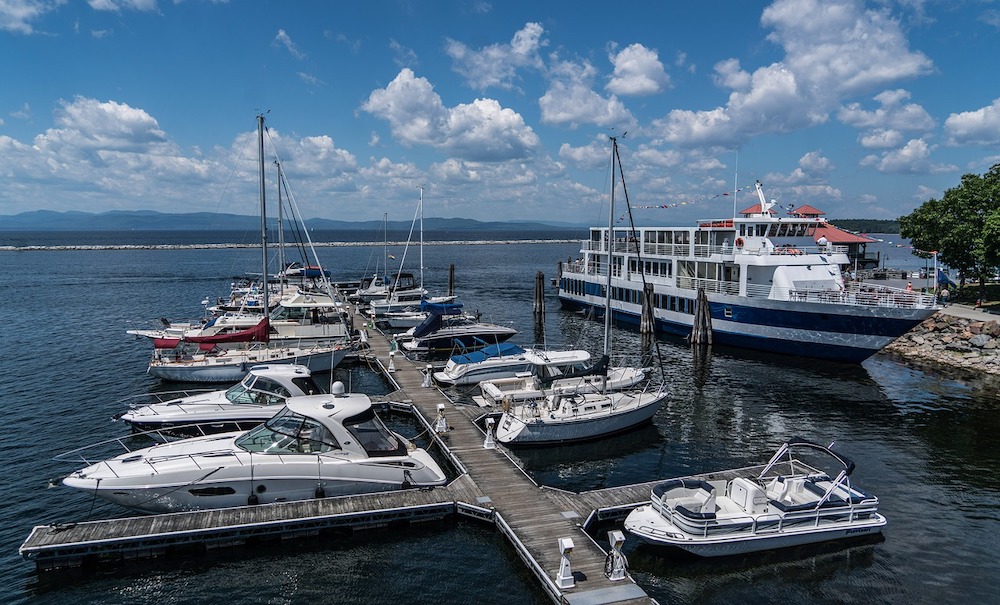 Lake Champlain
Lake Champlain is only partially in the United States, but the parts that cross over from Canada into New York and Vermont are to die for. The scenery spans from New York's Adirondack Mountains to Vermont's Green Mountains, creating a backdrop unlike any other lake's in the country. The city of Burlington, Vermont, is also on this lake, with an unusual, four-block pedestrian mall that hosts festivals of all kinds. And all along Lake Champlain, beaches and restaurants dot the shoreline. The bass fishery here is considered to be one of America's best; the Bassmaster Tournament Series shows up for events a few times a year, with recreational anglers picking up the slack the rest of the season.
Lake Texoma
Located on the Oklahoma border in the state of Texas (hence the name), Lake Texoma was built as a manmade reservoir during World War II. Today, the lake is home to state parks, other parks and wildlife refuges, along with golf courses, campgrounds and resorts. All kinds of boating are done here, from sailing to powerboating and riding personal watercraft. Each spring, the Lakefest Regatta draws hundreds of sailors, and powerboaters can sometimes catch a poker run, depending on the season.
Read Next: 8 Cool Coasts to Cruise in the US
---
You Might Also Like: