Houseboats are and will always be an attractive idea for any boater who's ever dreamed of living on the water—literally. Sure, the party crowd may gravitate towards pontoon boats and anglers may prefer bass boats or center consoles, but when pure, unadulterated relaxation is the goal, houseboats are the ultimate choice. After all, what sort of boat could be more relaxing than one with all the comforts of home? But look again when you cross paths with a modern houseboat and you may see something you don't expect. They're not the tin box roof, worn-carpet types you may have become accustomed to seeing years ago. Many boaters are finding there's more to houseboats—a lot more.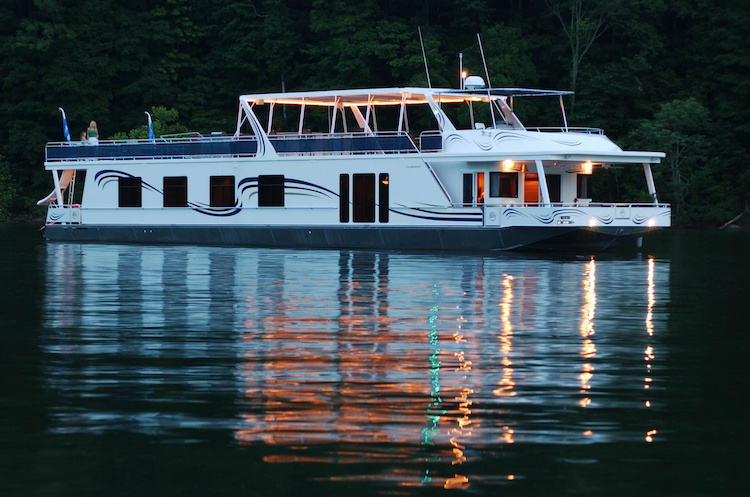 The reality is most new houseboats manufactured today are luxurious, and not just compared to boats in general, but even compared to houses. On today's houseboats you'll find modern conveniences of all sorts ranging from fully-equipped kitchens (galleys, in boating parlance) with the latest appliances and granite counter tops, to living rooms decked out with plush leather furniture and stunning entertainment centers. About the only thing limiting what can be built into and onto a houseboat is its size.
Houseboat Living
Life is anything but hurried aboard a houseboat, which is one for the reasons why they're so popular for vacation boat rentals. Many come with playtime perks like canoes and kayaks stowed on racks, ramps for personal watercraft, swim platforms with ladders, or even water slides going from the roof down into the lake. They're ideal for "coving," a laid-back adventure that consists of driving around a lake looking for a peaceful cove, anchoring up, and enjoying yourself for days at a time until you decide to pull anchor and find a new cove to hang out in.
Find Houseboat Rentals Near You
Houseboat Manufacturers & Advances
If houseboats can have all the conveniences of home, what's new about modern versions? For starters, all the advancements in boatbuilding apply. Many now have solar panels covering the cabin-top, so the batteries get a constant charge. Construction is often wood-free composite and aluminum, minimizing maintenance. Foam coring and insulation minimizes sound levels aboard, while also increasing HVAC efficiency. And houseboats are commonly custom-built, so you can have the interior designed and outfitted to your own specifications. Believe it or not, there are even some houseboats out there with helipads on the roof—whatever your needs are, there's a houseboat that fits the bill.
Today's houseboats also bring a new twist to just what you can do on a boat. Some offer hot tubs, and even fireplaces or fire pits. Conveniences like wine coolers and trash compactors are common. And there are big yacht-like houseboats with home theaters, integrated folding docks, and fully-equipped wet bars.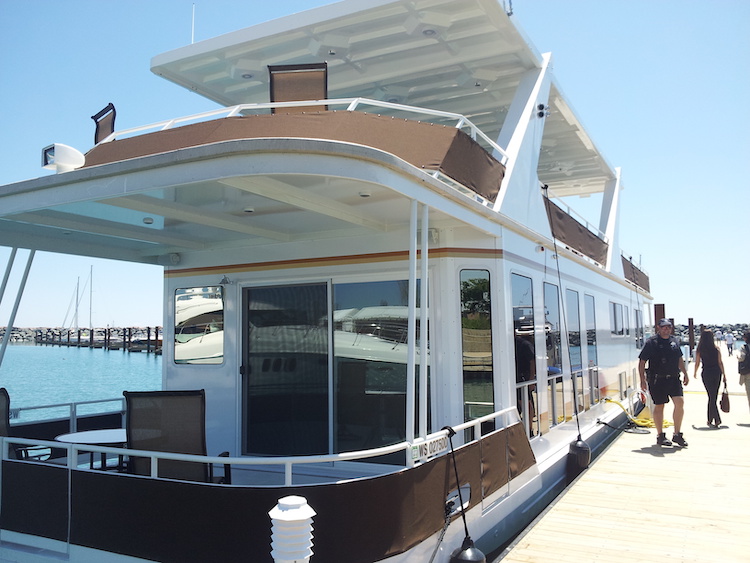 Owning a Houseboat
Unlike many other types of boats, houseboats are meant for spending extended time aboard. Most people choose to use their houseboat for vacationing and weekending, but some do live aboard their houseboat full-time. Either way, one of the main concerns any houseboat owner has is maintenance chores. However, these roughly translate into the same type of commitment you'd have with any home. Sure, you may have to maintain things like engines, generators, and bottom paint, which certainly aren't on a land-based homeowner's list. But this is more or less an equal trade, as you can forget about tasks like cleaning the gutters, trimming the hedges, and of course mowing the lawn.
Houseboat Costs
The cost of a houseboat may also be a bit of a surprise to some people. While the sky's the limit just as it is with a house, there are many houseboats out there that cost no more than the average American home. And while you may want to consider mooring or dockage fees in the equation, you can eliminate property taxes. Speaking of taxes, as long as a houseboat has cooking, sleeping, and bathroom facilities aboard, it qualifies for the usual second home mortgage deductions.
Is owning a houseboat the right choice for you, personally? That's a question only you can answer. But there's no doubt about one thing—if you do get a modern houseboat, life is about to become a whole lot more relaxing.
---
Looking for more on houseboats and other boat types? Explore...