Cheering for your favorite NFL team isn't limited to stadium seats and living room couches. For those seeking a unique and unforgettable gameday experience, a trend has been making waves. Welcome to the world of 'boatgating,' where die-hard fans gather on the shimmering waters just outside some of the most iconic NFL stadiums.
In this blog post, we'll dive into the top NFL stadiums that offer the perfect backdrop for this aquatic tailgating phenomenon. So, grab your jerseys, fire up the grill, and join us as we explore the thrill of boatgating in true sporting style.
5 NFL Stadiums to Boatgate at This Season
1. M&T Bank Stadium (Baltimore, MD)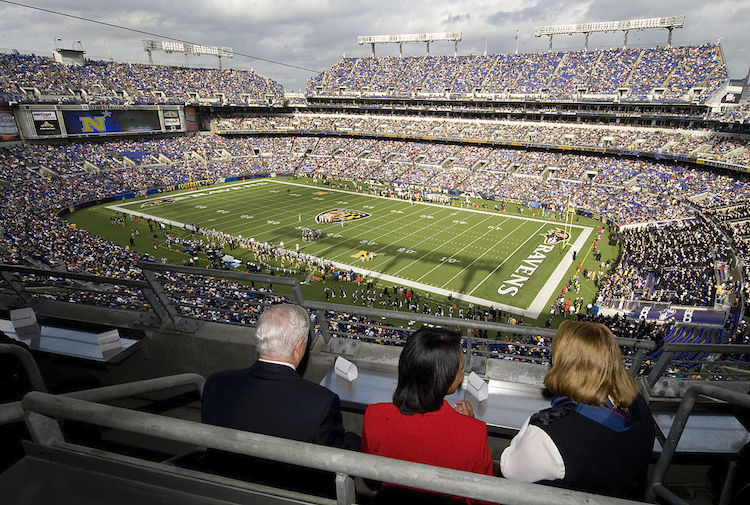 About a mile from Baltimore's famous Inner Harbor is M&T Bank Stadium, home of the Baltimore Ravens. Baltimore Inner Harbor Marina has 135 slips for boats and yachts up to 300 feet long overall.

The location is also home to the famous Rusty Scupper restaurant, which rises three levels above the water for harbor-wide views while serving lunch and dinner (think Maryland crab cakes, fresh oysters, and lobster).

And there's a bonus to visiting this part of Baltimore's Inner Harbor by boat: You'll be docked near the Maryland Science Center, which has a planetarium, an IMAX theater, and exhibits about everything from astronomy to paleontology.
Want to boatgate in Baltimore's Inner Harbor before an upcoming home game? Don't miss the chance to enter our boatgating contest!
Enter the Discover Boating Boatgating Contest
 

2. Soldier Field (Chicago, IL)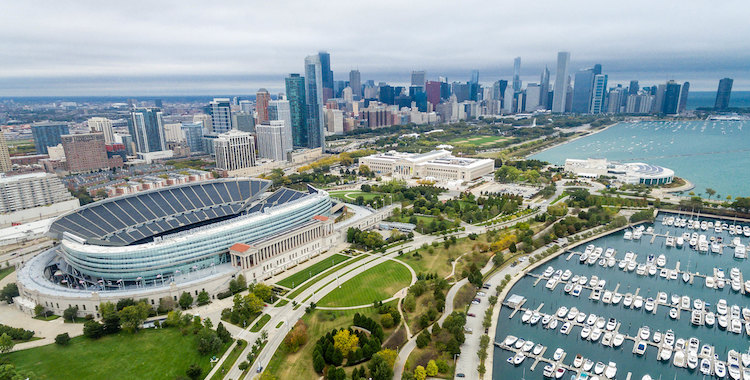 One of the most historic stadiums in the National Football League is Soldier Field, which opened in 1924 on the shore of Lake Michigan. Since 1971, Soldier Field has been the home field of the Chicago Bears. The stadium is adjacent to Burnham Harbor, which has 1,126 slips for boats up to about 100 feet long. 
3. Hard Rock Stadium (Miami Gardens, FL)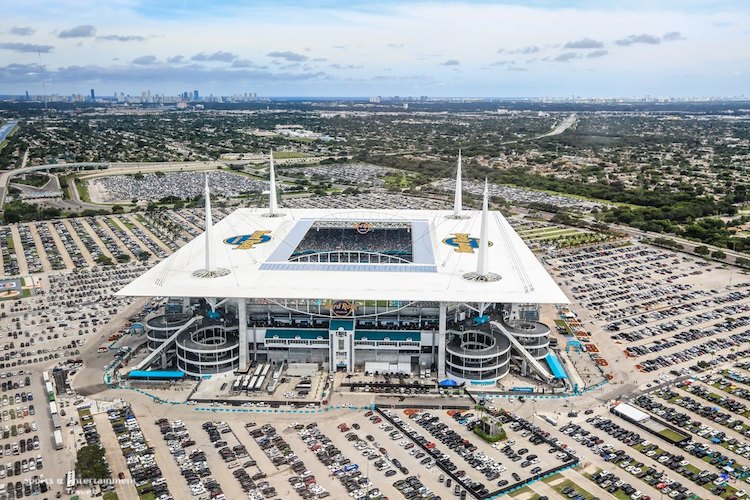 This stadium has gone by various other names over the years (a favorite for its uniqueness was Land Shark Stadium), and as of 2016, it became Hard Rock Stadium, thanks to a $250 million naming rights deal with Hard Rock Café Inc. A bumper crop of nearly a dozen marinas are within 10 or 15 miles of Hard Rock Stadium, with Turnberry Marina almost due east. It has 68 slips for boats up to 180 feet in length overall and accepts reservations online or by phone.

Just to the north of there along the coast is Suntex Marina at Aventura, which has 100 slips for boats up to 120 feet LOA—and offers monthly and seasonal slip rentals, in addition to transient bookings, for Miami Dolphins fans who expect to attend more than a handful of games.

Williams Island Marina is also nearby, with transient and seasonal slips for boats up to 160 feet long.
4. FirstEnergy Stadium (Cleveland, OH)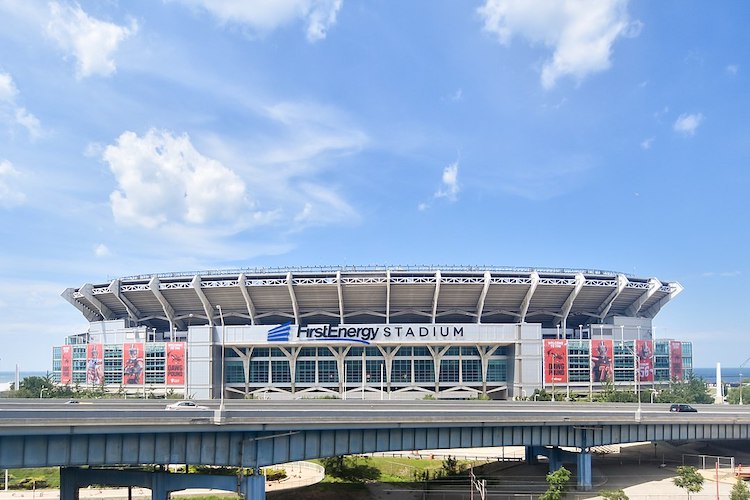 Cleveland, Ohio, is well-known for two things: the Cleveland Browns and the Rock and Roll Hall of Fame. They're practically next door to each other on Lake Erie's south shore, with FirstEnergy Stadium, home of the Browns, within walking distance of the hall and its adjacent Rock and Dock Marina.

The Rock and Dock Marina has slips for boats of 30 to 50 feet in length overall, with bookings available by the hour or overnight. 

The Great Lakes Science Center is also nearby for those interested in adding more fun to a football weekend. It is home to the NASA Glenn Visitor Center and the Apollo mission command module used in the Skylab 3 space mission.
5. TIAA Bank Field (Jacksonville, FL)

The Jacksonville Jaguars play at Florida's TIAA Bank Field, adjacent to Metropolitan Park Marina on the St. Johns River. The 78 slips can handle boats up to 80 feet in length overall.
Stays at this marina are limited to 72 hours, which is plenty long enough for a pre-game boatgate party, an after-game barbecue, and a good night's sleep back at the boat.
Honorable Mentions
Heinz Field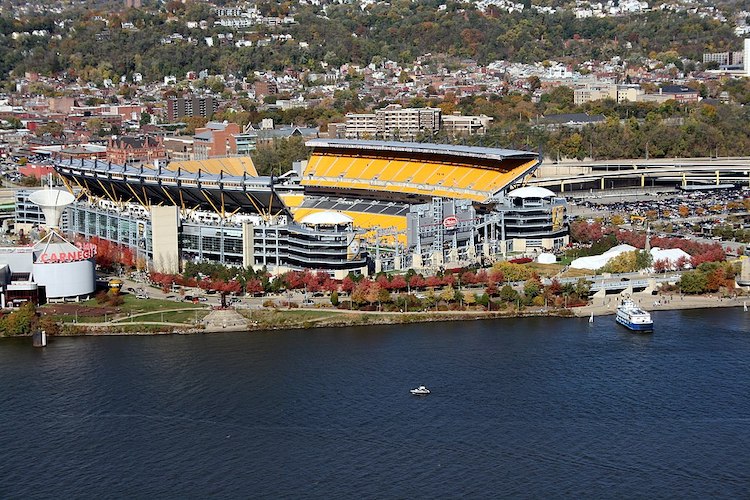 Don't think of Pittsburgh as a boating city, like Miami or Seattle? Remember that until 2000, the Pittsburgh Steelers played at the old Three Rivers Stadium. There's more than enough water around to launch a keel.
Today, the home of the Pittsburgh Steelers is Heinz Field, which is at the confluence of the Allegheny and Ohio rivers. About 2 miles up the Allegheny side is Washington's Landing Marina, which has 165 wet slips—but only takes transients on a first-come, first-served basis on game day, with no reservations possible. If you're feeling lucky before the coin toss, it's worth a shot.
CenturyLink Field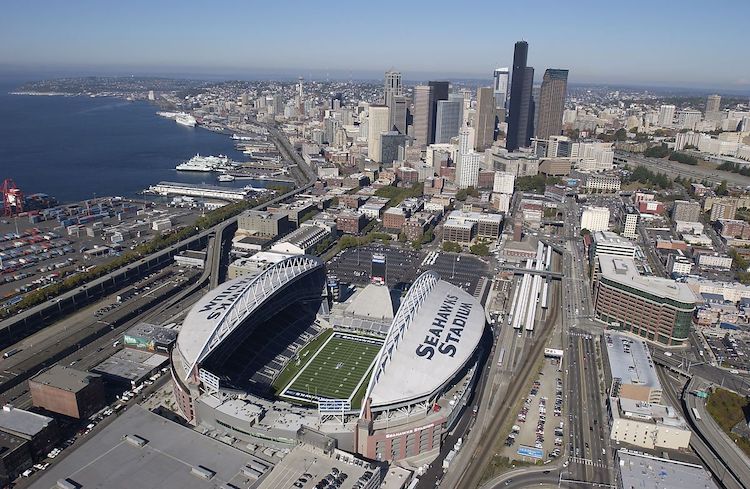 This sports complex is just south of the piers where ferries pull in and out. Bell Harbor Marina, the city's only recreational marina, about 2 miles from the stadium, is to the north of all that marine traffic. It can take 70 boats up to about 150 feet in length overall, and you can reserve a slip as long as two years in advance.
Are you looking to rent a boat to make your boatgating dreams a reality? Try our Go Boating Today tool to find rentals near you, or consider buying a boat of your very own—and transforming it into an extreme boatgating machine.