Gift Guide for Boaters
Published on Oct 04, 2013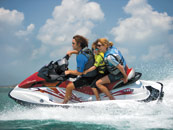 The gift-giving season is upon us, and if you have a boater on your shopping list, you have an abundance of options this year. Whether you're looking for a nautical-themed stocking stuffer or the latest, cutting-edge electronic gadget, the best place to start is with Discover Boating's all-new Gift Guide. You'll find hundreds of great ideas perfect for every budget.
Boaters Wish List
Ask a boater what's on their holiday gift list, and you may get a blank stare. There are so many things — from practical to fun — that the thought may just overwhelm them. And where does that leave you...the good-intentioned gift giver? Does he really want new dock lines or is that just the first thing that popped into his head? But fear not! Discover Boating has the perfect solution: an all-new Boater's Wish List. Just send them to our boaters accessory guide and watch their heads fill with a previously unimagined list of possibilities. It's the one place a boater can browse, dream, and get excited about an incredible number of things they never knew they needed. And the best part? They can simply click on the item to easily add to their Wish List. This just might be the year they say, "You really get me, don't you?"
Finding The Right Accessory
But what if you need and/or want to surprise them with a tool or clever device that will make their time on the water that much more special? Well then it's time for YOU to go through the thousands of items listed in the Discover Boating Accessory Finder. With an easy and fun platform with dozens of different filters to narrow your search, you'll drill down to what you're looking for in no time at all whether that special person on your list is into canoes, powerboats, sailing any other type of boat. And with direct links and detailed information about the manufacturers of each product, you can make the right decision and even find the best deal. Can you say Feliz Navigation?
<< Page 2 >>