Safety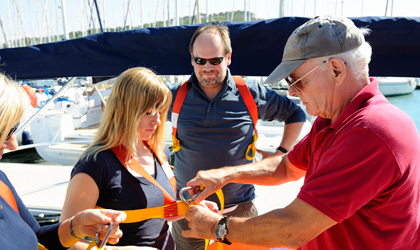 You learned the "rules of the road" before you sat behind the wheel of a car and you should do the same before taking the helm. Just like studying to get your driver's license, it is very important to have the boating information and certifications you need to be a safe boater before you hit the water. In fact, a number of states require powerboat operators to take a boater's education course and carry a license or certificate proving successful course completion any time they're on the water. By consulting a safe boating guide and obtaining the required certificates beforehand, you not only protect yourself and family but other boaters on the water.
It's just as important to have the right safety gear and equipment on your boat, as required by regulation. Our pre-departure checklist ensures you have everything you need for a day on the water and you can have a safe vessel year round with our semi-annual maintenance guide.
Do you have what it takes to be a safe boater? Test your safe boating IQ with our boater safety quiz!