Sun safety is an extremely important topic for all boaters. Arguably nothing beats spending a sunny day on the boat. Unfortunately, that same sun so many of us once worshipped is now recognized as the cause of many a problem. The discomfort of a sunburn is the least of those worries. More troublesome is the knowledge that—in addition to wrinkles, sun spots and an overall "leathery" appearance—overexposure to ultraviolet rays can also result in skin cancer.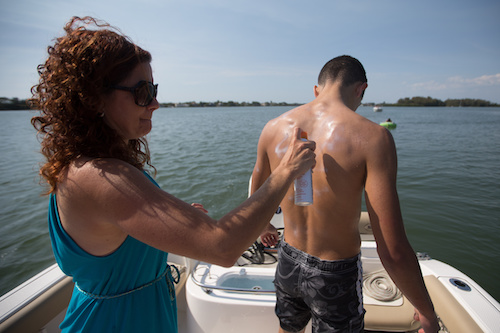 Unfortunately, that UV assault is only intensified by the boating environment because UV rays not only come at you from above but are also reflected back by the water and all those gleaming surfaces aboard your boat. The good news? With the proper sunscreen and sun-safety techniques, you can dramatically lessen the damage and still thoroughly enjoy a day on the water.
Here's a guide to both sunscreen and general sun safety while boating.
5 Sunscreen Tips for Boaters
Apply sunscreen to any exposed skin.
Remember to reapply every two hours, following a swim or when sweating excessively because protection will diminish over time.
As for sprays versus lotions versus rub-on sticks, choose the option that works best for you and will encourage you to reapply as directed.
Don't forget often-neglected spots such as your lips, the part in your hair, tops of the ears and feet, and backs of the legs. Sunscreen sprays often work best for those with thinning hair. Choose a lip balm with at least SPF 15.
For best results, plan your initial sunscreen application for 15 to 30 minutes before you go out into the sun to allow the sunscreen to properly absorb into the skin. Shoot for a portion that could fill a shot glass to cover the average adult body.
Best Sunscreen for Boaters
Forget "tanning" oils or lotions that promised to bronze your skin. Today's sun products are designed around protection, limiting the amount of UV rays that make it to your skin.
The harmful rays of the sun are divided into two types: UVA and UVB. UVB was long thought to do the most harm because it is the type of UV radiation responsible for both the irritating pain and redness of sunburn as well as the longer-term effect of skin cancer. UVA, however, has also proven to be harmful. Deep-penetrating UVA rays are responsible for aging the skin, over time resulting in the wrinkled, leathery, sun-spotted appearance that typified mariners of old.
Modern, "broad spectrum" sunscreens protect against both types of radiation. The American Academy of Dermatology recommends looking for a broad-spectrum sunscreen that is both water-resistant and features a "sun protection factor" of at least 30 or higher. These sunscreens can be physical or chemical in type. Physical sunscreens—look for the active ingredients zinc oxide and/or titanium dioxide—act like a barrier atop your skin and are best for sensitive skin but sometimes leave a whitish residue. Chemical sunscreens (active ingredients including oxybenzone, avobenzone, octisalate, octocrylene, homosalate and octinoxate) absorb the sun's rays and typically rub into the skin without visible residue but have the potential to irritate skin.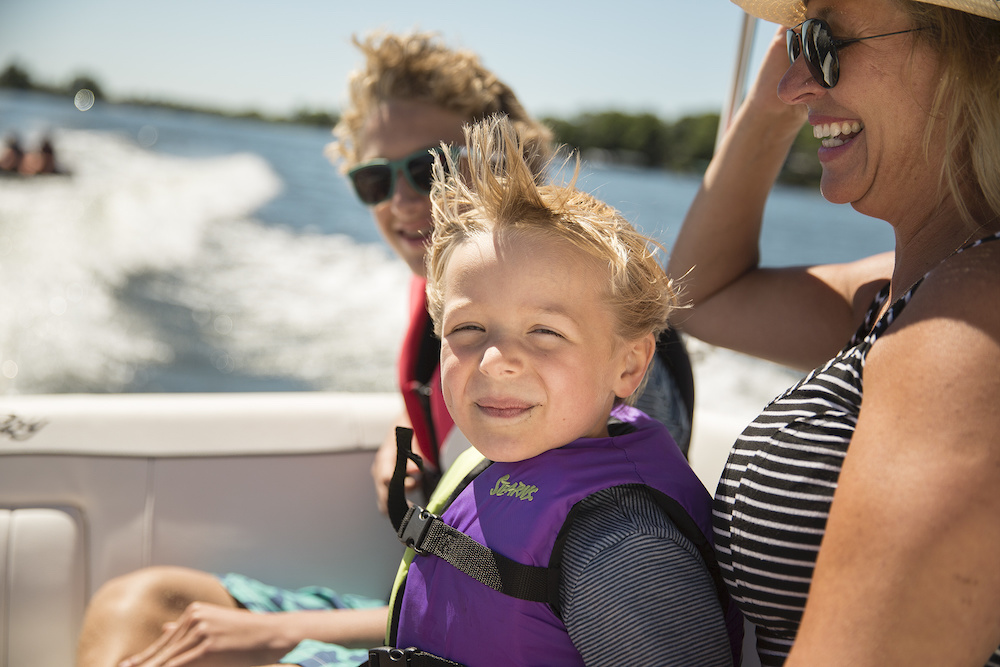 Sun Protective Clothing & Eyewear
In addition to sunscreen, sun protective clothing is becoming increasingly popular, particularly in the boating market. A category that includes shirts, pants, swimwear, broad-brimmed hats, neck and face gaiters, and even arm sleeves, sun-protection clothing is rated based on its "ultraviolet protection factor." Numbers correspond to how much of the sun's UV radiation is blocked by the fabric. Example? A UPF 50 shirt allows only 1/50 of UVA and UVB rays to pass through to the skin.
To avoid feeling clammy, look for UPF clothing that breathes, wicks moisture away and has a comfortable, loose fit.
Flatlock stitching improves comfort, lying flat against the skin and reducing chafing.
Don't neglect your eyes. Look for full-coverage sunglasses with lenses that block harmful UV rays.
Polarized lenses are also a good choice for boaters because they dramatically reduce glare off the water.
Utilize Your Boat's Built-In Sun-Protection Features
Your boat may also offer various forms of sun protection.
Bimini tops come standard on many models. If not, they're relatively inexpensive and easy to install. When raised, a Bimini provides welcome shade to those below while still allowing for good passage of air.
Likewise, hardtops and T-tops also provide welcome sun protection to captain and passengers in the cockpit. Hardtops can also be equipped with crank-out, awning like extensions to offer additional coverage.
---
You Might Also Like:
Editor's Note: This article was originally published in July 2014 and updated in October 2019.