Boating Courses, Education & Training
Education is the key to becoming a better, more knowledgeable boater. Learning the basics of boat operation and safety is best done before your first trip to the marina or launch ramp. In most states, boaters need to take a basic boating safety or education course to get a boating license. But these courses (often given by Boat-Ed or BoaterExam), which are usually offered online, are just that – basic. If you're new to boating you'll almost certainly want to go above and beyond this minimal requirement so you'll feel comfortable and confident in your boat handling skills.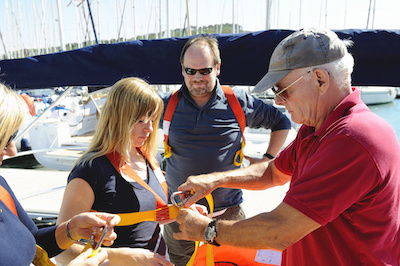 One way to expand your knowledge base is to check out our many articles and resources right here, at Discover Boating. But still, nothing beats actual experience on the water. The solution? A hands-on training course, and many are available throughout the nation.
Boating safety courses and hands-on training classes are offered by:
BoatUS Education Programs
BoatUS offers a number of different educational programs through its affiliate, the BoatUS Foundation. These include free boating safety courses given online, as well as more advanced online courses which do cost a fee ($8.50 to $40 depending on the topic and the course's depth), but cover advanced topics like how to use AIS or GPS, propane systems on boats, and hurricane preparation.
In-class training courses are on a limited state-by-state basis, and sometimes with a nominal fee. The very best educational option, however, is probably on-the-water hands-on training classes. Again, these are limited to specific locations. Several are offered at boat shows (and your ticket to the show is often included in the package) so you can check out new boats and learn better boat handling on the very same day. Pricing ranges widely depending on the course you choose and its length, but options include topics like Introduction to Boating, Precision Docking and Boat Handling, and woman-only Women Making Waves courses.
Check Out Our Boating Safety Basics Videos
The National Safe Boating Council
The National Safe Boating Council, a group made up of over 500 U.S. and international organizations with an interest in boating safety and education, offers a range of different training courses for boaters with skill levels ranging from novice to experienced. Their depth also ranges widely, from online offerings to multiple-day on-the-water courses. Some are advanced enough to qualify for Instructor Certification, and are verified by third-party assessment to conform with American National Standards for on-water skill training. The National Safe Boating Council also supports the "Skipper Club," in partnership with the U.S. Coast Guard, for teaching teens age 13 through 19 on-water powerboating skills and maneuvers, terminology, and equipment.
The U.S. Coast Guard Auxiliary
The U.S. Coast Guard Auxiliary offers one of the most widely available and topically wide-ranging selections of training courses out there. Their National Public Education Calendar Database lists out subject matter including topics like boating skills and seamanship, boating safety, sailing skills, GPS use, and more, which you can then search for availability by zip code. These range from one-hour classes targeting four- to nine-year-olds, to advanced eight-hour courses that will benefit even old salts.
United States Power Squadron
The U.S. Power Squadron, a 501(c)(3) non-profit dedicated to boating safety and education, offers a number of educational courses through its America's Boating Club arm. These are interactive online sessions, covering topics like marine radios and GPS, weather, and more. Note that many of these are provided through the BoatU.S. Foundation and are identical in nature, though they also offer webinars that bring students and instructors together via a "virtual classroom."
Boat Clubs
National boat clubs like Carefree Boat Club, Freedom Boat Club, Your Boat Club, and SailTime, as well as smaller regional boat clubs offer hands-on, on-the-water training. In fact, prior to taking out one of the club boats the training is usually mandatory for new members. Many clubs also offer yearly refreshers, special education sessions, and other opportunities to advance your boating education on a regular basis. Best of all, in most cases this training is included in your membership with no extra charge.
Get a Boating License
Finding out how to get a boating license is a great first step towards getting out on the water as a responsible boater.
Find the Right Boat
The first step in the boat-buying process is also the most important—determining what type of boat is right for you.
Additional Boating Education Resources
There are also many youth programs designed specifically to help kids and young boaters learn the ropes. And on top of all that, numerous private organizations offer real-world boating education. As you decide how to best advance your own boating skills, also consider:
Latest Wave of Boating News & Resources
Inspirational stories, how-to articles, and expert tips for new & experienced boaters