Injuries, whether minor or severe, can happen anywhere, but those that happen aboard a boat come with an additional challenge—help is not always convenient or readily available. That's why it's essential to have not only basic first aid equipment aboard your boat, but also multiple ways to communicate should you need emergency assistance.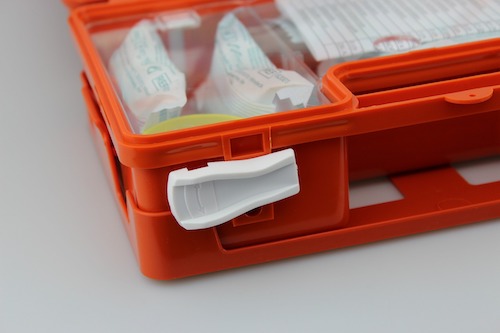 You should be prepared for any onboard emergencies with a first aid kit that's stocked for the typical number of passengers you have aboard—and the remoteness of the area in which you'll be boating. The former dictates the number of individual items you'll want to have in your kit; the latter dictates the extent of that kit's contents and what might need to be done on board before you can reach medical assistance. For day excursions in your home area and within short distance to emergency services, a basic first aid kit will cover most common needs.
Marine First Aid Kit Essentials
A standard marine first aid kit includes:
Antiseptic wipes to clean wounds
First aid cream
A variety of adhesive bandages
Gauze pads
Adhesive tape
Sting relief wipes
Cold packs
Scissors
Aspirin
Increase the number of supplies as needed for more passengers or increased distance from emergency providers, as well as severity of possible injuries. Additional items to consider would be tweezers, sunscreen, larger bandages and dressings, eye wash treatments, burn treatments, pressure and packing dressings, a space blanket to keep an injured person warm, and nitrile gloves. Most marine supply stores sell prepackaged kits designed to remove a lot of the guesswork. Most ready-made kits also come in watertight containers designed to keep contents together and dry.
Don't overlook the value of a first aid course. Learning how to treat common wounds, care for a passenger in shock or even perform CPR might prove valuable whether on land or water.
Basic Onboard Safety Equipment
In addition to a first aid kit, have basic safety gear on board that is required by your local law enforcement agency, as well as just good common sense.
Start with a life jacket for each and every passenger.
One form of throwable personal floatation device is also necessary.
Check to make sure your horn works properly; an additional means of sound like a whistle or air horn is a wise backup.
As to the possibility of a fire, U.S. Coast Guard regulations stipulate that one USCG-approved B-1 type fire extinguisher be aboard all power boats to 26 feet in length, two B-I or one B-II on vessels 26 feet to 40 feet, and three B-I—or at least one B-I and one B-II—on vessels 40 feet to 65 feet.
Visual distress signals are another must-have item, particularly if you're venturing far from shore. Vessels to 65 feet require a minimum of three day-use and three night-use pyrotechnic devices (flares). An orange flag can be substituted for one day-use device; an electronic SOS signal light can be substituted for one night-use. Like your first aid items, store flares in a waterproof container.
Learn More: Boat Safety Checklist & Safety Equipment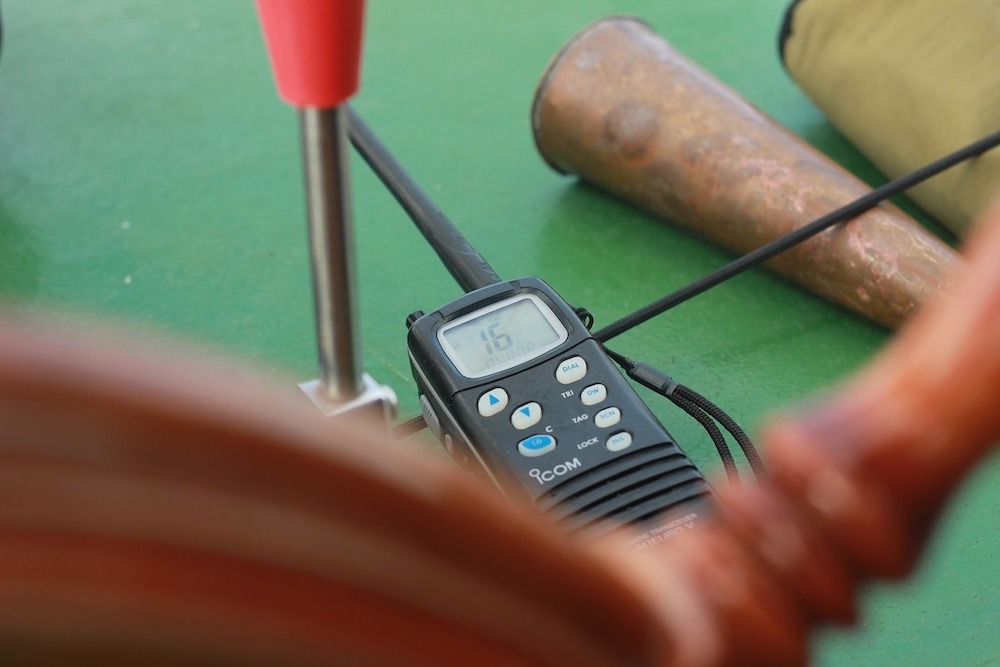 Radio Communication & Emergency Location Devices
Though not required, a VHF radio is a wise addition. Don't trust a cellphone in the case of emergency; coverage might not always be available. VHF allows boaters to contact both the Coast Guard as well as other vessels within range that can lend assistance.
VHF radios equipped with Digital Selective Calling (DSC) and linked to a GPS receiver (whether internal or in a separate unit) are also able to pinpoint your location in an emergency and even send an emergency call with that information to anyone within range. Just remember to register for your free, unique Marine Mobile Service Identity (MMSI) number so you and your vessel can be identified. VHF radios are also able to receive up-to-date marine weather reports, even sound an alert in the event of sudden, severe weather. In addition to permanent mount radios, convenient handhelds are also available.
If your boating takes you offshore or even just out of sight on larger waters, an EPIRB (emergency position indicator radio beacon) or PLB (personal locator beacon) is also worth consideration. These devices will transmit both location and identity in the event of emergency.
File a Float Plan
Finally, anytime you venture out on the water, always remember to give someone an idea of where you're going and how long you plan to be out. Should the trip be longer, file a float plan with a friend or leave one at your local marina. Information should include a description of your boat, passengers on board, safety equipment available, where you're heading, and how long you expect to be gone. Notify that contact should plans change. If you don't return within a reasonable amount of time in relation to your plans, instruct the person holding your float plan to contact the Coast Guard or other appropriate agency.
Read Next: Boating Safety Guide
---
You Might Also Like:
Editor's Note: This article was originally published in July 2013 and updated in November 2019.