8 passengers max
18 - 28 ft long
Trailerable
A cuddy cabin boat combines the agility of a family bowrider with the versatility of a cruiser. The term "cuddy" has been around for hundreds of years and originally meant a small room or cupboard.
A cuddy later became the name for the quarters on a ship used by more-wealthy passengers, and then to describe a boat with a small, enclosed cabin space. A cuddy cabin typically does not have enough headroom to stand but may include a berth and a toilet (or a head, in nautical parlance) and even a small galley for food preparation.
Cuddy cabin boats range in size from about 20 feet in length to close to 30 feet in length. There are smaller boats with a closed bow, which are correctly called "closed bow runabouts" because the space below the forward deck provides some storage and wind protection but is not designed as an overnight accommodation.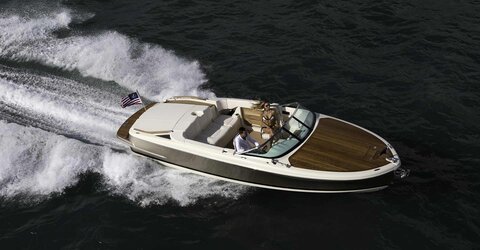 Explore Boat Brands
Cuddy Cabins
Use our Boat Loan Calculator to get a better idea of your own budget.
Looking for a different boat?
Activities with Cuddy Cabins
GREAT FOR Day Cruising • Overnight Cruising
Aboard a cuddy cabin boat you can enjoy just about any activity you could pursue in a bowrider or deckboat—cruising, towing skiers, boarders and tubers, and even casual fishing. But because there's a cabin on this boat, there's the option to overnight in a secluded cove or at a campground or marina.
Many owners use the cabin as a secure storage space for gear, as a changing room, or as a napping spot for the kids. It's also comforting for many boaters to know there's a toilet on board before heading out for a day on the water. Cuddy cabin models are usually trailerable so, with the right tow vehicle, it's possible to take the boat to new waters for exploration, on a vacation, or on a seasonal move to another region of the country.
Ownership Costs of Cuddy Cabins
The cost of a new cuddy cabin boat is directly related to its size and the level of amenities included with the boat. Small cuddy cabin models are often designed to meet a low price point and may have a very basic interior and no galley features. As cuddy cabin boats get larger, the price naturally goes up and so do the features; some may have an enclosed bathroom compartment, a refrigerator and even a cooktop, with more deluxe appointments and navigation electronics. When considering boat price don't forget the basic items you'll need to get out on the water, including dock and anchor lines, an anchor, life jackets and seat cushions, and other safety gear required in your state.
To get a better idea of your own budget, use our Boat Loan Calculator or read more about Costs of Ownership.
Maintenance Costs

Maintenance costs are certainly a factor every potential boat owner needs to consider in advance. Be sure to check out the Maintenance pages in our Owning a Boat section, which will give you an idea of what's involved. Most aluminum fishing boats will be powered by an outboard motor. 
Operation Costs

The key operation cost for any cuddy cabin boat is going to be fuel, and that cost will be influenced by how often you use the boat and the boat's size. A larger boat will require an engine or engines with more horsepower, which will naturally use more fuel. 

Other operational costs include annual registration and insurance, trailer registration if required in your state, and off-season storage if you can't or don't care to store the boat at home. Speaking of trailers, before making a purchase make sure your vehicle has a tow rating that can handle the weight of the boat and trailer you are considering—learn more by visiting our Towing & Trailering page.

Cuddy Cabin Boat Technology/Materials/Features

Basic cuddy cabin features include a berth, or bed, in the cabin. This is often called a v-berth because of its shape, and it's usually large enough for two people, even in the smallest cuddy cabin models. The other key feature is a marine toilet, or head. In the smaller cuddy models this will be a portable toilet that stows under the center of the berth. Larger cuddy cabin models may have a small closet (the head compartment) for the toilet. 

The best cuddy cabin boats will feature electric lights in the cabin, audio system speakers, and an opening hatch in the cabin overhead for light and fresh air. The door to the cuddy cabin should lock to keep gear stored there secure. On some cuddy models it may be possible to configure some of the seating in the main part of the boat for sleeping, and the boat can be ordered with a top and side curtains for weather protection.

Because the headroom in a cuddy cabin is limited, most models will not have a galley (cooking area) in the cabin. Larger models may incorporate a sink, cooktop and either a cooler or refrigerator in a console in the cockpit, which can be used during day cruising, overnighting or for entertaining guests at the dock. Larger models may also be available with "shore power" which makes it possible to plug into an AC power outlet at a marina to power lights or a refrigerator and cooktop, and to charge electronics and use the audio system without running down the boat batteries.

A hardtop cuddy cabin boat will feature a fiberglass roof over the helm and cockpit area, either mounted on a tower or as part of a raised windshield and glass sides that enclose the helm area. The hardtop offers great protection from the sun and weather. Some boat builders that specialize in fishing boats offer cuddy cabin fishing boats that combine angling amenities and an open cockpit with the convenience of the cuddy cabin. The best cuddy cabin fishing boats can be used for overnighting on long runs offshore or for staying at a marina away from home.