Eight Tips for Renting a Boat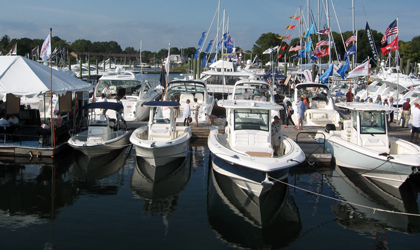 The perks to renting are obvious: carefree time on the water without the down payment, monthly loan and storage/docking bills, or seasonal maintenance. You may not even need a tow vehicle.
It's a great way to try a style, model, new lake or location at minimal cost. At rates from a couple hundred bucks a day to several hundred, plus fuel, you're still paying a fraction of ownership and operating costs. Although renting for multiple days will probably get you a discount.
Even a boat-owner can benefit: Terry Dusseau's 20-foot bay boat was home in Michigan and Terry, his family, and his motor home were parked at a Florida Keys campground. There was a boat rental company nearby and after a phone call and a swipe of the credit card, Terry was at the helm of a boat much like his own — except it bobbed on Florida Bay instead of sulking under blue plastic.
Here are eight tips to keep in mind when renting a boat:
How do you find and select a boat rental company?
Search the web for 'boat rentals' and your destination lake or region. Call the local chamber of commerce or tourism office. The local marina might have a rental fleet or know who does.
What type and size of boat?
Size largely depends on the waterway and local rentals are likely well matched. Type? A bowrider or deck boat is a good bet for touring, a pontoon for big-crowd relaxing, and a fishing boat for — well — fishing. Tell the rental company what you hope to do, and they'll make the best match possible.
How will you get to and from the boat?
Chances are, the renter will bring a trailerable boat to you. After all, your vehicle may be neither equipped or capable. If not easily trailerable, it'll likely be moored at a marina slip.
What's in the rental agreement?
They vary, so read yours closely. Some limit how far you can travel from port or launch ramp. Others ban you from towing tubes or skiers or operating the boat at night. Normal wear and tear is the rental company's problem while other damage or soiling is yours. Check out how weather-dictated cancellations are handled.
Insured?
The rental company's liability coverage should be listed in the agreement. You often agree to accept all responsibility for anything that happens regardless of cause, including damage to the boat and motor, so spend some time with the agreement. You may want your insurance agent or attorney to take a look at it, also.
Vessel check
Before accepting the keys, examine the boat for scratches, dents, windshield cracks, stains, prop damage, and missing, broken or loose fittings — basically, anything you'd hate to have blamed on (or billed to) you. Make sure to list them on the agreement before signing it.
Qualified driver?
Each state has different age requirements for boat operators, and many require boating safety course completion. Ask the rental company about the rules where they operate. While most peer-to-peer and some commercial rental companies make you swear you have experience with boats of the type you're renting, some commercial outfits don't and some will provide instruction for a fee.
Safety equipment Rental companies usually provide safety equipment
Make sure you know where it's all stashed and make life jacket sizing adjustments. Some boaters bring their own life jacket on every trip, no matter whose boat, so they know where it is, how it goes on, and that it fits them correctly.