Buyer's Guide to Offshore Fishing Boats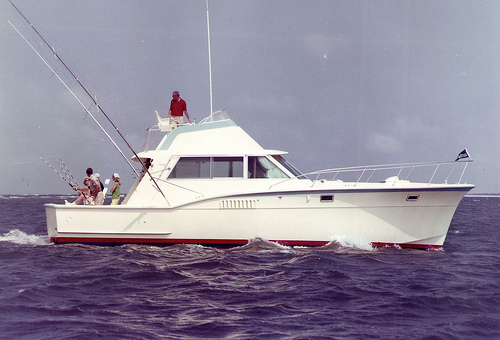 When searching for the perfect offshore fishing boat, you need to focus on models that give you plenty of room for fighting your catch, while providing easy access to all of your angling gear and safety equipment. And if you're going to be heading offshore, sooner or later you're going to run into rough water – and that's the time you be glad you made the boat's seaworthiness a primary factor in your purchase decision. Obviously you'll see a direct correlation between cost and overall length, so remember that you might be better off making sure you've got all the fishing features you will need as opposed to maximizing the size.
Layout
Look for an uncluttered cockpit that provides maximum fishing space. You will appreciated padded thigh-high gunwales and toe rails for safety when things get rough. Clever use of space will result in convenient seats for your guests while running that fold out of the way when it's fishing time. If you will be trolling, you must include "comfortable helm station" on your must-have list since that's where the skipper will be spending most his time.
Fishing Features
If you'll be fishing for species that go for live bait, it can't be emphasized strongly enough how much you\'ll be depending on your one (if not two) high-capacity, recirculating livewells. There's no running back to the dock if you\'re out in the open water, so make sure you bait lasts as long as you do. A large rigging station will also make your time on the water much easier – look for an oversized cutting board and dedicated, easy-access spaces for all your knives, pliers and lures. If you'll be trolling, you absolutely must have outriggers and downriggers to maximize your chances for success. If the boat builder you're considering doesn't offer downriggers as an option, make sure the boat is pre-drilled to accept them. Dedicated "cradles" for downrigger weights is also a great idea.
Storage
Most offshore boats have built-in rod storage in the gunwales, along with several in the stern, and "rocket launchers" above the T-Top. Make sure everything is easy to reach, and the gear will not be in your way when stowed. Never hurts to have a couple of locking panels to secure your rods temporarily if you need to leave the boat at the dock. And when you land your prize catch, make sure you've got large, insulated fish boxes with macerators and overboard drains.
Performance
If you're like most offshore anglers, you'll likely be running as fast as conditions allow when you're cruising the waters looking for fish. Many fishing boats have no problem cruising at 50 mph. If you'll be fast-trolling for certain species, you will want a boat that doesn't slog at pre-planing speeds. And here's something else you will appreciate on those long, hot days on the water: Find a boat that "tracks" well, meaning it won't need constant course correction. Since you'll be running hard most of the time, nimble handling is a must for quickly avoiding random debris you'll inevitably come across. Remember that you may be in rough conditions more often that you'll be in flat calm seas. When you conduct sea trials, make sure you try a variety of conditions to make sure you'll have an acceptably comfortable and stable ride.
Visit our activities section to learn more about saltwater fishing.
Image courtesy of Hatteras Yachts