Natural lakes and reservoirs are among the most-popular family boating destinations because they are widely distributed and offer a variety of activities, from watersports to fishing. When choosing the best craft for your lake-boating adventures it's best to consider the lake or lakes you plan on visiting, and the type of boating activities you'd like to pursue. A small boat may be most-appropriate for use on smaller lakes, where a bigger boat with a lot of power and range might just be awkward to handle. For boating on larger bodies of water, where weekend boat traffic or wind and weather can kick up choppy conditions, a larger boat will deliver a confident, comfortable ride and have the speed and range to cover longer distances efficiently.
As when planning any boat purchase, when considering a lake boat it's best to start by determining a budget that includes the boat purchase plus any required gear and accessories, registration, insurance, annual fuel, storage and maintenance costs.
Best Boats for Lakes
Pontoon Boats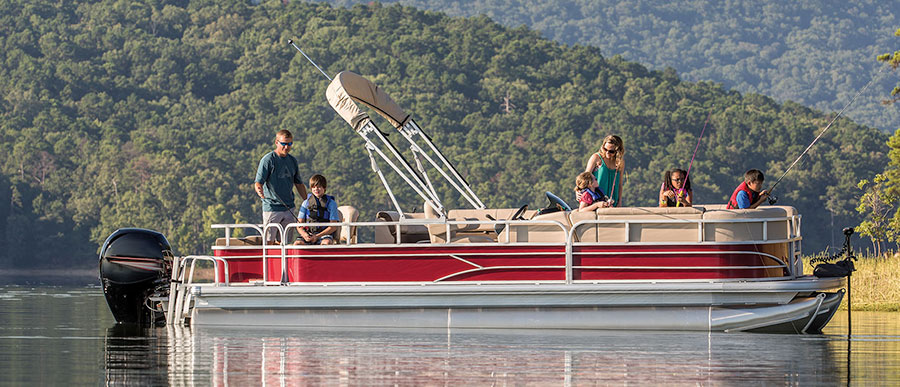 Pontoon boats have become wildly popular for lake boating, and offer a wide range of performance, size and amenities. Once used mostly for slow cruising, today a pontoon can be rigged with enough power to tow tubes and skiers and to cruise along at 40 MPH or faster.
Pontoons range in size from less than 16 feet to more than 25 feet with amenities ranging from basic to luxurious, and options aimed at entertaining, watersports and fishing. Pontoons offer lots of interior space and can carry a crew of family and friends in comfort. They are very stable in the water and are generally easy to handle. Almost all pontoons are powered by an outboard motor that's quiet and easy to maintain. For their size and power, pontoons are not as fast or efficient as a boat with a planing hull, like a runabout or deck boat, and will not handle rough water as well as those boats. Pontoons are also a little harder to load on a trailer and tow from lake to lake than a runabout.
Learn more in our detailed guide on How to Buy a Pontoon Boat.
Deck Boats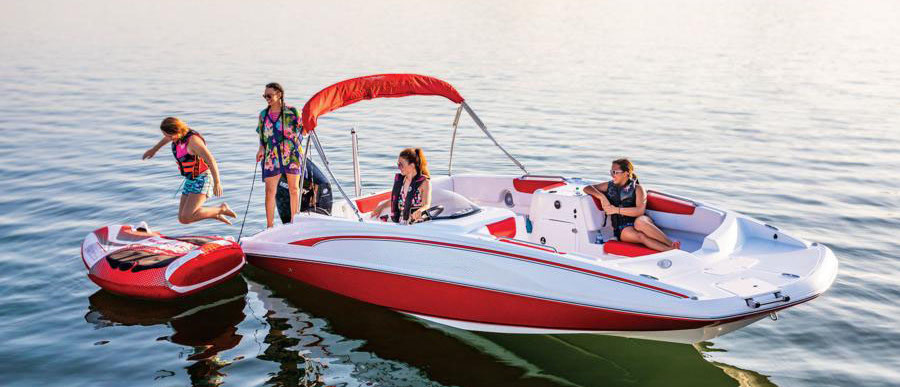 Deck boats and other similar runabouts also are offered in a wide range of sizes, from less than 16 feet to more than 27 feet. Most are constructed with fiberglass but some have aluminum construction, and models are offered with outboard, sterndrive or jet propulsion.
A runabout has a sporty profile and usually has a open bow with lounge space (a bowrider). A deck boat typically has a broader bow lounging area and a more-open cockpit layout, with a less-sporty profile. Runabouts and deck boats are "do it all" family boats that can be used for cruising, exploring, watersports and casual angling. The planing hull can be fast and efficient and its vee shape provides a comfortable ride in choppy water. These boats are also easy to trailer.
Learn more by reading Buying a Pontoon vs. a Deck Boat.
Fish-and-Ski Boats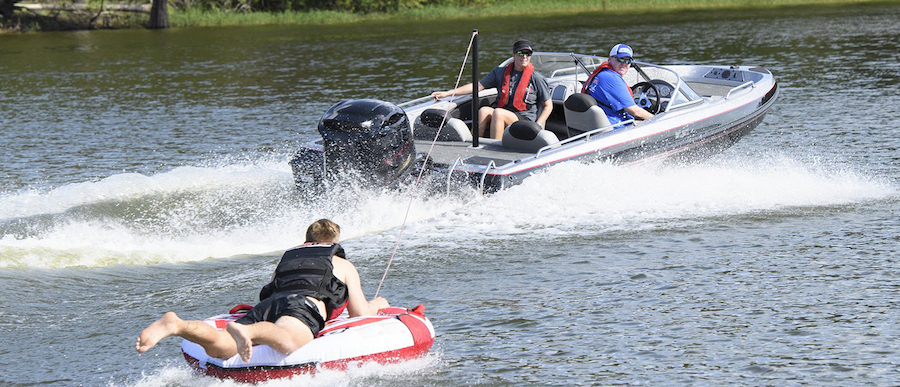 A fish-and-ski boat can either be based on a freshwater fishing boat or on a runabout. In either case, the original design has been modified to make the boats more versatile; a fishing boat with some family features like a tall windshield and comfortable seating, or a runabout with angling features like rod holders, a live well and a trolling motor. These boats offer a compromise design that makes them more versatile for a family that wants to do it all on the water.
Watersports Boats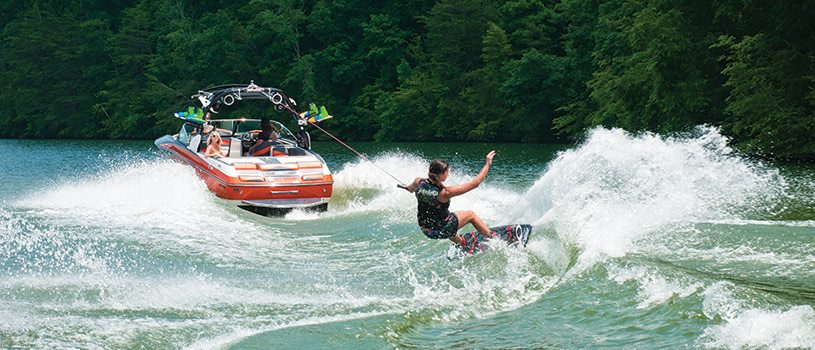 Designed specifically for towing wake surfers and wakeboarders, watersports tow boats (also commonly referred to as Ski Boats or Wake Boats) are inboard powered and have a hull shaped to produce a desired wake. They offer lots of power for towing but at the sacrifice of speed and efficiency. Because the propeller is located under the boat, rather than behind the boat as on an outboard- or sterndrive-powered boat, a watersports boat is safe and legal to use for wakesurfing, and can be equipped with special trim tabs and other accessories designed to enhance the surf wake behind the boat.
These boats are also usually equipped with inboard water ballast tanks that can be filled with electric pumps to add weight to the boat, which helps make the wake even larger. A watersports boat can double as a family runabout, but the ride will not be as smooth as a runabout because the hull shape is flatter and the watersports boat does not have trim. Watersports boats are also usually more expensive than a runabout of the same length.
Learn more about factors to consider when buying a boat for watersports.
Cabin Cruisers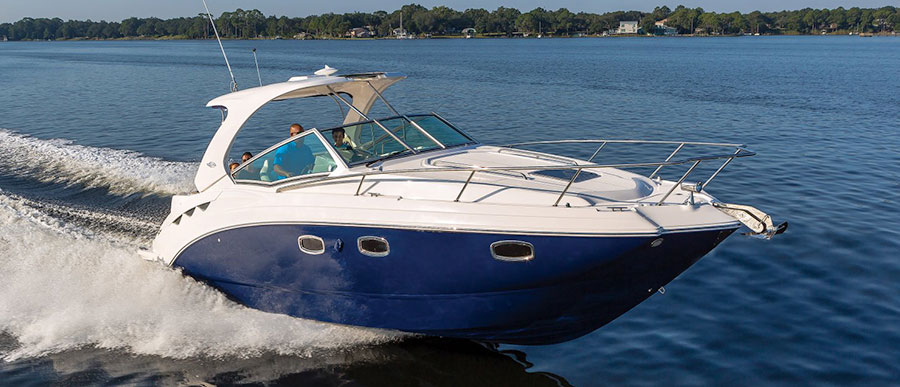 There's a place on larger lakes for cabin cruiser boats, which offer a galley and berths for overnight stays. These boats offer a comfortable ride and are designed to cover more distance than a runabout. A cabin cruiser can also be a great choice for dockside entertaining. Cuddy cabin boats are about the size of a runabout but offer an enclosed bow with a low cabin that can be used for overnighting or as a shade for smaller children, a changing area and for gear storage.
---
You Might Also Like: