12 passengers max
26 - 100 ft long
Not Trailerable
Sportfishing yachts are the ultimate fishing machines for plying the open ocean—regardless of whether you're talking about the world's largest sportfishing yacht or a bluewater battlewagon that's sized more for day use.
Designed to be seaworthy in the roughest conditions and often capable of travelling 100-plus miles from land, there's no better boat for dedicated anglers who want to chase fish like marlin, tuna, and wahoo.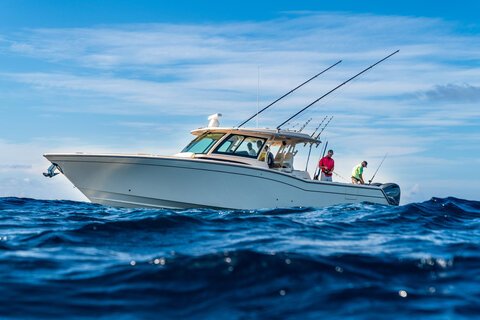 Explore Boat Brands
Sportfishing Yachts
Use our Boat Loan Calculator to get a better idea of your own budget.
Looking for a different boat?
Activities with Sportfishing Yachts
GREAT FOR Saltwater Fishing • Overnight Cruising
Obviously, sportfishing yachts are all about fishing. But they come with a bonus: since they're true yachts as well as being fishing machines, you can use them to enjoy the other aspects of the yachting lifestyle.
Pursue big fish in even bigger waters
First and foremost, sportfishing yachts are all about running far from the sight of land to pursue big game. They commonly have massive fuel tanks so taking fishing trips to distant hotspots are no problem, and there are some long-range sportfishing yachts designed to make trips well beyond the edge of the Continental Shelf for days on end.
Their hulls (boat bottoms) are designed to maximize seaworthiness and comfort, plus their sheer mass means they're not subject to the effects of waves to the same degree as smaller boats. And if you have a specific type of fishing in mind, there are many custom sportfishing yachts with countless touches and tweaks developed solely for different angling styles and tactics.
Room for a sizable crew
You don't need to buy the world's largest sportfishing yacht to have plenty of room for a big crew, on this type of boat. Even smaller sportfishing yachts have room for a half-dozen anglers, and many have room for twice that number of people.
Comfortable cabin: cruise with the family, weekend escape, entertaining guests
Since sportfishing yachts are by definition large, they tend to have tons of cabin space. Many have several private staterooms, each with their own private heads (boater-speak for bathrooms). In fact, some owners take their sportfishing yachts up and down the coast to different fishing tournaments and may spend days or even weeks living aboard as they fish competitively. While they do tend to consume more fuel than dedicated cruisers, also remember that they also offer much faster speeds—many can cruise at 30 mph or more. So, on the days you're not fishing, you can take the family to far-off ports in less time.
Ownership Costs of Sportfishing Yachts
Whether you're talking about the best sportfishing yachts in the world or the most modest models, one thing is for sure: this type of boat costs significantly more than many other varieties. Purchase price is usually measured by the millions—so to see if this style boat is right for you, be sure to utilize our Boat Loan Calculator.
Maintenance Costs

Maintaining these boats is not cheap. Since they're so large and complex they have many systems that need to be cared for on a regular basis, ranging from big diesel engines, to plumbing systems, to climate control. And they need constant washing and waxing, or those large swaths of fiberglass begin looking shabby in no time. As a rule of thumb, when it comes to sportfishing yachts many owners suggest planning for maintenance costs of around 10-percent of a boat's value. 
Operation Costs

Sportfishing yachts are certainly among the more expensive types of boats to operate. They consume large volumes of fuel and require electricity when plugged in at the dock. Quite often the owners of sportfishing yachts also hire a captain—you need serious know-how to run this sort of boat, plus it's tougher to relax and fish if you're concerned with operating it—and in some cases a deck-hand may be needed as well. On top of these costs, you'll obviously want to insure your sportfishing yacht; see Insuring Your Boat for more info.

Sportfishing Yacht Technology/Materials/Features

Sportfishing yachts can be surprisingly high-tech. Many are built with advanced fiberglass molding techniques, and some custom sportfishing yachts aren't molded fiberglass but are instead built with a combination of wood, epoxy resin, and advanced fabric like Kevlar and carbon fiber.