Mother's Day is just around the corner, and it's a perfect time for a gift with the upcoming summer season of boating in mind. Even if Mom can't get to the boat right this minute, she's surely thinking about getting out on the water at the first opportunity. Or, maybe your mother new to the world of boating and trying to make the most of her time on board. If yes, then Mother's Day is the perfect chance to give her the gift of even more fun on the water.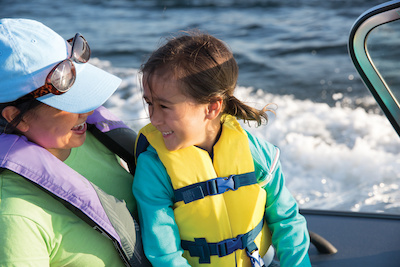 These Mother's Day gifts are ideal for helping her plan her next boating adventure, or even dream about extended cruises she might take in years to come.
Online Boating Classes
No matter how long Mom has been boating, there's always something new to learn. She may be a pro at the wheel and know how to plot a course on a paper chart the old-fashioned way, but nobody can know all the ins and outs, say, of the newest helm electronics. For learning the latest, or even as a refresher of the basics, an online boating course can make an ideal gift.
All kinds of options are available for online boating courses—and you can see a comprehensive list on our Boating Courses, Education and Training page.
BoatUS, for example, offers a free online safety course, as well as topical courses about everything from weather forecasts to using a VHF radio. The United States Power Squadrons has a lineup of online courses that includes hurricane preparation, and cruising tips for rivers and lakes. There's even a paddlesports safety course that Boat-Ed offers online for people who want to get on the water in canoes and kayaks.
Explore All Boating Courses & On-Water Training
Clothing & Boating Accessories 
For clothing and accessories, you may think that all Mom needs on a boat is a bathing suit and sunscreen, but specialty companies make shirts, shorts, hats, sunglasses, shoes and all kinds of other items that are designed to withstand the sun and saltwater that come with the fun of boating.
Some brand names to know for clothing and accessories include Gill, Helly Hansen and Sperry—all of which have women's sections with a good selection of products, and some of which have websites that let you shop by activity. For instance, you can choose "coastal" if Mom goes cruising on a powerboat close to land, or you can choose "sailing" if she's on a boat with sails. The websites will pull up the clothing and accessories that are designed for those types of boating, kind of like shoe companies that make different lines of products for basketball and baseball players.
Great accessories for just about anyone on any boat can include polarized sunglasses, to help block the sun glare off a white boat's hull (be sure to look for glasses that float, or get a strap to put in the gift bag with the glasses). Another great accessory for mom is a dry bag, which keeps things like her cellphone safe and dry if she wants to take it off the boat and over to the beach, where it might get splashed.
Boat Club Membership
Membership in a boat club gives Mom access to a boat whenever she wants to use it, without the hassle of actually buying and maintaining the boat.
Freedom Boat Club, for instance, has more than 2,000 boats in more than 200 locations, all of them ready for Mom to hop aboard and enjoy a day cruise. Carefree Boat Club is another option, with more than 3,800 members using its boats in the United States and Canada. Membership costs in these types of clubs can be tailored to the amount of time you expect Mom to be on the water, so her Mother's Day gift can feel completely personalized.
Learn More About Boat Clubs: Why Should You Join?
Marina Membership
If Mom already has a boat of her own, then a splurge for Mother's Day might be giving her membership in a marina network.
Safe Harbor Marinas, for example, operates more than 100 marina and service locations on the East and West coasts, Great Lakes, Gulf of Mexico and more. Should your Mom be the type who's always wanted to do, say, a Great Loop cruise to see the country by boat, then a membership with a marina network like Safe Harbor will give her dozens of places to stop along the way.
Great Boating Books
When it comes to great boating books, you can't go wrong with giving a gift of the classics.
For Moms who want to up their game in terms of boating knowledge and safety, Chapman Piloting and Seamanship is the bible. This doorstop of a tome covers all the rules of the road, what the various flags mean, safety tips, weather tips and more. This book is the kind of gift that Mom will keep dog-eared and handy near the helm for years to come.
On the flip side of that thinking is Moms who love to dream, be it about a real-life cruise or a fantasy one. In the fiction category, it's hard to go wrong with 20,000 Leagues Under the Sea by Jules Verne, with Moby-Dick by Herman Melville, or with The Old Man and the Sea by Ernest Hemingway.
For Moms who prefer to read nonfiction, try Sailing Alone Around the World by Joshua Slocum or The Boys in the Boat by Daniel James Brown.
And if Mom is the type who prefers big, glossy photographs in coffee-table books, you can't go wrong with anything by Onne Van Der Wal. His latest is Sailing America, with a foreword by legendary sailor Gary Jobson. The imagery is jaw-dropping beautiful, and inspirational in ways that words can never hope to be.
10 Best Sailing & Boating Books for Your Reading List
Safety Gear
Safety gear, which may not sound like much fun, is key to any mom having an enjoyable time on the water because she, just like everybody else, wants to feel safe out there.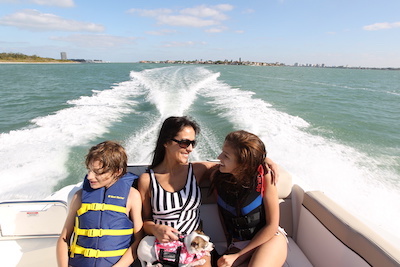 Spot X sells a handheld, two-way satellite messenger that will let mom stay connected to family and friends (and search-and-rescue teams) even if the boat goes out of cellphone range. ACR makes the ResQLink Personal Locator Beacon, which is small enough to attach to clothing or a life jacket, and which has a GPS inside, so rescuers can home in on the device in case of an emergency. And for moms who battle seasickness, Reliefband gets worn like a watch, and helps to ease queasy stomachs without the need to take any drugs.
Remember, you don't have to be a boating expert to buy a great boating gift this Mother's Day. Just keep in mind that mom wants to be comfortable and safe on the water, and your gift will help her to have a great time on board the boat.
A New Boat
Finally, if you're really looking to spoil Mom this Mother's Day, you can always give her the gift of a new boat explore all your options using our Boat Finder tool.
Read Next: Best Boats for Family Fun
---
You Might Also Like:
Editor's Note: This article was originally published in May 2019 and updated in May 2020.