Boating Gifts for Mother's Day
Is your mother new to the world of boating and trying to make the most of her time on board? If yes, then Mother's Day is the perfect chance to give her the gift of even more fun on the water.
A person who is comfortable, and who has the right gear for her kind of cruising, is going to be happiest during her time on the boat. With that in mind, many of the best boating-related Mother's Day gifts fall into three general categories:
Clothing and accessories
Tow toys
Safety gear
Clothing & Boating Accessories 
For clothing and accessories, you may think that all Mom needs on a boat is a bathing suit and sunscreen, but specialty companies make shirts, shorts, hats, sunglasses, shoes and all kinds of other items that are designed to withstand the sun and saltwater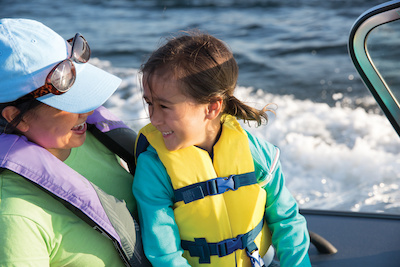 that come with the fun of boating.
Some brand names to know for clothing and accessories include Gill, Helly Hansen and Sperry—all of which have women's sections with a good selection of products, and some of which have websites that let you shop by activity. For instance, you can choose "coastal" if Mom goes cruising on a powerboat close to land, or you can choose "sailing" if she's on a boat with sails. The websites will pull up the clothing and accessories that are designed for those types of boating, kind of like shoe companies that make different lines of products for basketball and baseball players.
Great accessories for just about anyone on any boat can include polarized sunglasses, to help block the sun glare off a white boat's hull (be sure to look for glasses that float, or get a strap to put in the gift bag with the glasses). Another great accessory for mom is a dry bag, which keeps things like her cellphone safe and dry if she wants to take it off the boat and over to the beach, where it might get splashed.
Tow Toys
Tow toys are another great gift for boaters on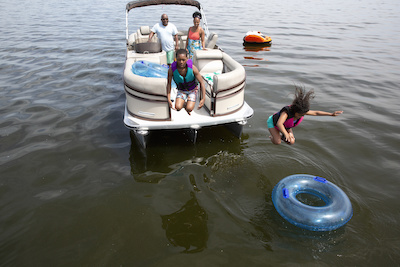 Mother's Day. The toys get their name because they are tied to the boat with a rope and then towed behind in the boat's wake, where a water skier might be pulled. Only instead of being hard skis, the tow toys are soft and inflatable, like a bounce house at a kid's birthday party. The material lets manufacturers produce the tow toys in a variety of fun shapes and sizes.
West Marine offers a good selection of tow toys, as well as the ropes that they attach to, if you want to put both into the Mother's Day gift bag as a set. You can choose among toys shaped like doughnuts, sleds with backrests, bananas and more. Some have great graphic designs, such as circular inflatables that look like the light-up Simon game that was popular in the 1980s. Others are designed to look like hot dogs, complete with graphics of relish and mustard.
Safety Gear
The last category, safety gear, may not sound like much fun, but it's key to any mom having an enjoyable time on the water because she, just like everybody else, wants to feel safe out there.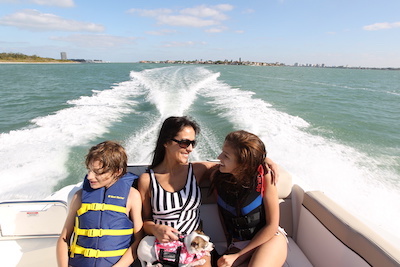 Spot X sells a handheld, two-way satellite messenger that will let mom stay connected to family and friends (and search-and-rescue teams) even if the boat goes out of cellphone range. ACR makes the ResQLink Personal Locator Beacon, which is small enough to attach to clothing or a life jacket, and which has a GPS inside, so rescuers can home in on the device in case of an emergency. And for moms who battle seasickness, Reliefband gets worn like a watch, and helps to ease queasy stomachs without the need to take any drugs.
Remember, you don't have to be a boating expert to buy a great boating gift this Mother's Day. Just keep in mind that mom wants to be comfortable and safe on the water, and your gift will help her to have a great time on board the boat.
And don't forget, if you're really looking to spoil mom this Mother's Day, you can always give her the gift of a new boat explore all your options using our Boat Finder tool.
Ready to get the whole family out on the water including your four-legged family members? Read our top Tips for Taking Your Dog Boating.
Category: