Whether you're celebrating Valentine's Day, a wedding anniversary, or you're just looking to spend a romantic evening on the water, a boat can be the perfect setting for date night. The ambiance, the food, the music—this guide will help with all the preplanning so you'll only encounter smooth sailing once you've left the dock.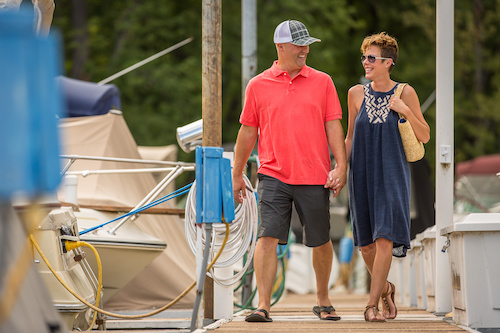 If you're ready to make the best impression on the one you love, follow these seven tips for planning date night onboard a boat.
How to Plan the Perfect Date Night Onboard
1. The Setting
For starters, the setting is about as romantic as it gets. If you rent a boat for, say, a half-day, then you'll have the whole thing to yourself, save for the captain and crew. You won't be in some crowded restaurant, waiting for your meal to come off the assembly line in a commercial-size kitchen. Instead, you'll be sitting at a table for two up on the flybridge or aft in the cockpit, looking out at the lights bouncing around as reflections off the harbor, hearing only the sounds of the sea along with your partner's voice.
Find Local Boat Rentals Near You
2. Flowers
Favorite flowers? No problem. Many florists will deliver right to the boat, so that when you step on board, you'll be greeted with roses, lilies, sunflowers, birds of paradise—whatever your partner loves most from the garden. You don't have to grab a last-minute bouquet of whatever's left down at the store by the time you get there. You can instead order flowers in advance and have the them there waiting when you arrive.
3. Music
The music, too, can be entirely controlled. Many boats nowadays have sound systems that will loop into your personal device via Bluetooth, so you can bring your own playlist of romantic songs in whatever genre your partner prefers. Into the classics? Load up Aretha Franklin's "Say A Little Prayer." More into a private concert? Try Queen's "Crazy Little Thing Called Love." Feeling lucky? There's always Marvin Gaye's "Let's Get It On."
If you need help with creating a playlist, we've got you covered—check out Boat Songs: The Ultimate Boating Playlist.
4. Food
And then, there's the food. You have a couple of options on a boat: Some come with a chef as part of the crew, which means a meal can be made on board that is perfectly tailored to your tastes. Other boats will allow at-the-dock delivery from local restaurants, which means you can get your Special Sweetie's all-time-favorite ribs or tacos or lasagna or kale pie or whatever else might suit her fancy.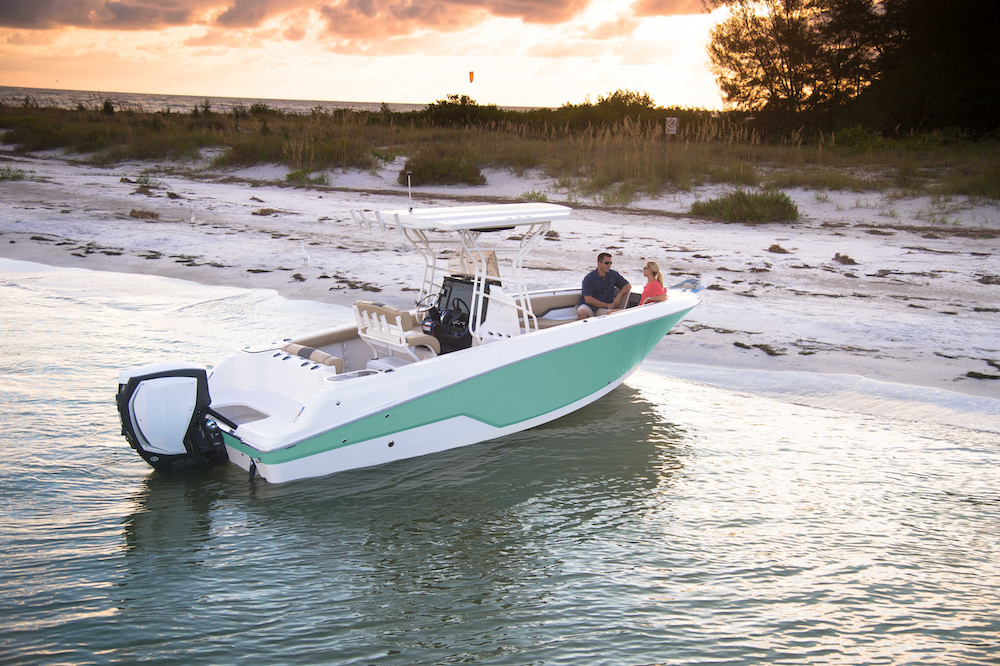 5. Dresscode
Even getting dressed for an evening out on a boat presents romantic opportunities. Most boats don't allow guests to wear shoes on board, which means you have the opportunity to give your lover the pre-Valentine's Day gift of a manicure. Then, when he or she steps aboard for the romantic evening cruise, you can have a gift box waiting with a toe ring—something he or she may not already have, and that will, let's face it, let you "do the jewelry thing" in ways that work for pretty much any level of relationship commitment.
6. Selfies
The selfies, too, will be epic. Think of all his or her friends looking at their smartphones back on shore and seeing social-media photos of your Perfect Someone's hair blowing in the breeze, out in the fresh air, underneath the moonlight and stars. The jealousy quotient should be high, and heavily weighted in your favor.
7. Dessert
Which gets us to dessert. Yes, of course, you can enjoy that part of the evening on the boat too, but another option is pulling up to a dock-and-dine restaurant for dessert and a nightcap. Give your partner a chance to show off his or her new outfit while all eyes are on them as they step over the gunwale and onto the dock, and then walk up to the restaurant. Sit at a waterside table with a view of the boat gently tugging at its lines, like a chariot waiting to take you back home later in the evening.
It doesn't get much closer to a fairy tale with a private carriage, unless you're living in Disney World. Next time it's your turn to plan date night, go for the full Prince (or Princess) Charming effect: spend date night on a boat.
Read Next: Boat Camping: 5 Tips for Sleeping Onboard
---
You Might Also Like: