5 passengers max
5 - 12 ft long
Trailerable
The term "dinghy" designates a huge variety of small boats. Dinghies may be rowed with oars, sailed with a removable mast and boom or powered by a low-horsepower outboard motor. These diminutive boats are typically under 15 feet long and more commonly around eight feet.
They have a shallow draft (or depth) so they can be taken into waters where larger boats can't venture. Many dinghies serve as tenders (or shuttles) to bigger boats that stay at anchor while passengers go ashore. 
Dinghies are rated to carry a number of passengers (sometimes classified as maximum weight) that shouldn't be exceeded. Many of these small boats can be managed (sailed, rowed or driven) by one person but can carry upwards of eight people.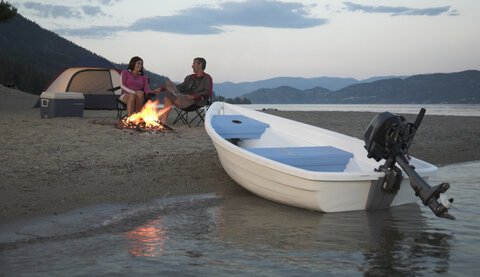 Use our Boat Loan Calculator to get a better idea of your own budget.
Looking for a different boat?
Activities with Dinghies
GREAT FOR Day Cruising • Sailing
Cruising dinghies or tenders are utility boats used to haul people, gear and provisions back and forth to a larger cruising vessel. Rigid inflatable boats (or RIBs) have a hard floor and inflatable rubber or synthetic tubes and make ideal ship's tenders because they're very buoyant and stable and with their soft sides, they don't dent or make marks on the mothership. 
However, dinghy tenders can also be used for all sorts of entertainment on a weekend cruise. An outboard-powered dinghy may used to explore coves, catch fish or visit snorkel spots. A rowing dinghy is ideal when you want to get some exercise and a sailing dinghy is a great way to entertain kids or teach them the basics of sailing. Many yacht clubs have fleets of sailing dinghies in their youth sailing programs where dinghies of the same design are often raced.
Ownership Costs of Dinghies
Ownership costs for dinghies are usually low as compared to other boats and that's primarily due to their size and simplicity. There will be the initial purchase price and the costs of storage although most dinghies can be stored in a garage on the floor or on a trailer. Dinghies over eight feet with a motor will need to have a state registration sticker so there will be a low fee assessed for that.
If you'll be leaving your dinghy at different docks, you may want to invest in a lock and chain and if the dinghy will be stored outside, a canvas cover will help preserve your investment.
While dinghies are usually very affordable, you may want to see what type of dinghy would best fit your budget. To do so, feel free to utilize our Boat Loan Calculator.
Maintenance Costs

Maintenance for dinghies is fairly low. Wooden dinghies may need to be varnished and fiberglass ones will need to be polished and waxed periodically. Inflatable dinghies may spring a leak in a tube or pontoon and will need patching. Sailing dinghies may need sail repair or replacement and rowing dinghies will need oars. If a trailer is involved, that will add extra costs.
Operation Costs

Again, due to the simple nature of the average dinghy design and outfitting, operation costs are low. Sails may need to be replaced and the outboard motor will need fuel as well as potential annual service unless you do it yourself. 

Dinghy Boat Technology/Materials/Features

Dinghies may be constructed of wood and you can find beautifully detailed wooden rowing dinghies that are still manufactured today. Most dinghies will be made of fiberglass or even rotomolded plastic that requires very little maintenance. Inflatable dinghies are generally constructed of PVC or Hypalon, which are durable synthetics.

Many dinghies will have thwarts, which are seats that connect the two sides where a passenger or a rower can sit. Sailing dinghies will have a simple rig (mast, shrouds, boom and control lines). Motorized dinghies (even inflatable ones) will have a rigid transom (the back end of the boat) capable of holding an outboard motor.

The technology in dinghies is fairly simple, however modern lightweight dinghies may be made of carbon fiber, which offers great weight savings making them easier to lift, move, sail and row.