How to Buy a Boat for Watersports
Published on Sep 05, 2014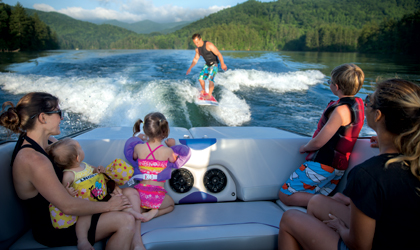 For most people, a boat will likely be one of the biggest investments of their lives, so it's important to get it right. First you need to determine what you want to do with your boat. If you're a passionate wakeboarder, for example, you shouldn't waste your time looking at 18-foot stern-drives. Know what you want, then seek out boats in that category. For water sports, inboard boats are your best bet.
Finding Your Perfect Fit
In many cases, the number of potential participants can dictate the size of boat you need. In general, more people equals a bigger boat, but it's not quite that simple. The activities you want to do with the boat can also be a determining factor. For example, if you're a serious slalom skier, you won't look past a 20- to 22-foot direct-drive with a center-mounted pylon and a capacity of no more than five to nine people. These boats are purpose built for three-event skiing (slalom, trick and jump), so they generally don't provide much potential for other sports.
Inboards in the 20- to 22-foot range with a V-drive configuration, however, are perfect for wakeboarding, wakesurfing, wakeskating and tubing, but their ski potential typically tops out at a recreational level. So if you want to ski, make sure you take a few passes behind the boat before signing on the dotted line.
If you're after the most wakeboarding and wakesurfing potential, move on up to inboards in the 22- to 25-foot range. Smaller boats can throw great, well-shaped wakes too, but they don't have the mass to make the bigger wakes and waves prized by more advanced riders and surfers. Boats in this range can wakeboard, wakeskate and wakesurf at a very high level, but their ski potential is recreational at best. Look for big numbers on internal ballast, plenty of storage and a quality wake-shaping device if you're planning on wakeboarding or surfing. Big boats also tend to handle big water better than small boats.
It's also important to make sure the boat you're buying has the details you need. For example, if you plan to store your boat in a garage, make sure it fits. Swing the tongue, pull off the platform and take accurate measurements. Also, collapse the tower so you know how difficult it's going to be every time you're backing into the garage or you encounter a low bridge on a canal.
Consider the Warranty
If you're buying from a dealer, pay attention to the warranty. People tend to gloss over this point, but it's important. First and foremost, find out how long the warranty lasts, then whether it covers parts and labor or just parts. Luxury boats with more features tend to have more to go wrong, but they also have longer warranties that cover more. Value-class boats can have fewer features with less to go wrong but a weaker warranty.
Try Before You Buy
Whether you're buying from the owner or a dealer, don't just run it "on the hose." A sea trial is an absolute necessity. After all, how can you really tell if a boat is right for you without taking it out on the water? It can also help you identify any potential problems. Just because the engine runs doesn't mean the ballast pumps or speed control are still functioning. The prop and drive shaft are also common pain points and can cause vibrations if they've been run aground or otherwise misaligned; these vibrations will spell trouble over time. A brand-new prop on a used boat can be a red flag because it means the prop was recently replaced for some reason.
Make sure it performs the way you want for the sports you want. Everyone's idea of a "good" wake isn't the same, so it's important to test it for yourself. Does the surf wave actually have as much push as the salesman claims? Are those wakes really as buttery smooth for slalom as the owner promises?
Get Your Bearings
When the dealer delivers your boat, he should teach you how to use it. Trailering is the first thing. It's not difficult, but most people tend to back the trailer in too far and the boat will crash into the winch stand, which could damage your investment the first time out. Docking is also important. Inboards are easy to dock; you just need to know in which direction the boat biases in reverse. Due to the prop's rotation, most inboards will back to the right, so docking on the driver's side is easy, but the passenger side is more difficult. Other things to touch on with the dealer are turning around while picking up a rider, learning how to take on rollers and big water, and putting the boat on the lift.