Ah, the holidays–it's tough out there. First, the guy who lives up the street got the extra-large snowman with the light-up carrot for a nose. Then, the guy who lives the other way up the street bought the giant inflatable Santa, complete with a full-size sled and a bunch of reindeer. Now, you have to try to figure out how to decorate your boat so that it will stand out in the holiday boat parade.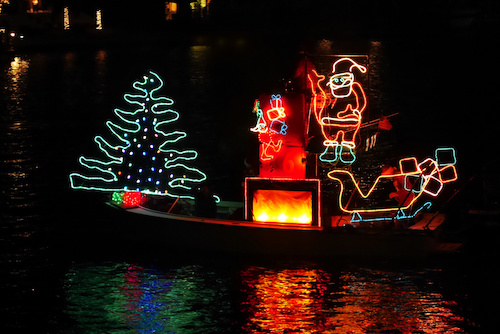 Good news, my friends. Your friendly neighborhood boat-decorating elf has arrived—and we're here to help. Follow these simple tips when decorating your boat for your local holiday boat parade.
How to Decorate Your Boat for the Holidays
First, do your research and find out this year's parade theme and related rules.
Figure out whether you need to decorate one or both sides of your boat.
Determine what you are going to use as your power source.
Deck the hulls—decorate your boat with lights, inflatable figures, other festive decor.
Test your lights—and then test your lights again.
Add music to your display.
Think small when you start out; and always work with the shape of the boat.
Learn More in Winter Boating Tips
Check with the Parade Committee or Website
For starters, check with the parade committee, or on the parade website, for the theme. Some boat parades change their theme each year, while others have the same theme year after year. Knowing the theme will help you focus your ideas so you're not just out there buying all kinds of lights and decorations willy-nilly.
Next, figure out whether you need to decorate one side of the boat or both sides. The parade route may only show off one side of your boat, in which case you can focus all your budget and attention on decorating that side. Some parades require that both sides of the boat be decorated, and sometimes even decorated the same way; check with your local parade committee for instructions.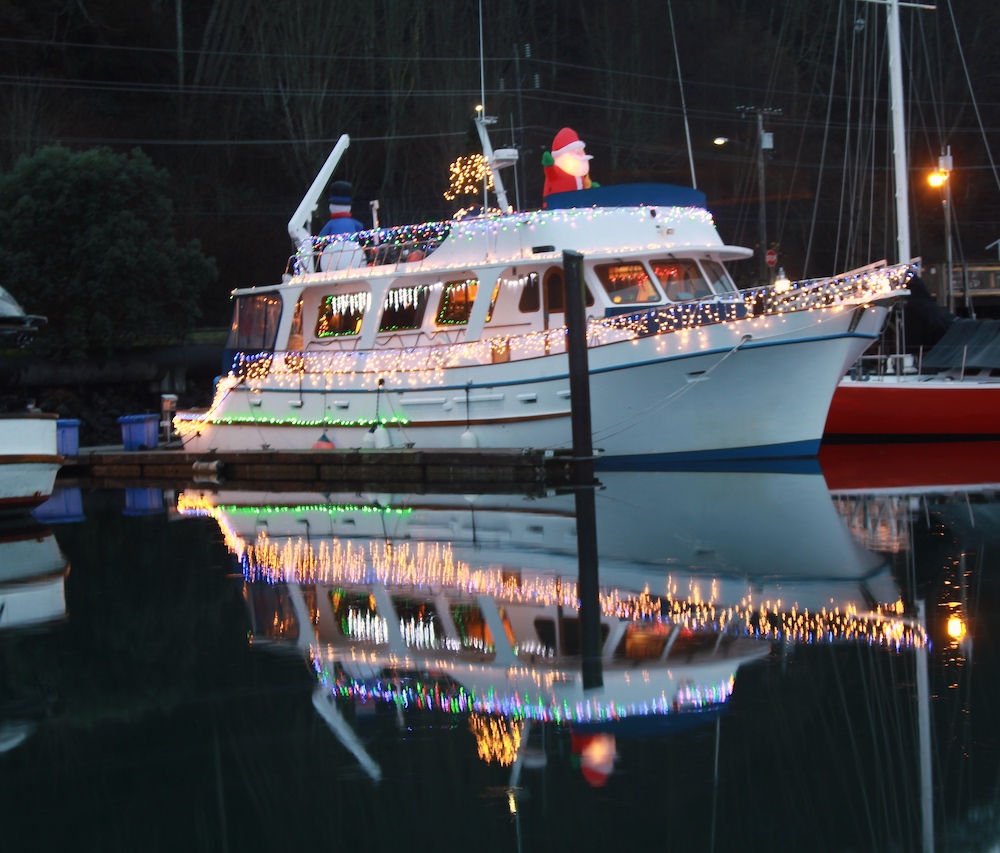 Design & Power Source
Determine what your power source is going to be. Lights need power, which means you have to think about power options. The Port Isabel Chamber of Commerce in Texas offers this pro/con guide to different possibilities for powering the lights in your holiday parade display.
Test Your Lights
Test your lights. One of the biggest problems that boaters have is lights that don't shine brightly enough when the sun goes down and the parade actually starts. Light up a test area on the boat, and then walk up the dock and look from a good distance to see how bright the lights are. If they fizzle instead of twinkle, you may need bigger bulbs or different lights.
Lighting & Decor Options
A ton of options are out there for rope lights; this website lists the ones that are waterproof as of 2019, so you can shop around. Spotlights are also great attention-grabbers to highlight people in costume, singers, dancers or giant foam cutouts (be sure to mount all lights at least a foot above the waterline, so they won't get hit with wakes and waves).
Think small when you start out. You and some friends, a couple of Santa Claus, Mrs. Claus and elf costumes, and a spotlight can go a long way if you're smiling and waving to the crowd. Give each person a battery-powered LED string to hold, and then the crowd ashore will be able to see your friends waving too.
If you plan to use inflatable displays like the ones made for home lawns, then tie wraps and bungee cords are your best friend. Tie everything down so that it doesn't impede the skipper's sightlines, and so that it doesn't go flying and become a hazard on the water for other boaters in the parade.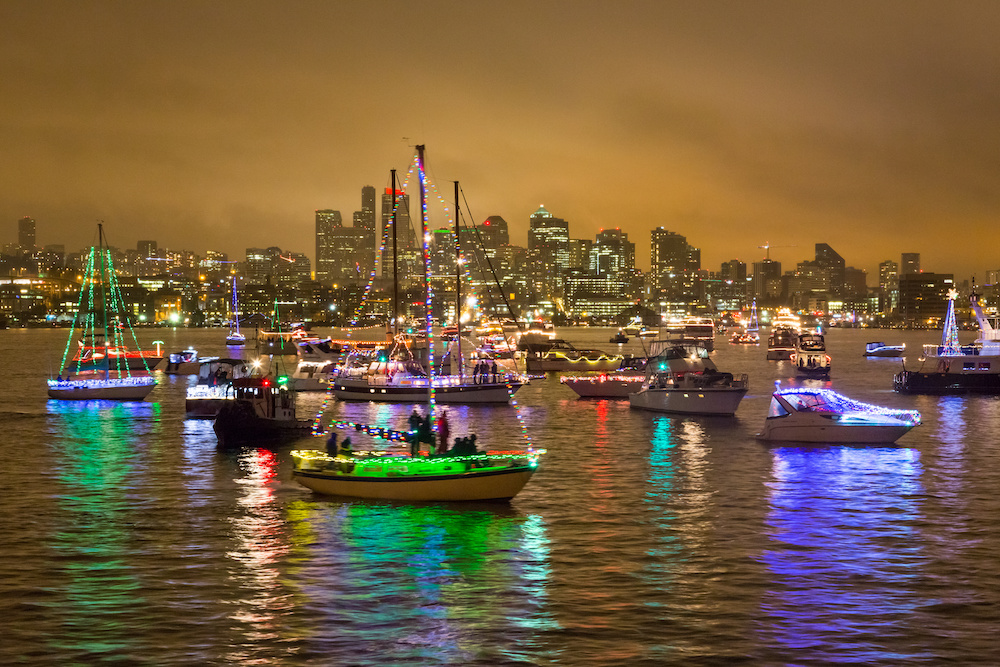 Add a Soundtrack
Bring the old boom box that's down in your basement. Water is great for a lot of things, including carrying sound over long distances. Crank up an old tape or CD of Christmas music on the boom box from 1984, and you have a ready-made dance party on your bow.
Work With What You Got
Work with the shape of the boat. Powerboats are more horizontal, and sailboats are more vertical. When you're thinking about how to organize your onboard display, work to the boat's strengths in terms of shape. Think of the boat as the stage, and create shapes accordingly to fit it (a Christmas tree light display, for instance, is much easier to make on a boat with a tall mast).
Next Read: Holiday Gift Guide for Boaters
---
You Might Also Like: