Thinking of buying a motor yacht? Well, an old saying goes that the best day of a boater's life is the day you buy your dreamboat, and the second-best day occurs when you sell it—but that's far from the truth. Don't let the implications of stress and frustration hold you back. The fact that you're reading this, after all, is a step in the right direction!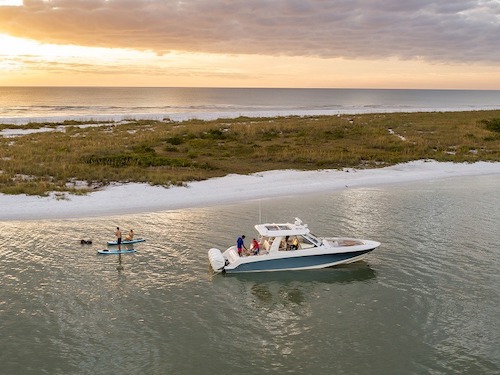 Here are a few more steps to take to make buying a motor yacht as smooth as the water's surface on a calm day.
How to Buy a Yacht
Decide what kind of motor yacht best meets your needs.
Narrow down a size range (length), and consider amenities.
Try before you buy: conduct a charter or a sea trial.
Work with a dealer or broker who understands you.
Set a budget, and stick to it—and then close the deal.
Take a boating safety course.
Enjoy your new motor yacht!
Explore Different Motor Yacht Styles
What Type of Motor Yacht is Right For You?
Truly thousands of choices await when you're buying a motor yacht, so what type of boating do you want to do? Most boats fall into one of three categories: overnight cruising, fishing, or watersports (like wakesurfing or wakeboarding). Once you know what activities you'll prioritize, that will dictate the type of boat to seek.
Select a Size & Choose Your Amenities
Ask yourself the following questions...
Will you primarily boat with just your beloved, or several friends and family?
Do you have a growing family, where you'll need to plan ahead for more space?
How aboard sleeping onboard, or spending a few days cruising?
Your answers to all of these will help you determine if you need enclosed areas for relaxing, a particular number of berths (or cabins), and certain amenities like a cooktop.
Try Before You Buy
If a friend has a similar boat, go out on it and assess its amenities with your desires in mind. You can do the same on a day charter. Definitely visit boat shows, where you can get onboard your preferred brands and perhaps even sea trial the boats. Dealer demo days are helpful for the same reasons, too.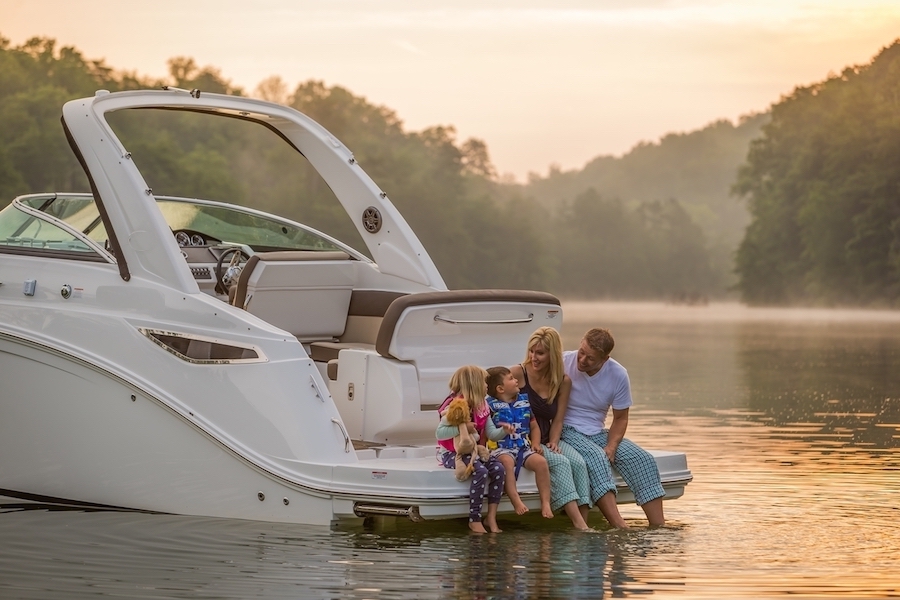 Work with a Dealer or Broker Who Understands You
Oftentimes the first thing these professionals say is, "What type of boating do you enjoy?" Next, they inquire about how many people you cruise with, and where you plan to go. They're not just making pleasant conversation. Dealers and brokers need a clear picture of your lifestyle to help point you in the right direction. Trust your instincts; if you have a good rapport, the last thing these reps want is for you to make an expensive mistake, with the blame landing squarely on their shoulders.
Set a Budget, and Stick to it
It's easy to get carried away when buying a motor yacht, since it can be a "heart versus head" decision. Research prices on boat manufacturers' websites, as well as through dealers and brokers. Additionally research seasonal maintenance costs, as well as fuel, insurance, repairs, and storage. Your spending comfort may also help you decide whether a new or a used boat is right for you. 
Learn more by reading Boat Values & Pricing: Negotiating Your Purchase.
Consider Taking a Boating Safety Course
If you haven't already done so, sign up for a class through the U.S. Coast Guard or the BoatUS Foundation, the latter offering free courses in most states. Check your state's licensing requirements, too. The National Association of Boating Law Administrators (NASBLA) dedicates a page on its website to state-by-state mandatory education, a good place to start. Also be sure to check out our Education & Training Guide.
Next Read: Costs of Boat Ownership
---
You Might Also Like: