Buying a boat is a big decision—and we think it's a great one—and if you've been researching the finer points of boat-buying by studying up with resources like our Boat Buyer's Guide, you probably have a pretty good idea of how to go about it. When to actually pull the trigger and sign on the dotted line, however, might remain a question-mark. When making an investment as significant a buying a boat we all want to make sure we do it in the smartest way possible, and choosing the best time for boat buying can depend on several variables.
When is the best time to buy a boat?
Well, consider these factors:
Where you live and the boating season in that area.
When new boat models are introduced.
When it's a buyer's market.
When your local boat shows are in town.
The timing of dealer and manufacturer incentives.
When you find the ideal boat.
Learn More in our Boat Buyer's Guide
The Best Time for Boating
Just about every boat-lover wants to buy a new boat on some level, when boating season arrives. We don't want to miss one minute of fun on the water and after a long winter stuck on land, most of us are chomping at the bit to cast off the lines and point the bow for distant horizons. So spring is naturally a hot time for boat dealerships, particularly in parts of the country where winter includes freezing temperatures and snow piling up on the ground. From the emotional perspective, spring and early summer seem like the best time to buy a boat hands-down.
But there are other things to consider. Boat dealerships are often flooded with business during the spring and into early summer, and it may take longer for them to rig and deliver your boat then it would at other times of the year (*note: regardless of all other factors, we'd always recommend buying from a Marine Industry Certified Dealer). You also may be able to strike a better bargain when boat sales are slower. And if you're ordering a boat outfitted specifically for your needs, by the time it's completed months of prime boating season may go by.
Buying the Latest and Greatest New Boats
If you're one of those people who likes to get the hottest new models on the market, late winter or early spring may be the best time for you to buy a boat. Many manufacturers announce new model-year offerings in late summer or fall and then introduce them to the public at the winter boat shows, especially the Progressive Miami International Boat Show in mid-February. In fact, this show in particular draws boat-buyers from all around the world who want to see the latest and the greatest new model boats.
A Buyer's Market for Boats
If you're less concerned with seasonality, you're not worried about getting the latest model, and you want to get the biggest bang for your buck, buying a boat in the fall might be a smart move. In most parts of the nation this is the slowest selling season for dealerships, and they're looking to move current year models off the showroom floor before next year's models begin rolling in. That means it's a buyer's market—prices are often discounted a bit, you'll have more face-time with the dealer, and you may be able to negotiate perks like winter storage or providing a fall slip. And even though much of the boating season has gone by, fall is still a beautiful time to be on the water.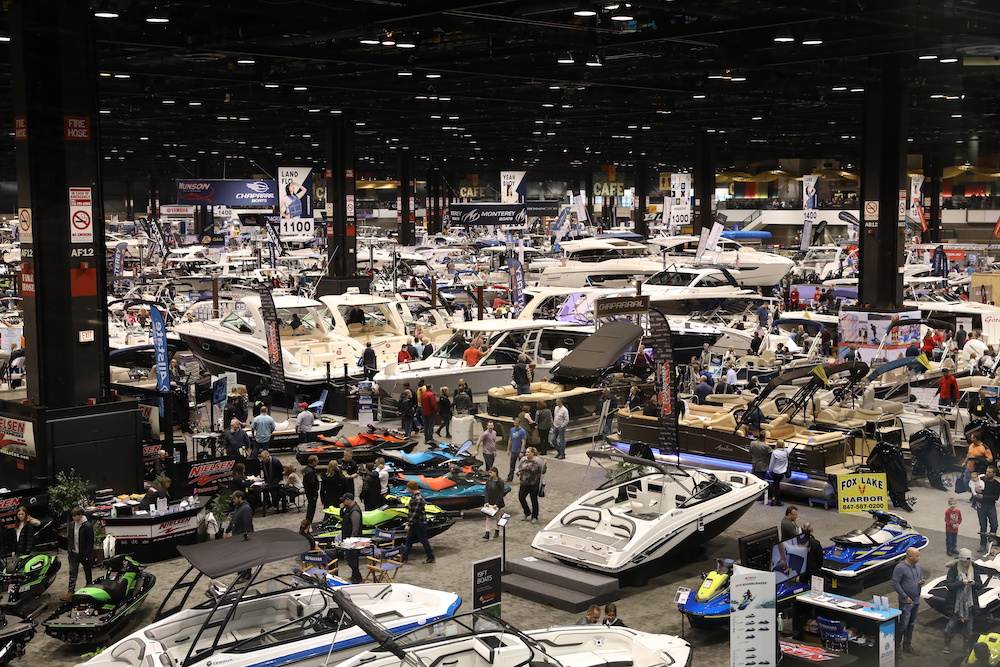 Buying a Boat at the Boat Show
Boat shows not only give you the opportunity to look at dozens and dozens of the latest competing models in the same place at the same time, they also often offer some of the best special deals, incentives, and pricing of the year. In most areas boat shows are held from late fall through early spring, so you can order a boat outfitted to your liking and still get it in time for the boating season. Many financial services offer pre-qualification deals specifically for boat shows, so as you shop you know exactly which models are within your budget. And you may also find model-year holdovers that dealers are motivated to move asap (read: sell at a discounted price).
To make sure you arrive at the show fully prepared for some savvy boat-shopping, check out Boat Show Buying Tips: How to Get the Best Deal. And if you're not sure where and when the next boat show takes place in your neck of the woods, visit our Boat Show Calendar.
Boat Show Buying Tips: How to Get the Best Deal
Dealer and Manufacturer Incentives
If getting the lowest price possible is a priority, you may want to time your boat buying excursions to match up with dealer and manufacturer incentives. Often this means shopping in the fall and early winter, when dealerships are trying to clear the decks of current inventory to make way for the new model year boats. In many corners of the nation this timeframe overlaps with boat show season, which again can argue for buying at a show. The potential downside to shopping for incentives is that you may have to be satisfied with what a dealer has in stock, as opposed to having the flexibility to order a model outfitted exactly as you want.
You've Found the Ideal Boat?
When all is said and done, we buy boats because we love boats. Sure, the price does matter and everyone wants to get a good deal. But if you've found the perfect boat for you and your family (our Boat Finder tool can help with this), most boaters would agree that the perfect time to buy it is right now.
Read Next: Where to Buy a Boat: Dealerships, Boat Shows & More
---
You Might Also Like: