You can learn to sail on any sailboat but small boats are better teachers because they react quickly to crew weight shifts, wind shifts and every command on the tiller or wheel. This immediate feedback is a valuable tool for student sailors and it's usually easy to spot sailors who started out on smaller tiller–driven boats rather than on large steering wheel boats because they're more in tune with the boat and their surroundings.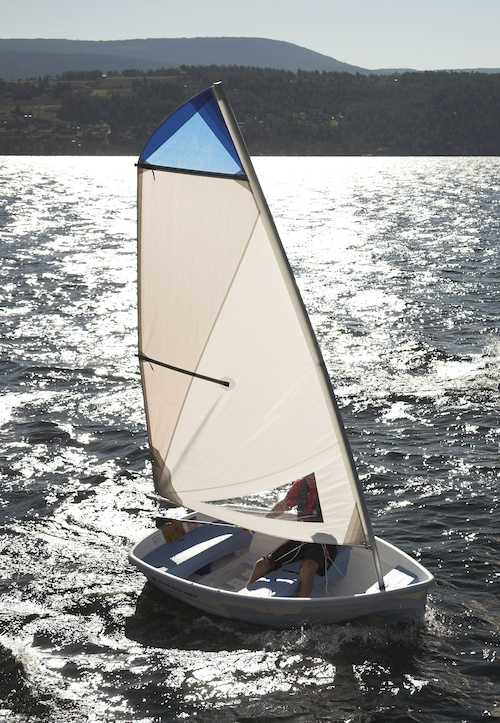 There are a number of classic trainers used by yacht club youth programs as well as techie new designs. Without mentioning specific models and brands, it's difficult to outline which small boats are best but here are things to look for in good teaching boats.
Some of the best small sailboats for beginners include:
Boats with tillers steering
Boats with no winches
Sailing dinghies
Small sloops
Small catamarans
Rotomolded boats
Trailerable sailboats
Boats with Tiller Steering
Steering by tiller (rather than a wheel) can make a difference when learning. Tillers are directly connected to the rudder that manages the boat's direction. Tillers provide quick feedback about the strength and direction of the wind as well as the boat's turning agility at various speeds.
Boats with No Winches
Boats that require no winches to manage the sheets and halyards are best for youngsters and new sailors. These boats usually don't experience the same forces on the sails and rigging as larger boats, which can be a handful when the wind starts to blow. Winches are usually replaced with cam or jam cleats, which are easy to use.
Sailing Dinghies
Sailing dinghies are usually rigged with one mast and one sail and offer kids and new sailors simplicity so it's easy to learn the ropes. Less overwhelming than boats with two sails, dinghies are light and responsive. They also have a shallow draft due to side or centerboards so they can be sailed just about anywhere. In some cases (whether from a wind gust or sudden crew weight shift) sailing dinghies can capsize so students should wear lifejackets and know how to swim. Sailing dinghies are usually sailed by one or two people.
Small Sloops
Small sloops with a mast that carries head and mainsails are the next step so students learn how sails work together. Headsails can be hanked on or attached to a small roller furler. These boats may have some or no winches, which also makes them easier to maintain. These boats can usually be sailed with one to four people.
Some sloops can scale up, providing a more challenging experience for sailors as they develop skills. Certain models can carry spinnakers and larger headsails to teach sail combinations and new sail trim techniques. Others offer the ability to hike out (shift crew weight well outboard to balance the boat against the wind pressure in the sails). This kind of sailing is more advanced.
Small Catamarans
Small catamarans provide extra stability for those who may be nervous about capsizing or aren't fond of heeling (tipping while sailing). With two hulls providing a wide and stable base, catamarans area ideal for beginners, which may be why they're often used by resorts as their beach sailing tourist boats. Rigged with one or two sails, small cats are tiller steered and usually have a trampoline that the students sit on and sail.
Rotomolded Boats
Small rotomolded boats are very forgiving due to their durable construction. Unlike fiberglass or wooden boats, rotomolded (a type of plastic construction technique) trainers can bounce off docks or other boats and cause or sustain little damage. Dinghies and catamarans can both be made via rotomolding.
Trailerable Sailboats
Finally, small sailboats that can be trailered to different locations add variety and that makes learning fun. Students can learn to sail in different wind and water conditions and enjoy their boats differently on vacation or with new friends.
Learning to sail involves all the senses and requires a level head and lots of practice and although it can be learned in many ways, the best way is to start with a boat that's small, simple, safe and durable.
Read Next: Small Boats: What Are My Options?
---
You Might Also Like: