To find the right towable tube for your boat, you must first consider the needs of the rider. Make no mistake: The rider determines the kind of tube you should buy. Choosing the right tube to tow behind your boat is a bit like selecting the right car seat for your child. As your children get older, you likely will need to buy one or two more before they outgrow tubing altogether.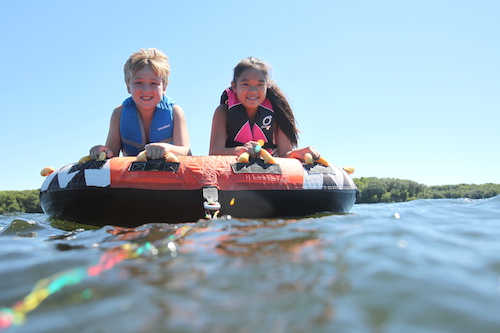 Kids love tubing, and it's the gateway to all other watersports. Like car seats, when your children are young, the most important characteristics are stability and safety. Retailers don't make that terribly simple because tubes aren't sold that way. More often than not, they're sold based on the number of people they will accommodate, price, brand, and so forth, so you'll have to work with those parameters to find safety and stability.
How to Choose the Right Towable Tube
First, consider who is going to be riding the tube.
Determine the number of riders you want to pull.
Research different tube options for shape, maneuverability, and riding position.
Read reviews and watch the tubes in action on YouTube.
Determine your budget, and browse different online and marine retailers.
Remember to always make safety and stability your top priority.
Explore Boats Perfect for Watersports
Consider Your Rider
In general, younger children will need tubes they can sit in, not on. Why? Well, look at it from their perspective. Regardless of how many times they've seen people having fun in a tube being pulled behind a boat, they are going to be a little nervous when they finally decide to go for a ride. By having a dedicated well for them to sit in and handles they can hold tight, they're going to feel more planted and in control. They're going to grip those handles till their knuckles turn white, but because they are sitting in a little pocket, they will eventually loosen their grip and begin to enjoy the ride. They can do that if they don't fear falling off—and being left behind.
As your children develop mentally and physically, they will begin to cultivate their own set of preferences, and that's when you can have some fun with choosing a towing tube. There are options for the number of passengers, shape, maneuverability, riding position and even the ability to go airborne, and those kinds of tubes aren't for beginners. Lots of companies sell tubes and other watersports equipment, and you can look at the specs side by side online. Bass Pro Shop, Cabela's, West Marine, Overton's and Amazon all sell a huge selection of tubes, so finding one isn't difficult.
Explore Water Sports Equipment Manufacturers
Read Reviews & Do Your Research
If you would like a preview of how they behave on water, you can find nearly any model in use on YouTube. Yes, the videos have been put together by either the retailers or the manufacturers, but they do give you a good idea of how they perform on the water when used as intended.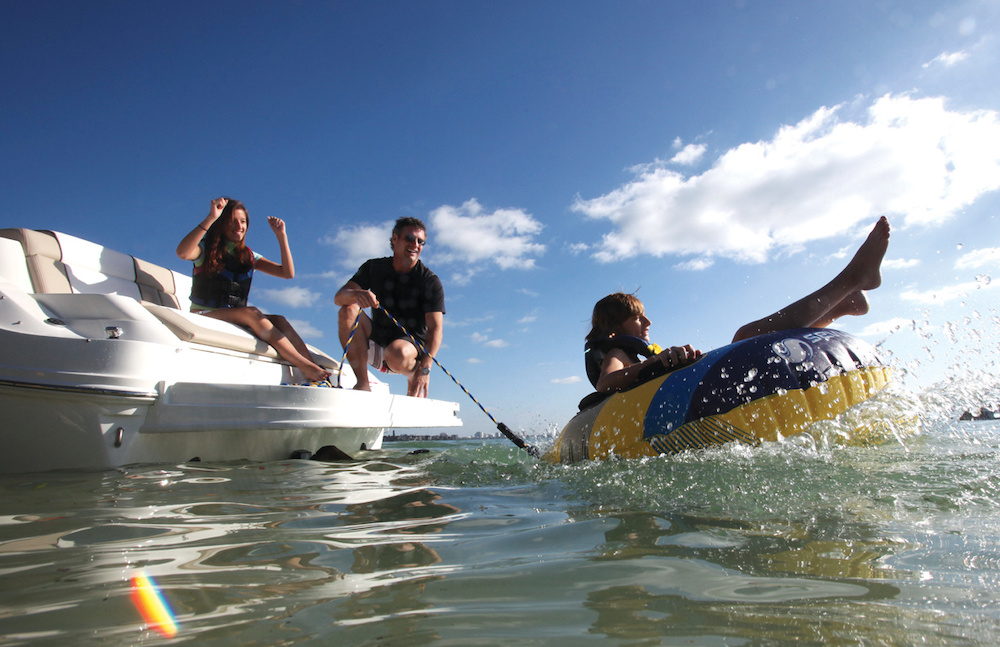 Multiple Tubes & Upgrading
Towable tubes are the best way to get kids out on the water having fun and maybe inspire a lifelong love of watersports. Before you buy your first tube, realize that you will probably buy at least one more, and then have to advertise that one on Craigslist when your kids graduate to kneeboarding, wakeboarding and wakesurfing.
The watersports ladder begins with tubing and goes up from there. Kids do outgrow them, and by the time they enter first grade, you'll likely have gone through a few of them. It might set you back several hundred dollars per summer, but when you account for the amount of time that money allows you to spend with your kids on the water, it's time and money well spent.
---
You Might Also Like: