Sleeping Onboard Your Boat
Published on Jan 31, 2014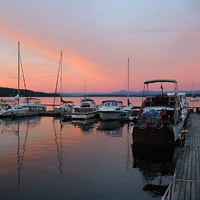 Overnighting On your boat
One of the great pleasures a boater can enjoy is sleeping onboard. The calming sound of waves gently lapping against the hull can lull even the most wound-up insomniac into a peaceful night's slumber. But there are some tricks and tips you should know before you go out for your first evening on the water.
As with real estate purchases, the first thing to remember is location, location, location. Your choice of anchorage, particularly while you're trying to master the basics, is key to a worry-free night. For that reason, you'll want to choose a small, protected cove. Weather conditions can change in a hurry, so give yourself every chance for shelter and reduce the impact of other boat traffic.
For overnighting, it's a good idea to have an anchor that's at least one size larger than recommended for your boat. No one ever woke up the next morning and regretted opting for the security of an anchor that was too secure! A good rule of thumb for choosing anchors for normal uses would be about one pound of anchor for every two feet of boat. That would mean a 10-pound anchor for a 20-foot cuddy. For overnighting, that boat would be safer with a 15-pound anchor.
Practice your setup in the daylight. Attach one end of a 3/16-inch galvanized coil chain (at least as long as your boat) to the anchor. Attach the other end of the chain to 7/16 braided nylon rope that's about 10 times longer than the depth of the water at high-tide. Head to the spot you've chosen to spend the evening and stop the boat. Drop the anchor quickly (or "smartly" if you want to brush up on your sailor lingo). When the anchor makes contact with the bottom, slowly back up while paying out the rope ("line"), ensuring you don't have any knots and that you're well clear of the propeller. Tie off the line to a deck cleat and reduce speed by half. The anchor shouldn't drag, and you should feel it dig into the bottom and set itself.
Note: The full range your boat will spin if the wind changes direction. Having a single pivot point, as long as you're far enough from any other boats and the shoreline, should protect you from drifting, particularly in a small cove. For another level of protection, you can also tie off to a fixed object on land such as a tree. Just make sure, that you're not trespassing on private land. Again, all the more reason to practice while it's still light out.
Display a white anchor light all night long. Normally, smaller boats are not required to display a white anchor light if it's anchored well away from where boats would operate. It's a good idea, however, to check with your local state boating law administrator to make sure. Of course, it's always safer to display a white light all night long. But since your regular stern light would draw too much current (and drain your battery by morning), there are several aftermarket low-voltage lights that you can plug into your boat's 12-volt outlet that won't leave you powerless.
Overnighting is a wonderful way to spend an evening, particularly after a day full of fun and sun. With a little practice and preparation, you can take the worry out of sleeping aboard and learn to love spending a night "on the hook."