Making The Best Out Of Boat Shows
We all know that boat shows are a great way to find out about the latest innovations and technologies, discover new and improved products, see lots of different types of boats all in one place, and find incredible deals. But there are quite a few things to consider before and after you stroll into that big, beautiful, climate-controlled arena this winter.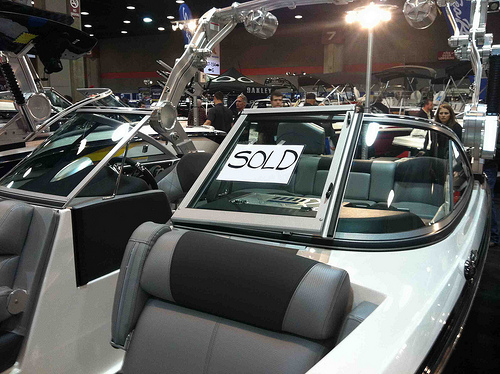 Find Your Show
First things first...you have to find your nearest show (or shows) so you can put it on the calendar now. The last thing in the world you want to have happen is that something less important (let's say ballroom dancing classes) gets added on a boat show Saturday just because the date was "open." Take charge and put the boat show on the books. Your Fred Astaire moves will have to wait. The best place to track down your local show is on the Discover Boating website. Find a boat show near you.
Convince Your Significant Other
Throughout history, there has been a distinct pattern when it comes to introducing the boating lifestyle into any committed relationship. Usually one spouse wants it more than the other. I know, it's hard to fathom, but believe it or not, some folks have to be talked into the best decision they'll ever make. The irony, of course, is that boating improves relationships, allows you to spend more time together, and overall benefits your mental and physical well-being. But I digress. Fortunately, there's a tool for just such a quandary...our Spousal Conversion Kit. Besides actually getting out on the water and letting the wind and water work their magic, this is the best path to persuade with power!
Calculate Your Budget
You know it wasn't so long ago that we tended to perhaps over reach when it came to making buying decisions about life-enhancement accessories like boats. Today, we're smarter than that. Now the prudent thing to do is to take a good hard look at the budget and go into the boat show armed with the facts about what we can afford. After all, boating is the ultimate family relaxation therapy — you don't want to be constantly distracted by the aftermath of an ill-advised purchase. An honest and open family conversation is the first step toward getting the most out of your boating lifestyle. To get started, check out our handy Boat Loan Calculator. Dealing with real numbers, believe it or not, will cause much less worry and resistance and help you confidently take the next steps.
Deal With The Right Dealer
One major component to a boat-buying decision that some people forget is that finding the right dealer can be just as important as the boat you decide on. Not only will you will be working closely with the dealer during the actual transaction, but you will be entering a long-term relationship as you need routine service, off-season storage, and perhaps even dock space. One way to make sure your dealer is right for you is to check out the list of Marine Five-Star Certified Dealers.