So you've finally purchased the boat of your dreams. Now, what's the next step? An excellent place to start is completing boat registration. 

Registering a boat is required by law—much like with a car. The rules and guidelines for this process depend on where the vessel will regularly operate (long-term). 
5 steps to follow when registering a boat:
Research the boat registration requirements in your state.
Complete a registration form—either online, through the mail, or in person.
Provide proof of ownership—including a title and/or bill of sale.
Pay the registration fee, which varies by state and vessel size.
Be conscious of the expiration date and apply for renewal.
What Kind of Boat Must Be Registered?
Generally, boats must be registered in their state if they have a gasoline, diesel, or electric motor, including a trolling motor. 

Personal Watercraft (PWCs) are considered motorized crafts and must be registered in most states. Sailboats without auxiliary power must be registered if over a certain size, like eight feet, but that differs by state. The registration requirements for kayaks, paddleboards, canoes, rowboats, and other human-powered craft also vary by state, but most don't need to be registered.
Where Do I Register My Boat?
An excellent place to start is here on Discover Boating—visit our Boat Registration page, which allows you to begin online registration. 

In most states, you can also register a boat with the Department of Motor Vehicles. In some cases, it may be with the Department of Fish and Game, the Department of Licensing, or the Department of Natural Resources (DNR). A boat can be officially registered in only one state.
Boat Registration Numbers and Stickers
A boat registration number is its license plate and includes letters and numbers that must be displayed on the hull, near the bow, on the front third of the boat on both sides. 

The letters and numbers must be read from left to right and may have a minimum size (usually around 3-inch block letters, which can be bought in most hardware stores). The numbers can also be painted onto the boat. 

A registration sticker or decal proves your boat registration is valid for that year. The length of validity varies by state but can be from one to three years.
Boat Registration Renewal
Your boat registration authority should automatically send you a renewal form and a bill or assessment. Once you pay the fee, you'll receive a renewal sticker.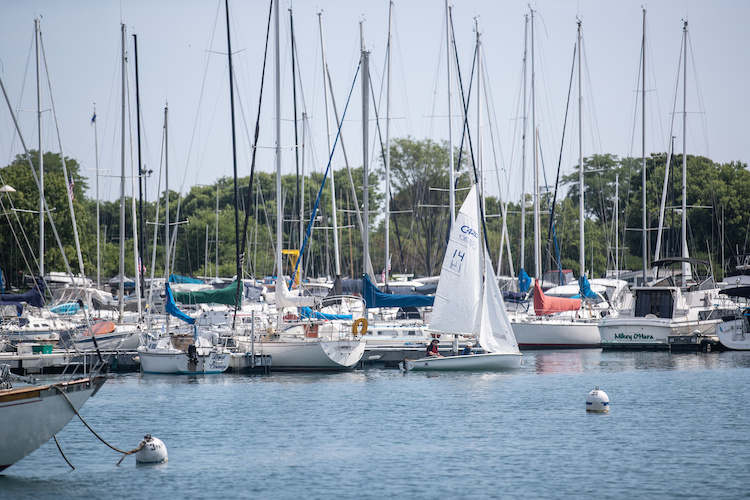 Frequently Asked Questions
What is the difference between boat registration and vessel documentation?
Most smaller boats are registered with the state. Vessels of at least five net tons that are 51% or more owned by a US citizen may be federally documented with the US Coast Guard. A documented vessel is recognized as a US vessel when in foreign waters and, as such, enjoys some protections. Applying for documentation requires a fee, an application, a hailing (home) port, and a boat name.
Do I have to pay property taxes on a documented vessel?
Yes. You will receive a state tax bill even on a federally documented boat with the US Coast Guard.
Does a dinghy need to be registered?
Yes, if the dinghy has an outboard. All motorized vessels that operate on public waterways must be titled and registered.
Do boat trailers need to be registered?
Yes. A trailer is usually registered in addition to the boat since the two vehicles can be separated.
Where can I buy boat registration numbers?
Registration number stickers are available at hardware stores, marine equipment outlets, and online. BoatUS is a reliable source that provides boat lettering for registration numbers, boat names, and hailing ports.
If I move, do I need to re-register my boat in a new state?
If the boat will be operated primarily in that state, then yes. You have 60 days to register a vessel if it moves locations.
---
More information on boat ownership: