Perhaps no other type of boat offers the buyer more options and choices than the pontoon segment. The variety of sizes, amenities, power and performance make it possible to design a pontoon that's a perfect fit for your lifestyle and location. All those choices, however, can become mind-boggling when you sit down to go over the catalogs and websites of pontoon manufacturers. Here are some tips that can help make that process easier.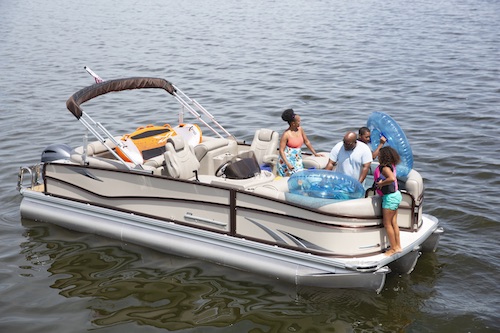 How to Buy a Pontoon Boat
Set a budget that includes the purchase price and the cost of financing.
Consider where you'll be boating—ocean, lake, river? Saltwater or freshwater?
Think about how you'd like to use your pontoon.
Decide between a pontoon or tritoon (three-tube design).
Compare different models and floorplans.
Work with a dealer or manufacturer to close the deal.
Your Budget
Start with a personal boat-buying budget that includes the purchase price and the cost of financing. Also take into account the cost of annual maintenance, fuel, the accessories you'll need to purchase to get on the water, and off-season storage if that's required. Keeping within that budget will allow you to get the most out of your new boat.
Use our Boat Loan Calculator to estimate your monthly payments.
Your Waterways
Will you be using your boat on a small lake, a larger lake, or coastal waters? There are pontoon boats designed for just about any environment, but if your waters have the potential to be choppy on occasion, or you'll want to cover longer distances, you'll want a boat designed for that use. Conversely, there's no need to invest in a boat that can handle rougher water if you'll only be using it on a smaller, protected lake.
Your Lifestyle
Consider how you'd like to use a pontoon boat. Options include cruising just to relax, cruising to a destination for swimming or socializing, entertaining a larger group or family, watersports like wakeboarding and tubing, and fishing. A pontoon can be created with a layout and features to specialize in one activity, or to be a versatile platform. Think about your priorities when you will be on the water.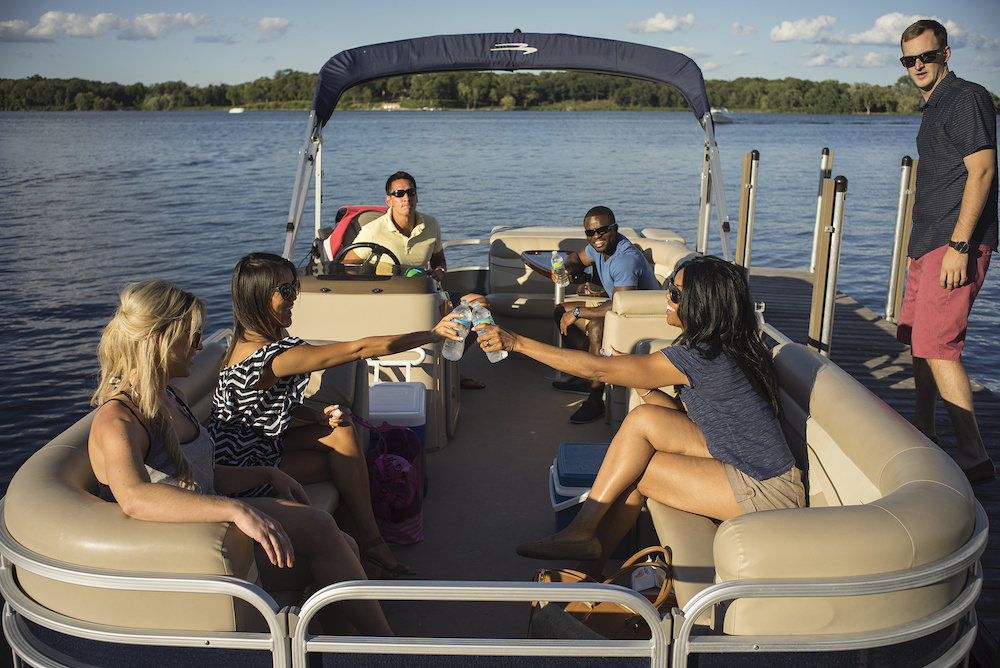 Tritoon vs. Pontoon?
A pontoon boat "chassis" may be supported by two or three tubes and those tubes may be offered in two different diameters. The right choice for your boat will be determined by the water you'll be boating on and how much horsepower you'd like on the transom. Larger-diameter tubes (27 to 28 inches) give the boat more weight capacity—for more passengers—and raise it a little higher in the water than standard-size tubes (23 to 25 inches) for a more-confident ride in rougher water.
A pontoon with triple tubes offers even more capacity and gives the boat a higher horsepower rating. A twin-tube pontoon is generally rated for no more than 225 horsepower, but with triple tubes some pontoon models can be rigged with a single 400-hp outboard, or even twin outboards, good for speeds over 60 mph.
You may also have a choice of tube diameter in a triple-tube chassis, and the larger tubes will offer better performance in rough water. Most triple-tube pontoons will also handle better than a twin-tube model because they are designed to be supported by the center tube when running on a straight course but then bank to the inside in a turn. Of course larger-diameter tubes and triple-tubes—and big horsepower—add cost to the price of the boat. If you're planning to cruise at an easy pace on calm water, a basic twin-tube chassis will be perfectly adequate.
Learn More: Comparing Tritoons vs. Pontoons
Boat Floorplans
The floorplan refers to the layout of seating, helm and other features within the living space of the boat. Most manufacturers will offer a number of different floorplans for each model. The base layout usually has an open center with wrap-around seating on both sides, front and rear, interrupted by the helm on one side and an entry point on the other.
Options may include a floorplan with a rear sun lounge seat, one with two or more swiveling bucket seats in place of fixed seating, seats that can be removed to create more floor space, an entertainment console with sink and refrigerator in place of some seating, a layout for fishing with a larger bow deck, or some combination of the above. Each is designed to make the boat more functional for a particular boating lifestyle.
Other Key Features
A pontoon can be an outstanding and very stable freshwater fishing platform, especially suited to young anglers. A fishing package may add fishing seats, rod storage, a livewell and fishing electronics.
For towing tubers or boarders, you want to have enough horsepower on the transom—a dealer can give advice here for each model, but a 150-hp outboard is probably the minimum. An optional towing pylon or tow bar will provide a handy and secure point to attach the tow line.
Performance packages are designed to give the boat more top speed and better handling, and usually include a system of fins and strakes on the tubes that add lift and help stabilize and guide the boat in turns, and an aluminum skin over the cross members below the deck that reduces drag. Some performance package elements may be required if you select a more-powerful outboard.
High-performance audio systems and interior lighting can be selected to enhance entertaining on board. Upgraded upholstery and flooring adds luxury. An arch gives the pontoon a sporty profile and may support an expanded sun top.
Read Next: The Ultimate Boat Buyer's Guide
---
You Might Also Like: