Behind the (Boating) Music: Southern Cross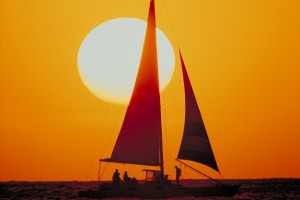 A favorite of many boaters, the song Southern Cross by Crosby, Stills & Nash, seems best suited for cruising a postcard-worthy waterway. Just add the glow of sunset and you have what boating dreams (at least mine) are made of. But, what does it all mean?
Written by Stephen Stills in 1982 with Richard and Michael Curtis. According to Stills, "The Curtis brothers brought a wonderful song called 'Seven League Boots,' but it drifted around too much. I rewrote a new set of words and added a different chorus, a story about a long boat trip I took after my divorce. It's about using the power of the universe to heal your wounds. Once again, I was given somebody's gem and cut and polished it."
That "long boat trip" was in the South Pacific's French Polynesia following his divorce from French singer-songwriter Veronique Sanson. To interpret his lyrics, being out on the water exploring exotic places on his boat helped him to relax and find perspective on life and his marital troubles. Right on, Stephen – there's something transformative about being on your boat, away from it all and staring at the sea.
The actual "Southern Cross" is a constellation most clearly seen from the Southern Hemisphere with the four brightest stars forming a cross. Sailors know it well and use the Southern Cross to help navigate their boats.
Did you know …
The national flags of Australia and New Zealand include versions of the Southern Cross.
David Crosby, the Crosby to Stills & Nash, has been a sailor since age 11.
Throwing it back to 1982, check out the video for Southern Cross, featuring Stephen Stills in action at the helm: