Top Spots to View Autumn Colors from the Water
Published on Sep 28, 2015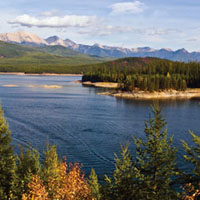 It's that time of year when leaves change color, crisp autumn scents fill the air and Americans get behind the wheel to take in the season's foliage. But it's boaters who know the best views are from the water and non-boaters might be surprised at how easy it is to climb aboard. Across the country, fall foliage cruises offer nature enthusiasts coveted views of the changing colors creating unforgettable experiences and sights for the whole family.
As the days get shorter, consider turning off the computer and getting on the water to enjoy nature's vibrant fall colors before winter arrives. DiscoverBoating.com can help boat owners plan their next on-the-water adventure and show novices how to get started in boating. If you're not a boat owner but want to experience fall foliage from the water and see for yourself why 87.3 million Americans go boating each year, check out DiscoverBoating.com for tips on how you can give it a try.
Discover Boating surveyed a network of boating experts to compile the eight top U.S. waterways for viewing fall foliage, many of which offer cruising, rental and charter options:
Bar Harbor, Maine
As the entrance to Acadia National Park, Bar Harbor offers spectacular New England autumn scenery along the rugged Maine coast. Boaters can dock locally to explore this charming town and its abundance of seafood restaurants. Novices can take advantage of Bar Harbor's numerous rental and charter opportunities from nature cruises to their very own customized boat ride.
Peak Season: Late September to Mid-October
More Information: Maine.gov
Lake Chelan, Washington
Located on the eastern side of the Cascade Mountains, the narrow and deep 55-mile long lake boasts tree-lined state parks and forest service campgrounds. Lake Chelan also leads to Stehekin, a tiny mountain wilderness village only accessible by water with spectacular scenery. It's easy to enjoy the sparkling water by boat with several marina, charter and rental options in the area. There are also ferries that leave for Stehekin daily, but you can also charter a boat with friends and family.
Peak Season: Mid-September to Mid-October
More Information: fs.fed.us
Lake George, New York
Nicknamed the "Queen of American Lakes" and located at the southeast base of the Adirondacks, Lake George, is the largest lake in the area covering more than 30 miles of shoreline. Nature takes center stage during the autumn months with tree-lined mountainsides surrounding the lake with reds, oranges and golds often painted against clear blue skies. "Leaf Peeping" boat tours are popular at Lake George in addition to many rental and charter options to enjoy the fall scenery from the water.
Peak Season: Late September to Early October
More Information: LakeGeorgeChamber.com
Lake Jocassee, South Carolina
This 7,565-acre, man-made lake is tucked deep in South Carolina's Blue Ridge Mountains and accessible through Devils Fork State Park. It boasts an undeveloped shoreline with picturesque scenery, such as waterfalls cascading into the lake. In addition to outstanding fall foliage at Lake Jocassee, autumn also brings green marsh grasses to shimmering fall hues of gold and amber.
Peak Season: Late October to Early November
More Information: SouthCarolinaParks.com
Lake Monroe, Indiana
Situated in south central Indiana near Bloomington, Lake Monroe is the state's largest lake. Surrounded by 13,200 acres of lush, protected forest and three recreational areas, it's an ideal destination for viewing fall foliage. The lake is served by a full-service marina with nine launch ramps, making it easily accessible for locals and tourists.
Peak Season: Mid-October to Early November
More Information: in.gov
Lake Tahoe, California
Located at 6,225 feet above sea level in the Sierra Nevada Mountains on the border of Nevada and California, Lake Tahoe is a boating paradise. Fall foliage along the shoreline is filled with varied hues of yellow as the aspen trees change color. Visitors may also be fortunate to catch a rare bird migration or the chance of a meteor shower. Those looking to take in the sights aboard a boat have an abundance of options with numerous marina, rental and charter options at their fingertips.
Peak Season: September to November
More Information: CaliforniaFallColor.com
Lake Tellico, Tennessee
With more than 15,000 acres of surface area, 373 miles of shoreline and waterways connecting to Fort Loudon Lake, the Tennessee River and other waterways, Lake Tellico is the perfect boating destination. It's an ideal spot to experience an array of fall colors from the pure blue waters that back up into the Great Smoky Mountains, where onlookers get a unique vantage point of hillsides overflowing in crimson, gold and scarlet leaves. Lake Tellico provides beautiful autumn scenery, but also offers scenic, long-distance cruising options. For instance, boating to a University of Tennessee football game on the Tennessee River outside of Neyland Stadium is a great opportunity to give nature enthusiasts and football lovers the best of both worlds.
Peak Season: Mid-October to Late November
More Information: fall.tnvacation.com
Saugatuck, Michigan
With more than 11,000 inland lakes and 3,200 miles of Great Lakes shoreline, this is a popular destination for those who love life on the water. Michigan\\\'s southwestern coast, situated on Lake Michigan, includes the quaint artist\\\'s haven of Saugatuck. With spectacular views from the water of tree-lined hillsides, dunes and Lake Michigan sunsets, this is a perfect spot to take in the autumn's hues. Peak Season: Throughout October
More Information: Michigan.org