Sun Protection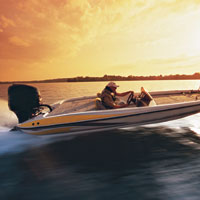 Being on the water's all about sun and fun, isn't it? As they say, you can have too much of a good thing—and it's all too easy to soak up more sun than you should've.
Those bright white boat interiors that make the inside of a boat look so big also act as monster-sized reflectors. When the sun's rays hit that white fiberglass, your skin's in for some serious baking. After a few hours in the summer sun, even the white floors get too hot to walk on in bare feet.
You've got to go on the offensive to protect yourself from the long-term damage that the ultraviolet sunshine can inflict upon you before you realize you've been cooked.
Clothing
Yeah, we know that running around in a skimpy bathing suit is part of the boating experience, but you ought to consider wearing a lightweight, long-sleeve shirt and long pants while you're on deck.
Bring a ball cap and polarized sunglasses to protect your eyes; and wearing flip-flops or sandals will minimize the effects of the hot, non-skid deck on your feet.
Sunblock
Slather a high SPF sunblock on every part of your skin that'll be exposed to the sun. Use a sunblocking lip balm on your lips, and smear that white sunblock goo on your nose. You may feel like a dork, but your skin will thank you for it.
Shade
Stay under the shade of the boat's canvas top, if possible. On a little boat with no canvas, it's perfectly acceptable to bring a beach umbrella for shade while you fish. Just don't try to use the umbrella while the boat's moving, an awkward situation may result.