Learning how to paint a boat is easy, and if you want to make your boat look like new, you'll be surprised what a fresh layer of paint can do. Proper boat maintenance will go a long way in keeping your pride and joy looking great, but when that boat starts to appear aged, knowing how to paint a boat is the key to making it look like new again. And although painting a boat can be time-consuming and expensive, there's no better way to improve an older boat's appearance. While this is a rather complex process, we can boil it all down to these five basic steps.
How to Paint a Boat Step-by-Step:
Remove all hardware (like rails, cleats, and vents) and/or any teak or wood trim on the boat.
Repair any surface imperfections like chips, dings, or gouges.
Prep the surface by washing, de-waxing, and thoroughly sanding it.
Apply the primer, then the paint.
Wax the boat from stem to stern to protect the new paint job.
Then, simply keep it clean, and rinse it thoroughly after use in saltwater. Remember, before you paint a boat always read the warning labels on all of the supplies and be sure to use the proper protective equipment.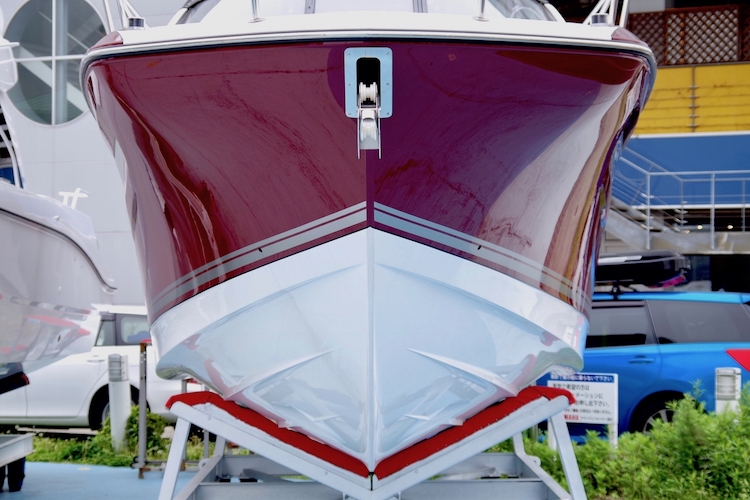 How to Paint a Fiberglass Boat
Painting fiberglass boats isn't really much different from painting wood boats, except for the type of paint you'll use and a few details in the prep and application. We should note that the very best finish can be attained by professionals who spray on the paint, rather than applying it with a brush and roller. However, anyone can do a bang-up job painting a boat if they make sure the surface has been properly prepped, and take care during the application.
Paints for Fiberglass Boats
Single-Part Enamel Paints – These paints are easiest to apply and are less expensive than some other options. However, they also are subject to UV damage over time and the gloss doesn't tend to hold up as well over the long haul especially if it isn't constantly waxed and maintained.
Single-Part Polyurethane Paints – Urethane paints are also easy to apply, don't cost nearly as much as two-part polyurethanes, and have a long-lasting gloss.
Two-Part Polyurethane Paints – These undisputedly look best and last longest. Many people would even argue they can out-shine a boat's original gel coat. However, they are very expensive and are more labor-intensive, as they require mixing, an epoxy primer, and specific temperature and humidity levels for application.
Whichever of these you choose, job number-one is following the manufacturer's instructions to a tee. We can't lay out all the details here because each paint has its own specific requirements. The bottom line, however, is that each has its own instructions that can be quite exacting. And remember that like any paint job, good prep work is the key to success. De-waxing is one of the most important factors, because even a tiny amount of wax will prevent the paint from adhering to the fiberglass. Either acetone or a dedicated wax-stripper can be used but in either case, be sure to do a thorough job.
Tips for Painting a Fiberglass Boat
Most people will use a standard "roll and tip" method for painting large surface areas of a boat. This requires two people and both rollers and brushes. As one person rolls out the paint, another follows behind with a brush and lightly strokes across the paint to brush out the roller pattern.
One important tip for creating the best surface is to apply multiple, thin, consistent coats, as opposed to one or two thick ones. Three coats of paint is generally considered best.
Another important tip to keep in mind: be sure to allow the proper amount of cure-time between coats (again following the manufacturer's recommendations). And if the work takes place outdoors keep an eye on the weather to ensure the temperature and humidity will be acceptable and consistent throughout the entire timeframe.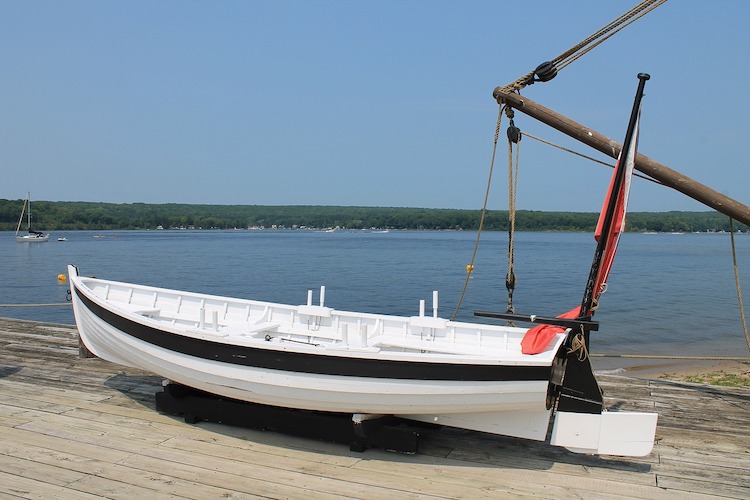 How to Paint a Boat Bottom
Painting a boat bottom is a completely different experience than painting the boat's upper hull and topsides. In this case you'll want an anti-fouling paint that prevents marine growth, and there are countless versions to choose from. Read Antifouling Paints: Which Paint is Best For Your Boat to learn more about some of the different options.
Here's the good news: learning how to paint a boat bottom is much easier than it is for the rest of the boat, because bottom paint tends to be simpler to apply.
If the bottom is fresh gel coat, the same sort of prep work (de-waxing and sanding) is necessary.
If you're applying over old bottom paint, you can skip the de-waxing process and simply sand or power wash away any old or loose paint. Also, you won't need to roll and tip; most people skip the tip part of this equation since the bottom will be underwater anyway, and simply roll the paint right on.
There is, however, one additional factor to applying bottom paint to a boat: you may need to properly time the boat's launch. Some paints have a minimum dry time but a maximum time as well, and will need to be launched within a certain window.
How to Paint a Boat Hull
Painting a boat's hullsides is usually a lot easier than painting the topsides, simply because you're dealing with a large, smooth surface area. There will only be minimal hardware to remove (in this case you may want to simply protect it with masking tape, though this rarely provides as good a final finish), and you won't have to worry about angled surface areas or tight corners.
There is one variable to note, however, about painting a boat hull. You will be working on a more or less vertical surface, and if you apply the paint too thickly, drips and runs will result. So it's very important to apply the pint evenly and thinly.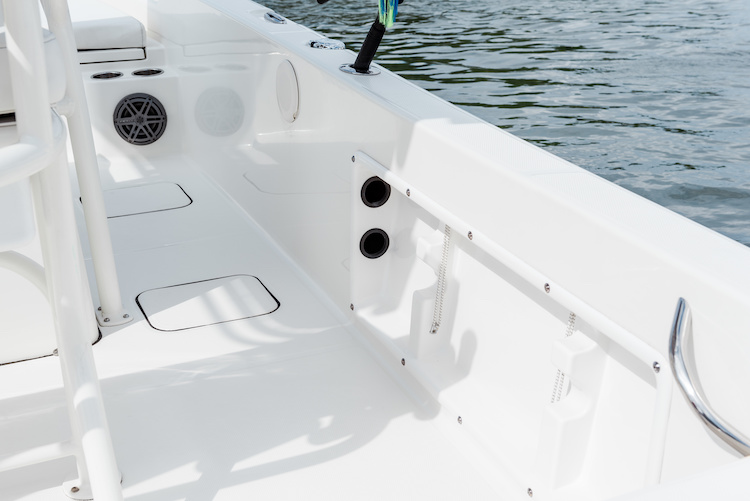 How to Paint a Boat with Non-Skid
Molded fiberglass non-skid and non-slip surfaces can't be painted the same way as the rest of your boat. It's impossible to sand or apply paint between the tiny imprints, and even if you did paint it, it would wear unevenly as people walk across the top of the pattern without ever touching between the raised surfaces. But that doesn't mean you can't make that old non-skid look like new again.
The best way to paint non-skid is to apply a textured compound. There are several on the market designed specifically to paint a boat deck. They have some sort of grit or tiny rubberized pellets mixed in with the paint, to give the boat's deck a fresh look but still maintain its non-slip properties.
Once again, each has its own set of specific application instructions, prep work is key, and several coats are usually necessary.
On additional variable you need to know about is the roller; since these paints have solids mixed in, you usually need to use a roller brush specifically designed to spread them.
Yes, painting a boat is a big, time-consuming job. Sure, it requires some expense. But remember, there's no better way to make an older boat look new again than to give it a fresh paint job.
Editor's Note: Remember that many paints, primers, and wax strippers emit chemical fumes, and sanding can also create potentially harmful conditions for both you and the environment. Before you paint a boat always read the warning labels on all of the supplies and be sure to use the proper protective equipment.
Learn More in our Boat Maintenance Guide
---
Looking for more on boat maintenance and upkeep? Read...